When dwelling on the idea of home one tends to think of private space; to parse it further one could almost place home in opposition to public space. So it is surprising, and a sign of success, that co-curators Britta Peters and Marianne Wagner and artistic director, Kasper König, of this decade's Skulptur Projekte Münster managed to successfully map out the idea of home: past, present, and future.
A future, alien home was what came to mind when I walked around Pierre Huyghe's After ALife Ahead, the French artist's standout contribution. A bee that flew past my head, its buzz at once sinister and desperate, was en route to a large clay hive that protruded like a stalagmite from the excavated floor Huyghe had exposed in a former ice-skating rink. Puddles of rainwater had accumulated from the spacecraft-like openings in the ceiling. It all added up to a proscenium the artist calls 'a time-based bio-technological system' – which brought to mind utilitarian functions or processes though what these would be exactly was not readily apparent. There was an incubator within which a HeLa cell line divided and mutated (named after Henrietta Lacks, the cancer patient from whom the cells were originally taken in 1950 without her knowledge which have gone on to be used in countless laboratories and tests since) and the resulting shapes apparently triggered the opening and closing of the roof. The whole artwork became a 'biotic/abiotic organism', co-evolved and brooding. We moved through it as if we were trudging through our futures: there was a giddy melancholy to the whole thing.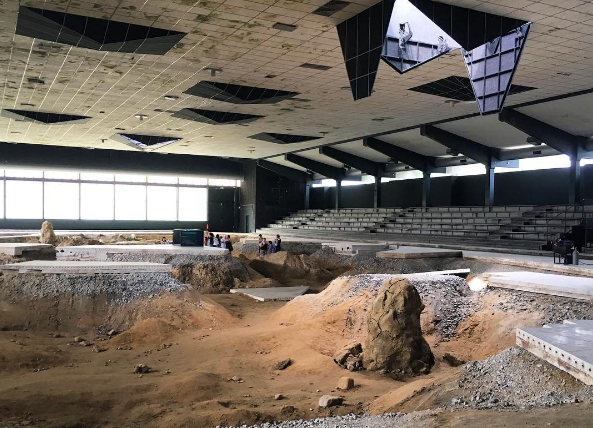 Pierre Huyghe, After ALife Ahead
Installation view
Skulptur Projekte Münster 2017
While Münster itself is not a megalopolis by any stretch, the fact is that the world's population increasingly recognises home as a place within vast urban megacities. The artwork, sculptures, and projects that made up Skulptur Projekte had all been commissioned in response to an invitation sent to over fifty artists to visit the city of Münster, spend time there, and in turn to propose works to be realised in the city. From these, thirty-five projects were chosen. They led the viewer to a myriad of obvious and not so obvious places in and around the city: Michael Smith took over a tattoo parlour offering over sixty-five-year-olds free tattoos; Gerard Byrne placed his video work in the basement of the public municipal library; Jeremy Deller returned ten years after his first engagement with the allotment gardens in the north of the city to take over a little garden hut where he presented the gardener's log entries from the intervening years. Like Huyghe, the organisers saw the city as a large laboratory of sorts: '(Münster's) social structure is comparatively homogenous, and its urban space easy to read. As such it has proven to be an ideal testing ground for the observation of synchronic and diachronic developments.' Turkish artist Ayse Erkmen contributed an underwater pontoon that allowed members of the public to wade across a canal; this was public art directly placed in difficult, off-beat, forgotten public spaces in the city.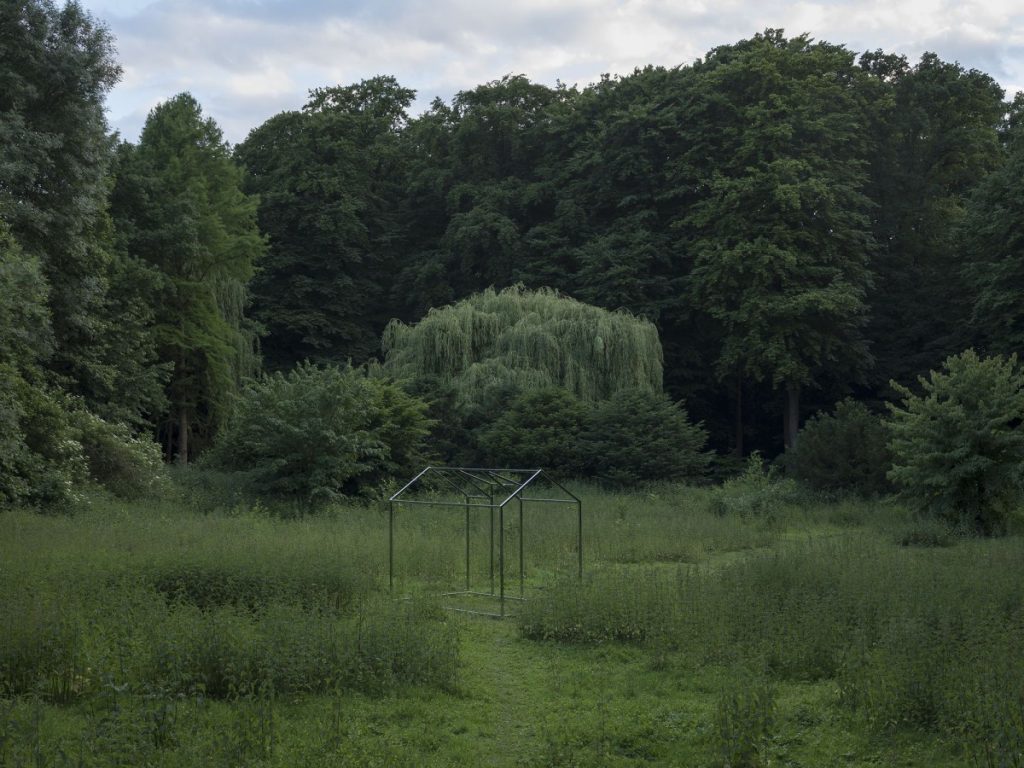 Hreinn-Friðfinnsson, Fourth house of the house project since 1974
Installation view, 2017
Stainless steel, polished, 255 × 325 × 195 cm.
Clearing in Sternbuschpark, Sternbusch 24
Image held here
There was a strong sense that the city was in fact a stage, and this raised the question (particularly with Huyghe's work): What are the stories or narratives this stage wishes to play out? Peles Empire's Sculpture was a case in point, consisting of a house structure comprised of photocopies of the surrounding buildings: 'akin to black-and-white image interference, the object comments on the picturesque charm and homogenised narrative of the apparently medieval town centre'.[1] The narrative played out here was an echo of the artist-duo's long-established practice of having friends and colleagues meet and exhibit in their studio. There was a series of public talks throughout the duration of SP 2017 with other artists inside the house, which was also a bar. It was easy to see what we once called relational aesthetics being widely deployed throughout the projects, but this was not anachronistic. For as we all know sociability has been part of art-making since time immemorial, and what's more a city is made up of people, it is their home. Oscar Tuazon's primitive art brut infrastructure, Burn the Formwork, was a roughly hewn, round-the-clock fireplace; when I visited it was already covered in graffiti, written with the charcoal produced by the fire. Situated on a piece of wasteland alongside a canal, it no doubt made a great place for outdoor drinking by local youths during the summer. But the sense of abandonment and its half-finished aspect, brought about by the use of concrete, doesn't necessarily elicit hope for warm and friendly narratives. Similarly, Thomas Schütte's Nuclear Temple was an impenetrable bunker-like obelisk that called to mind fortifications and bomb shelters – the homes of nightmares. We were left on the outside wondering not only about the function of this temple, but why and how we would want to get inside it.
These lines of thought – inside and outside, sociability and desolation, the binaries of public and private spaces and how they were subverted and celebrated throughout SP 2017 – found an apotheosis around five kilometres south of the city centre. It wasn't easy to find (inevitably there was something of the treasure hunt permeating the experience of Münster), and as the sun began to set I cycled, lost and tired, into the Sternbuschpark, before finally locating Hreinn Friðfinnsson's Fourth house of the house project since 1974. Geographically about as far away from Huyghe's work as you could get, while still remaining in the city limits, it also showed the abiotic and biotic binaries in a totally contrasted manner: constructed as if from a simple line drawing of a greenhouse structure, and fabricated out of reflective chrome, it was placed in a beautiful, green glade, out of sight of any other man-made object. The house shimmered, and easily got lost in the reflection of the forest around it.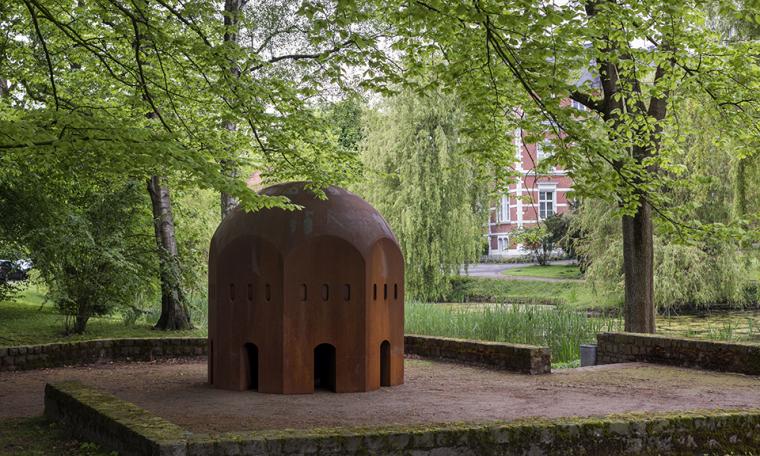 Thomas Schütte, Nuclear Temple
Installation view, 2017
© Skulptur Projekte
Photo: Henning Rogge
Image held here
Past, present, and future are three loci any narrative grapples with in steering its audience along its course. It is possible to think about Skulptur Projekte, with its insistence on a ten-year interval between iterations, as delivering several sites from which to explore ideas of delay and transition. Schütte's Nuclear Temple used an archaic vocabulary more attuned to the spectre of nuclear fallout, while Huygue used one of sci-fi and retro-futurism (an abandoned skating rink on the edge of town – it felt like something straight out of a pulp novel just with this description alone). Their popularity with visitors lay precisely in how they echoed, just as Tuazon's work did, much of the post-apocalyptic narratives that are prevalent today. Friðfinnsson's contribution, meanwhile, imagined home being decidedly unpopulated, ahuman. This sense of the absent occupant was something all these works shared. It is the citizen perhaps, the treasure-hunting audience, whose role it is to knock on the door and imagine what past or future could play out at these sites.
Note
[1] Skulptur Projekte Münster 2017, eds. Kasper König, Britta Peters, Marianne Wagner, LWL-Museum für Kunst und Kultur, and Hermann Arnhold (Leipzig: Spector Books, 2017), 238.
John Holten is a writer and artist based between Berlin and Ireland. He has been awarded Literature Bursaries from the Arts Council of Ireland, most recently in 2017. His writing has recently been included in The Other Irish Tradition (Dalkey Archive Press, 2018) as well as in Electric Literature, frieze, and Hotel. www.johnholten.com