Nearing the turn of the 18th century, Askeaton in County Limerick was the home to a particular brand of hedonistic decadence and religious syncretism – that of the Hellfire Club. Established in the mid-1700s by the Duke of Wharton, also known as the 'Hellfire Duke', the now dilapidated halls of the Hellfire Club chronicle an Irish history of hermetically sealed Dionysian decadence that is never far from the surface of Askeaton's local narrative. From the small island located in the middle of Askeaton town, the Hellfire ruin stands in its own mute eloquence. To the informed observer, its stone walls contain a unique history with a dynamic subtext of intrigue and speculation that gathers on the lives of rebellious aristocrats that once animated this vandalous sanctorum.
Curated by Michele Horrigan, the individual works of five artists were commissioned and strategically sited in different parts of Askeaton town. Apart from the exhibition's thematic concern with mining the obscurities of this 18th century history, one of the other functions of an exhibition such as The Hellfire Club, is to make its audience think about the possibilities for contemporary art as it reaches into essentially new peripheral rural context. It is only when you find yourself wandering around the small rural town of Askeaton looking for works of contemporary art, can you actually begin to reflect on this possibility.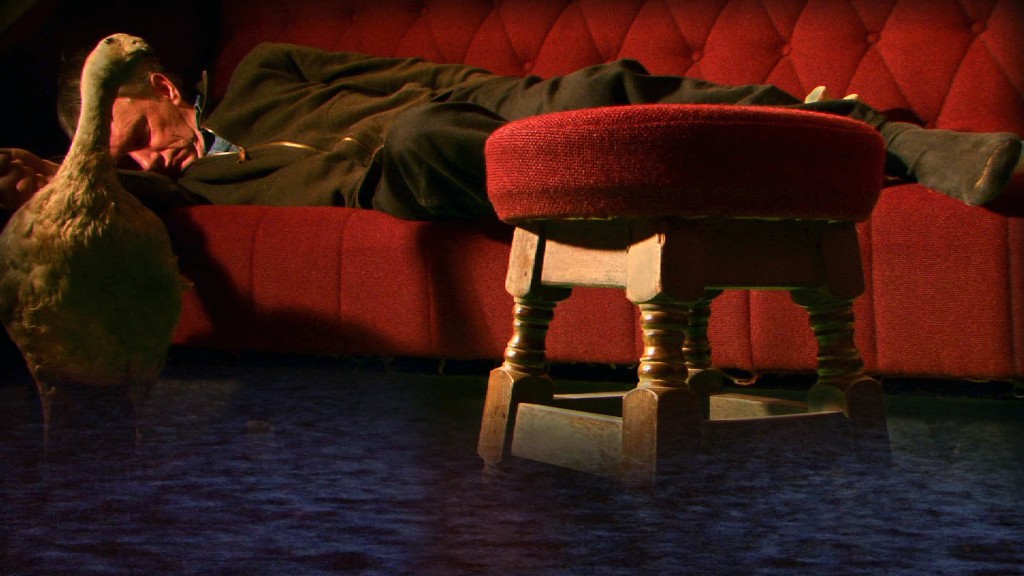 Louise Manifold video (2012), located in Askeaton civic trust building; Image courtesy of Askeaton Contemporary Arts.
Located in the upstairs of the Askeaton civic trust building, amid an endangered and miscellaneous collection of archival material relating to Askeaton's aristocratic past, Louise Manifold's video piece and sculpture are presented. Through collaboration with the local drama society, Manifold's video piece imagines the aftermath of a Hellfire gathering. Manifold's actors appear to have suffered too much of a good thing: exhausted bodies are strewn and taxidermy birds are placed around what appears to be the interior of a dingy boozing lounge. Using an uncanny doubling of effects, an evocation of stillness and movement is created; Manifold achieves this sense by bringing the sequence of image stills together in continuity using a visual overlay of a flowing river which runs through the whole video piece. (This river presumably referencing the River Deel that flows directly beneath the ruins of the former Hell Fire Club.) In addition, a male voice-over delivers what sounds to be an autobiographical litany of laments of a former Hellfire member.  To my mind this is a lamentable addition to the work that overwhelms an otherwise subtle osmosis of imagery. The voiceover seems to insist on a certain comprehensibility within the work which, rather than opening out the work, leads it instead into an untimely closure. On balance however the piece's cinematographic use of imagery, reminiscent of Jeff Wall's Overpass (2001), does play successfully with ideas of visual narrative. Unfortunately it does not go far enough to appease a slightly jarring audio-visual juxtaposition.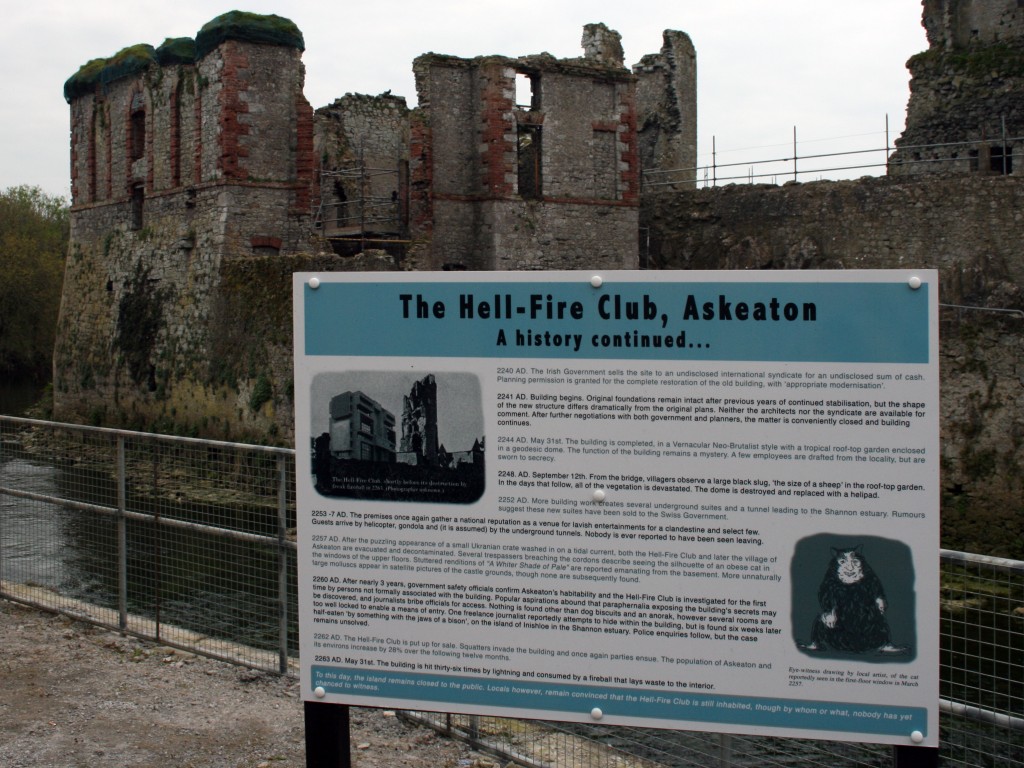 Stephen Brandes' heritage plaque located in the back yard of Askeaton Civic Trust (2012); Image courtesy Askeaton Contemporary Arts.
Viewed from the bridge overlooking the back yard of the Askeaton Civic trust, Stephen Brandes' site responsive work parodies the officiousness of a local heritage plaque. Judiciously erected to the foreground of the Hellfire club, Brandes lampoons the notion of public information, presenting a farcical time travel satire. Here, the plaque informs the past of an absurd future: from undisclosed international syndicates who rebuilt the Hellfire Club in Neo-Brutalist style in 2244 AD, to the event of freak fireballs and 36 bolts of lightning which lay waste to the Hellfire interior in 2263 A.D.  Brandes occupies the contemporised role of agent provocateur which apart from making us laugh, also serves to remind us of the misnomer of all secret societies, which is, that their psychological appeal invariably positions them to the centre of random speculation and public attention.
From the same vantage point on the bridge it is possible to see Diana Copperwhite's sculpture. A polished stainless steel cut out, silhouettes a group portrait of the Askeaton Hellfire Club painted by infamous founding member James Wardale in 1740. Sited on the restricted grounds of the Hellfire Club, this sculpture can only be engaged with from a distance. Trading on romantic associations with place and memory, Copperwhite suggests the work of being 'reflective of shimmering ghosts',[1] a kind of dallying with illusionism that appears to be little more than a flattened apparition. That is until the sun bounces off the works polished surfaces and transforms the piece into an experience of optic mesmerism.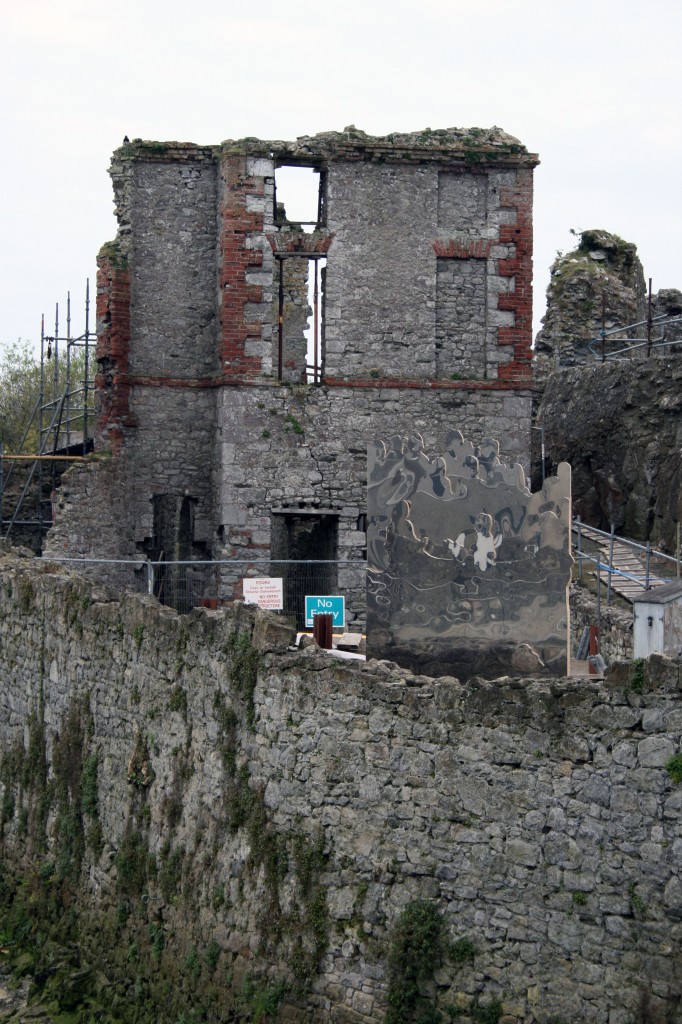 Diana Copperwhite's stainless steel structure, located beside the Hellfire Club; Image courtesy of Askeaton Contemporary Arts.
A short distance away, sited in the Askeaton local library are a series of prints with silver leaf by Tom Fitzgerald. The original prints are presented in a wood and glass vitrine, while a looped documentation of the work is presented on flat screen TV installed on top of a shelf over the local history section of the library. These prints feature a number of composite elements that generate allegorical indexes drawn from aspects of late gothic art. For example, drawing on the form of a medieval illuminated manuscript, Fitzgerald devises a book of hours dedicated to the Hellfire members. Yet this 'devotional book' is one 'with a bit of a sting'[2] according to Fitzgerald – a sting most subtly employed. By dividing a copy of a portrait painting of the Hellfire Club members into forty-eight equal squares, the series of prints generate a type of latticework. Each element of the divided portrait has been reset alongside a four inch piece of silver leaf, in the middle of which is placed a single circular vignette – each vignette is taken from Hieronymus Bosche's Garden of Earthly Delights (1450 -1516). Through this piece, Fitzgerald created a semantic riddle, revealing a quiet critique on the sins of colonialism visited on the Irish people. Though not about retribution, the work is in keeping with the didactic reminders painted In Bosche's Garden of Earthly Delights which act as reminders to the perils of life's corruptions.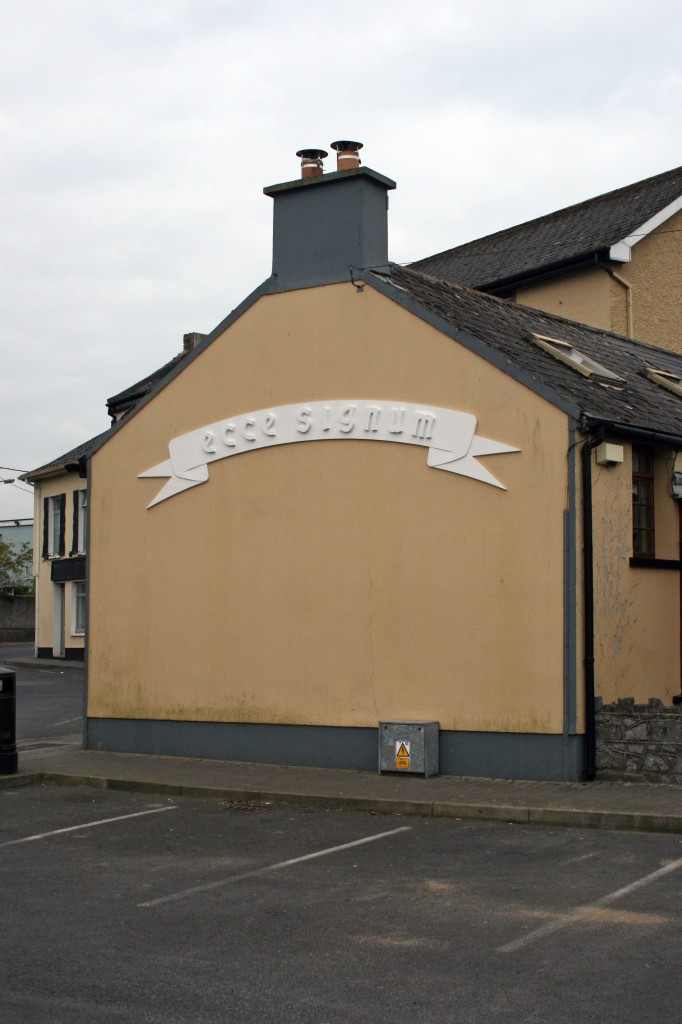 Sean Lynch's white mounted scroll, located at the gable end, east square; Image courtesy of Askeaton Contemporary Arts.
Sited on the gable end of a building in Askeaton's east square, Seán Lynch presents a white mounted scroll, embossed with a calligraphic inscription that reads: ecce signum. Taking a euphemistic approach to the Hellfire epithet 'Libertati Amicatiae que' or 'do as thou wilt', Lynch re-ascribes the Hellfire's shared liturgical motto and makes it the argument of his piece. Ecce signum translates as 'behold the sign' or in less grandiose terms 'this is a sign'. Following a deconstructive logic that both courts and undercuts Latin, Lynch strategically divests the notion of an epithet of its perceived importance by repositioning its language (in this case Latin) for the purpose of mere appearance. Lynch's piece simultaneously opens out and narrows down reading in a way that causes one to reflect the transformative mechanisms of meaning over time.
With scrutiny and interest, irony and humour, each individual practice challenges in its own way the idea, not so much that knowledge is power, but that hidden knowledge is power. Yet while resisting the lure to perpetuate an aura surrounding a 'secret society', The Hell Fire Club, as an exhibition and experiment, leverages the critical potential of the esoteric and risqué that once again stirs up and adds to the intriguing local narrative of Askeaton.
Maria Tanner is a writer based in Ring Gaeltacht, County Waterford.
[1] Information from the exhibition leaflet.
[2] Ibid