Satis House sits unassumingly among the other red brick Edwardian houses on quiet Deramore Avenue in South Belfast. But inside, under the curatorial direction of founders Kim McAleese and Eoin Dara, the master bedroom has been transformed into a studio and exhibition space where emerging and established artists are encouraged to develop and show new work.
The house positions itself somewhere between an art gallery and a dwelling, where stark white walls hint at outlines of latticing, skirting boards, hidden radiators and mantle pieces. This in-between space, containing the traces of its own past, provides a suitable backdrop for Liam Crichton's exhibition ]|[, where, according to the press release: "fictional histories of a simplistic and nostalgic past are presented alongside austere modernist forms." What Crichton has presented here in this hidden gallery, however, is far from simplistic.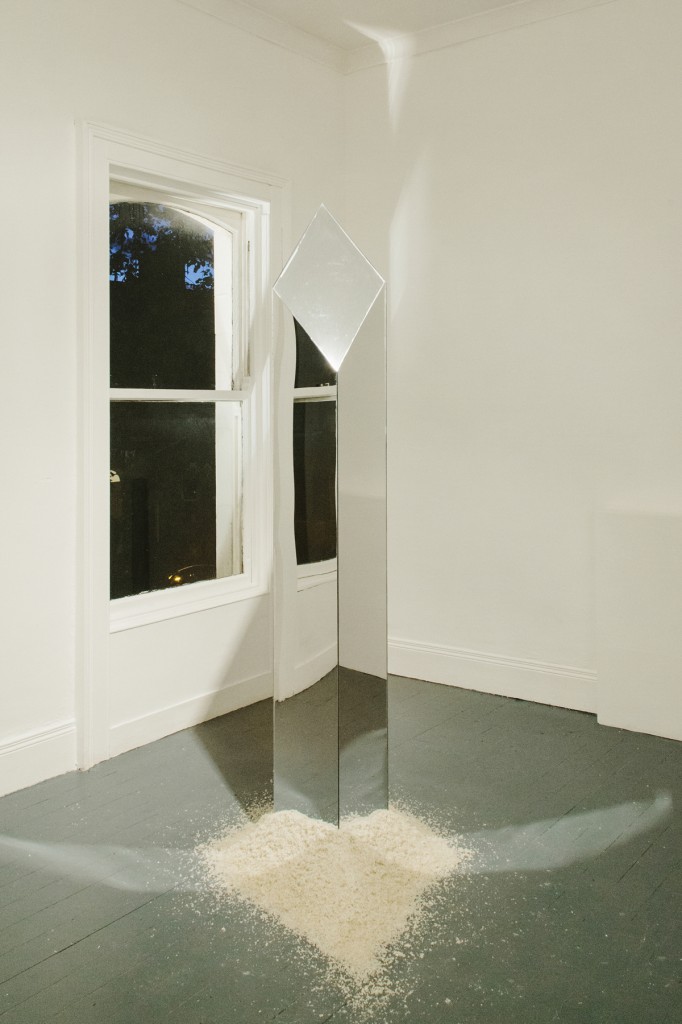 Liam Crichton: Witch Dance (2012)
mirror, course sea salt
Courtesy Satis House and the artist.
The show's title, ]|[, a neologism, is unpronounceable, unexplainable, and inaccessible – a visual riddle. It has been affixed to the face of Satis House in the form of a large, white, back-lit sign, beckoning all of those who are aware of the house's new status to come inside to discover its referent. ]|[ evokes the syntactic signs in thrillers and horror films that are repeated, coded, and contain hidden messages. Accustomed to this visual cinematic language as most of us are, a reading of the ]|[ sign inevitably becomes arcane and loaded with occult meaning.
Guided in the half-light by a trail of flower petals up the carpeted stairs, a chest-high angled mirrored column, surrounded by coarse rock salt, is the first thing visible when entering Satis House's gallery space. The artist's self-proclaimed liking of Stanley Kubrick's films is echoed in this work, ostensibly, this piece is an allusion to the mysterious monolith in 2001: A Space Odyssey.
The contrast between the flat, silver surface and the tactile, rough mineral of Witch Dance perfectly summarises the convergence of material associated with the land, the earth, and the 'rural', 'austere', and 'minimalist forms' mentioned in the press release.
With Witch Dance Crichton references the story of a marshland witch-hunt, the salt symbolic of a cleansing agent to drive out the devil and purify. Its harsh angles and ambiguous size is not nostalgic and firmly roots it in the present, or perhaps even in a sci-fi future and gives it an almost threatening quality.  When photographed Witch Dance appears to be barely visible, halfway between our field of vision and another plane; a liminal object.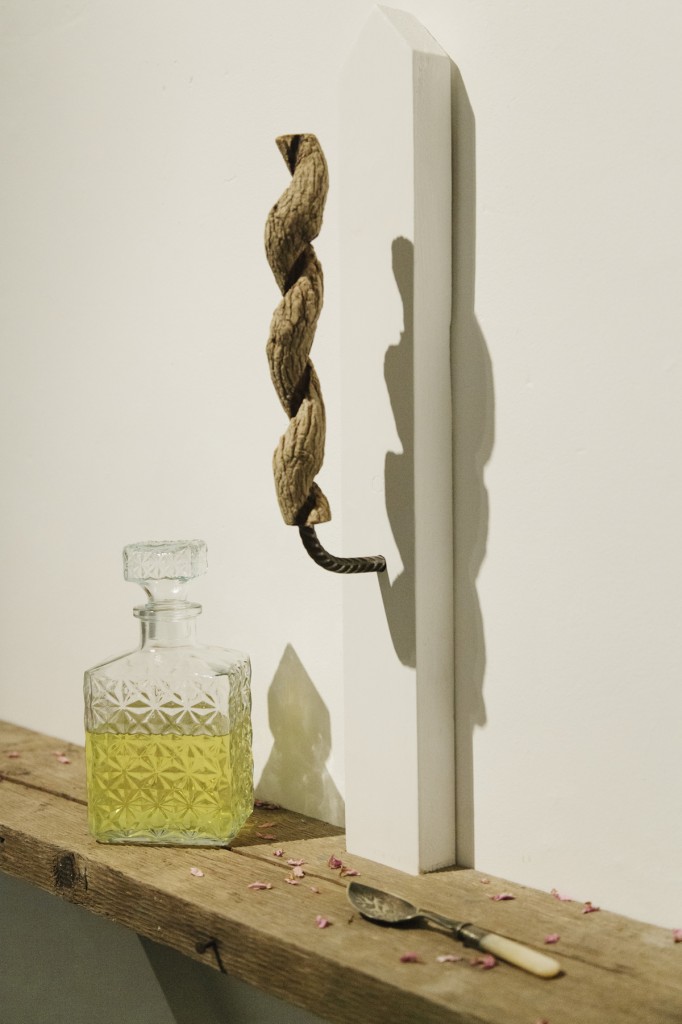 Liam Crichton: Silent Servant (2012)
decanter, spoon, flower petals, shelf
Courtesy Satis House and the artist.

On the left wall of the space, mounted above a rough wooden shelf bearing a liquid-filled crystal decanter, a small spoon and more flower petals, hangs a section of woody vine, curled into a spiral. It is a peculiar thing that alludes to the ritualistic objects perhaps used during occult or necromantic ceremonies.
Some of the items on the shelf that make this piece, Silent Servant, reference stories from Crichton's youth: the vine originates from his mother's back garden, where for years this jasmine tendril slowly curled its way around a washing line. It is/becomes both a nostalgic relic and a vessel for imagined allegories of a Beuysian nature. The crystal decanter with yellow liquid, which proves to be bleach on closer (olfactory) inspection, is an appropriate material for the Satis House exhibition space with its domestic connotations: a contemporary purifier. The aged silver spoon that lies next to it is reminiscent of nourishment and maternity and one feels that these objects referring to the rituals of feeding and cleaning could be interpreted as having been placed on a symbolic shrine to motherhood.
The physical properties of the materials used throughout this exhibition – salt, mirrors, bleach, wood, flower petals, and crystal – can be understood by touch, smell, and associated memories. To the viewer they are visually imbued with cultural and symbolic meaning and yet their exact significance at times feels coded or just out of reach, which fuels a yearning to unravel some of the work's more obscure narratives.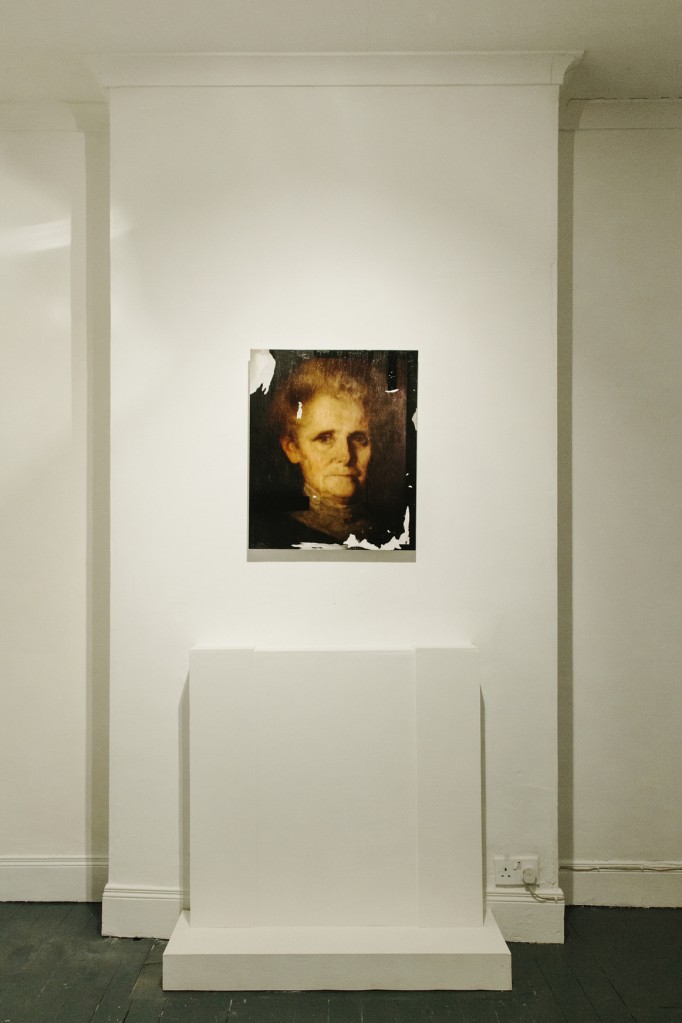 Liam Crichton: Untitled
photograph
Image courtesy Satis House and the artist.
Above the covered mantelpiece at the far end of the space hangs a portrait of a woman. Her face is old and yellowed, with deep-set eyes and a stern mouth. Like the other works featured in the show, this piece is ambiguous, for it functions at once as a painting and yet is not. Its surface is torn and displays large white gashes of paper, revealing that the 'painting' is a scan or photograph, a reproduction of something old in modern media. The warm colour of the (reproduced) oils and the hinted history of the image are offset by the neutrality of the space in which the portrait hangs.
The woman was Crichton's great-great grandmother. When staying at his grandmother's house in Scotland as a child he was scared of her gaze as her eyes followed him down the dark corridor at night. Crichton's reproduction of this portrait as a cheap copy of the original (and precious) oil painting may be an attempt to assuage this haunting childhood memory while simultaneously acknowledging its symbolic potency.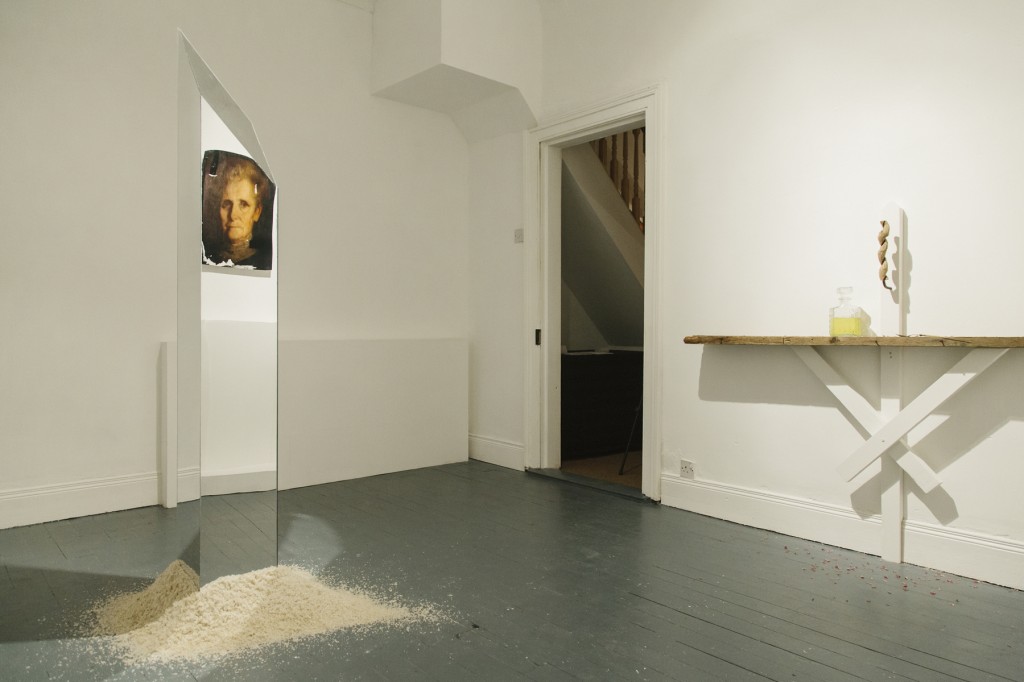 Liam Crichton: ]|[
installation view, 2012
Courtesy Satis House and the artist.
The work shown at Satis House tells of legends, myths and the type of storytelling rooted in ancient places, and is rich with autobiographic meaning linked to Crichton's upbringing in Scotland. Crichton engages with his subjects and materials in a natural, instinctive, and confident way. What is on display in this space is a top layer hinting at hidden depths. The aftermath of this show, the feeling it leaves you with, can best be described as that feeling you get when you wake up after a heavy half-remembered dream or having finished a novel describing a world you truly believed in but cannot really enter.
Alissa Kleist is an artist, curator and writer currently living and working in Belfast. She is a co-director at Catalyst Arts, works in Belfast Exposed Photography Gallery and is a founding member of artist collective PRIME.
www.satis-house.com
www.crichton-ross.com
–