Between the 16th and the 29th of November 2020, the sounds of birdsong – recorded during the pandemic in April of the same year, where the banks of the Royal Canal recede into meadows of happy neglect – were piped onto the platforms of half-capacity train stations across Ireland, mostly clustering around Dublin's commuter belt, but also in Cork, Galway, and Limerick too. Christopher Steenson's public sound-art project, On Chorus, was launched simultaneously on a dedicated website under the aegis of Ian Maleney's Fallow Media, meaning listeners everywhere could tune in between 8 and 9 a.m.: a form of access to a listening experience that would be shared in spite of physical separation. Maleney's 2019 collection of essays, Minor Monuments, is also a meditation on field recordings conveyed or contained through other media (in this case, words); its bog-based soundscapes negotiate ideas about rural identity. On Chorus, on the other hand, has a serendipitous and reticent vibe, emerging from the (Covid-related) suspension of an earlier project, and responding to what seemed, in spring last year, like an ambient surge of nature sounds in Dublin city when traffic, construction, and footfall retreated.
Christopher Steenson
Moorhen nest (Royal Canal), ice floods), 2020
35 mm photograph
Courtesy of the artist
You can still visit the website and hear the birds sing between 8 and 9 a.m. each day, although station broadcasts of Steenson's recordings were specifically played in wintertime. I first learned about On Chorus from Steenson when we were walking with a group of friends along the North Strand one evening, in the interval between the first and second lockdown, at the end of summertime and at a point when it seemed (erroneously – and tragic to admit it now) that we might be over the worst of it. The artwork, he explained, was originally due to take place in May, until BirdWatch Ireland (BWI) took issue with the timing – in the middle of the mating season, risking the ecological injury of confusing or distressing birds in real time. Even ahead of the November broadcasts, BWI reviewed the recordings to ensure no all-year birds, such as robins, could be detected. The comedy of this near-miss strikes me as much as its profound nobility. Animals are inflexible. Why shouldn't they be?
At a point in John McGahern's That They May Face the Rising Sun (2002), a novel usually described as an elegy, a returned emigrant buying a farmhouse in remote Leitrim is mocked by the estate-agent-cum-paramilitary: is he, the man asks, planning to live here so he can listen to the birds? In the moment he asks, the protagonist becomes suddenly, bewitchingly, conscious of small birds – 'wrens and robins and finches' – as well as pheasants singing and calling in hedges and fields. The effect of this moment is a lush influx of indifferent sound, a sound that was already everywhere, into his awareness and ours. But he is not here for the birds, the protagonist objects: all that the birds are saying, really, is this is mine, claiming and naming their territories. Listening to the hour of birdsong on Steenson's website, now, and especially on dark mornings, what is at first nostalgic becomes daintily eerie when the separate voices, separate territories, are differentiated, like instruments or blended conversations. Its enveloping thereness is an example, to me, of what the philosopher Emmanuel Levinas called il y a, and Simon Critchley glosses as the 'simple facticity of being riveted to existence without an exit', an existence shaped by Other and inevitable existences. Like birds.
*
I prepare to write this essay on a cold day in my current flat, a place I live in between places, in a suburb I can't get to grips with in lockdown. When I take a break to wash dishes, I hear a crackling, bodily sound in the chimney breast I had presumed to be blocked by a defunct gas fire. It's not: at once a bird, a speckled thrush but sinewy rather than plump, bursts forth and passes two whole windows to reach the window before me, mere inches from my face, where I stand at the kitchen sink. It beats its wings between the pane and the slats of the Venetian blind but I am too stunned to do anything for several seconds. At last I come to, open the window, release the bird, and it is over, but a matter of moments.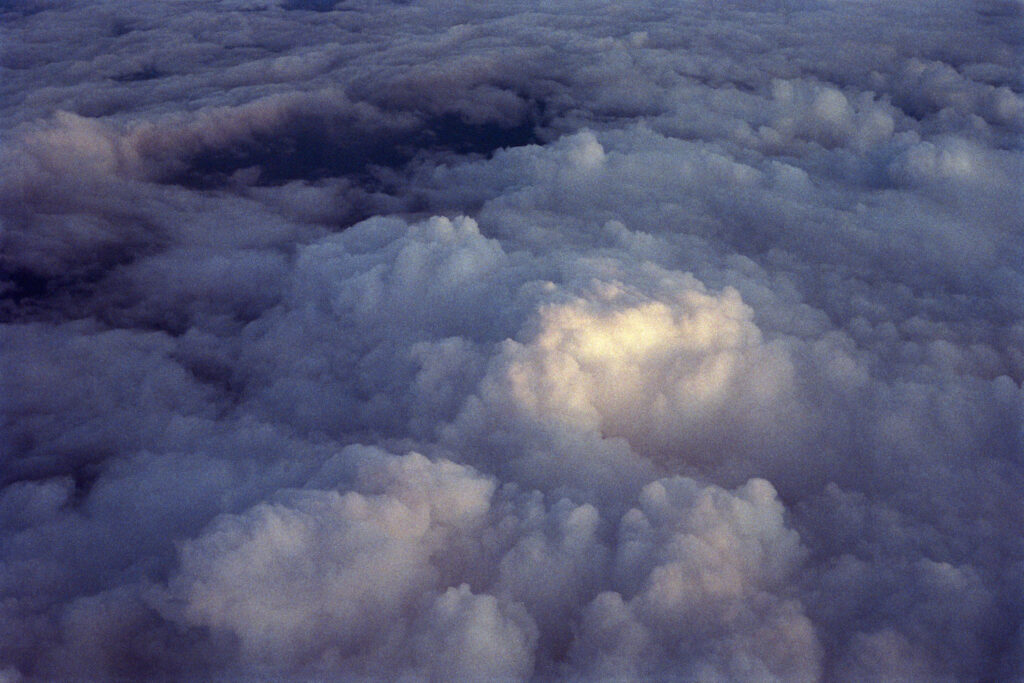 Christopher Steenson
Clouds (Venice floods), 2019
35 mm photograph
Courtesy of the artist
Online, On Chorus is accompanied by photographs and by four essays, on a spectrum of focus and poetic association, ruminating on the birds, their song, and on sound art as a force for disrupting or distilling our attention. Excerpts from Mark Garry's essay 'Resonant Landscapes' open with the familiar, almost poignantly strange, case of echolocation, the aural navigation system used by bats to hunt and communicate at frequencies so high they are undetectable to humans but picked up, now, by ultrasonic microphones. The world, last year, blamed bats – or, archetypically, some notional ur-bat – for the transference of Covid-19 from animals to humans. Our interactions with birds are, however, and have always been, more intrusive, domestic, and maybe even reciprocal: Garry points to birds mimicking human sounds and music, often reflecting the complexities of syntax through the order, timbre, and pattern of calls. We interact with them curiously. There are rooks where I live and they don't just call but chatter, sometimes to themselves, in a series of clicks and cries and what sounds sweetly like upspeak. I message my most tolerant friend as soon as the bird has left. Bird in the house is death? I ask. No, a bird is change, they console me. Unless it's dead.
Bats on the other hand, they say, let me tell you a story about bats. The story is of a family bereavement marked yearly, for five years from the day of death, by bats breaking into a bedroom of the house. Five years like clockwork, they insist. Multiple bats.
This fear of nature addressing us directly, punkishly and perhaps malevolently, is simultaneously a remnant of folklore, a reflection of the abject separateness between nature and culture, outdoor and indoor, and a response to the sublimely depersonalised thereness of the natural world. This is il y a: by invading life in an abrupt, unnerving way, it inspires first of all a sense of fear. Jez riley French's 'Cinematic Distortion', also online with On Chorus, draws attention to the falseness of an idea of nature as 'idyll; bucolic, passive, owned'; an object or phenomenon tamed and placed in front of us by instruments and interventions Ron Broglio calls 'technologies of the picturesque'. Seeing nature otherwise, through the lens of a dark ecology that would embrace its unknowable energy also risks, in my opinion, becoming a kind of machismo. French's description of the 'frenetic, chaotic, unpredictable' force of the natural world is just as much of a 'translation' as any sense of it as 'a gentle reverie or calming lullaby' – no less anthropocentric, or cultured, for being viewed as dangerous rather than decorative (masculine, one suspects, rather than feminine). French advocates a humility and serendipity in field recording that would avoid pursuing only 'polite and passive sound'. This would centre the practice of listening rather than the colonising impulse to record.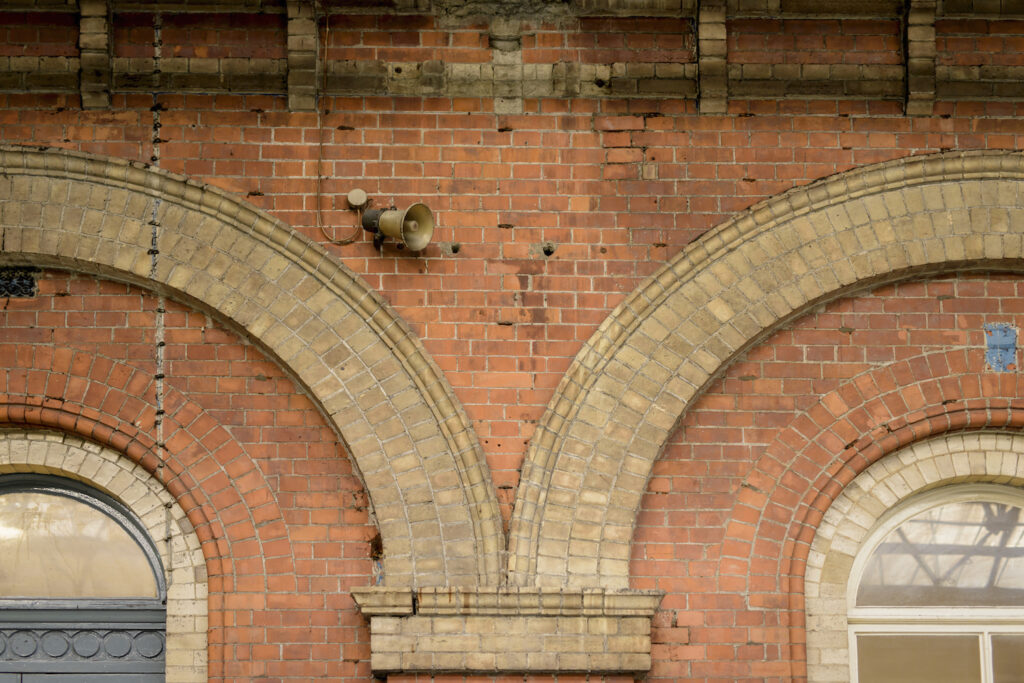 Christopher Steenson
On Chorus, 2020
Courtesy of the artist
Photo: Louis Haugh
Because ambient sound is enveloping it can, in theory, suspend us or threaten to engulf. The boundary between these things is thin. There is something vaguely prenatal to it. Steenson's own poignant and clear-sighted essay 'On Returning' begins with a funeral in New York at the outset of the pandemic; right before he and his partner escaped on one of the last flights before Trump's travel ban, they observed a city gradually thinning out its crowds and visited Max Neuhaus's subway-synthesising public artwork Times Square. This work produces a constant, quiet, and entirely planar drone. I've never been to Times Square so I look up the work online: the sound, when the sensory overload of the city is swept off it, sounds like the dilated moment after a church bell has been struck or like a pang ringing back through the tin tunnel under a hillock in the playground of my childhood, except that it never fades out. I think at once of the elongated, faintly metallic moments created by Gregorian chant. There is a sense of being held or suspended in something calm and uncanny; this is also il y a.
*
In McGahern's moment, the birds' single-minded agenda – this is mine – serves as a reminder of precisely what French is driving at: our attention locates us, briefly and superficially, in the midst of a world of sound that exists for itself and not ornamentally. We synthesise it. It's not possible to remove the subject from the experience of On Chorus and, for me, an awareness of this subjectivity is enough: a forgiveness, even, of the fact that alongside il y a there is I exist, not as conqueror but as vulnerable receptor.
Steenson writes about returning to the centre of Dublin, where he lived, and experiencing what we all experienced during the first lockdown: a sudden, unfamiliar, finally beguiling reduction in manmade sound. Opening the window of his apartment each morning, 'the sound of birdsong became clearer and stronger, filling the space once taken up by the traffic and airplanes; intermingling with the sounds from Connolly Station nearby – the chasmic voice of a PA system, announcing train services for no one'. At this point in the spring of 2020 I was living, likewise, close to the Royal Canal, although further out towards the surprising countryside around Dublin 15. On a similar morning I stood on my balcony stunned, genuinely taken aback, by not only the birdsong but also the uninterrupted smells of rural life, of hay and chemical fertiliser. It took me back to my childhood so abruptly that the sensation was somewhat wrenching; full of longing, and exquisitely sad.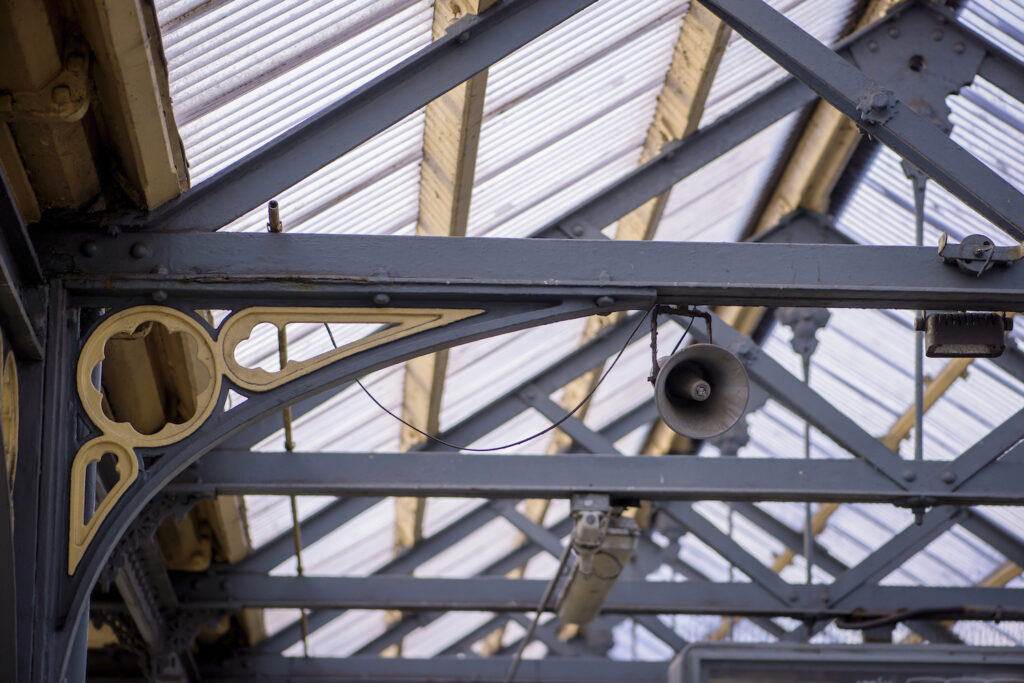 Christopher Steenson
On Chorus, 2020
Courtesy of the artist
Photo: Louis Haugh
Steenson's word 'chasmic' suggests something of a dreadful, maybe awesome, redundancy, a vacuum into which the sensate self might drop and lose its grip on things like linear time. The first lockdown, with its combination of constant anxiety, novelty, and the sudden simplification of daily life, produced an emotional microclimate in which people processed things at speed – life, death, attachments. Moralising, motored by the internet, began immediately. As an artist I felt mostly unmoved by accusations that I, decedent postmodernite that I am, had also surrendered my life to a Koyaanisqatsi-esque daily grind, distracting myself from the full profundity of existence. Steenson registered the birdsong as 'a puncture of hope' in that gloomy moment and, although the contributors to On Chorus don't necessarily dwell on this, it is an interpretation that rings true: I think of the bird bursting out of my chimney as a puncture in something too.
It may be that what is punctured is ultimately a sense of division between culture and nature, within and without, human and animal, and this is the substance – or part of it – of Suzanne Walsh's 'Paradise Isle', a speculative story in keeping with Walsh's ongoing interest, as an artist, in coming up against the cold or furry or feathered surface of animal/Other. We are in Dublin, on the Royal Canal, again: we are at Blessington Basin, an ex-reservoir rudely ringed by black railings that make the water and the weird little bird-manned island in the centre inaccessible. Walsh's protagonist, who walks around the basin most days and watches an old man feed mincemeat to a heron, wonders for a while about the Victorian murder mystery of Broadstone station before hatching a plan to sail to the island in a dingy, trailed and assailed by birds, until she drifts, like the Lady of Shallot, into alien territory. 'I lie, quietly in the dark, and align my breathing with it until we both breathe in unison. I open my mouth and begin to call.'
I think, reading this, of the Deleuzian concept of becoming-animal, angling in that direction or melting out of human selfhood towards something wild or just multiple. This mode of being has always struck me as echoing the personal flux of the possessed man who says in the Bible: 'my name is Legion'. This might not be my own association – I recall a friend, the son of theologians with English as a second language, explaining, 'His name is not Legion. It means he has many selves.'
*
It is 9 a.m. on St Brigid's Day, the start of spring: one bird – a thrush, I think – bubbles in the fir tree hulking over a surprising little lime-green bush in the car park outside. This third lockdown, there is traffic. I hear the long, blended note of it on the road to Naas. The sky is like steam and another bird comes in, calling from somewhere unseen. As if paying attention to me, a cloud moves away from the sun for a moment, letting strong light chopped by the bars of the blinds into the room, which then starts to weaken and leak until the contrast between this moment and one moment ago is commensurate with a shift from joy to melancholy.
Niamh Campbell is the author of This Happy (2020) and We Were Young (2022). 'On Chorus' was originally published in PVA 12.