Saidhbhín Gibson's works in the Éigse Carlow Arts Festival at first present an innocent, almost quaint experience; innocent, in that the works seem naive at first glance. The difficulty in viewing her pieces – Evensong, a video installation showing portraits of trees; Rufous, a mixed media bird drawing; and Overhang in Oak, an acrylic on paper silhouette of a leafy branch – is that nothing immediately arrests the viewer's attention unlike Susan Connolly's piece Unexpected Logic, which shows a deconstructed canvas. Gareth Jenkins's The Object of Painting as an Intuitive Process of Recollection is equally arresting with painted sculptural wooden pieces jutting assertively out from the gallery wall, encouraging the viewer to manoeuvre their position to view all visible sides of the pieces. Gibson's work seems shy in comparison. Therein lays the difficulty in making art with the everyday natural landscape as its subject. There is an innocence in the assumption of presenting nature as something that is aesthetic in itself.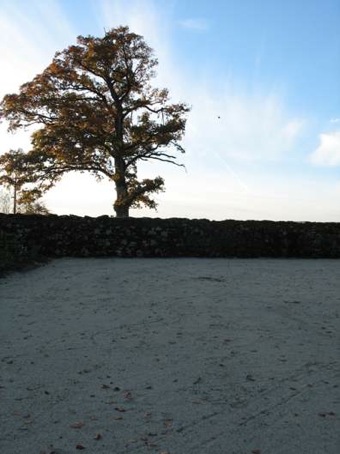 Saidhbhín Gibson: Evensong, (still no.2), 2011
colour video transferred to DVD 9′ 51″
Image courtesy the artist.
Curator Emma-Lucy O'Brien threads a group of disparate practices together from an open submission under the title Constellations. This show takes over the Studio Gallery and Link Gallery of VISUAL, Carlow. [1] Other artists showing include Magnhild Opdol and Margaret Madden. The work by Opdol and Madden are located along the same trajectory as Gibson's. A Tree Like Network by Madden explores the fragility of intricate constructions while Opdol's pencil drawing Paradiso is a testament to the possibilities of drawing. Opdol is an artist who gives great weight to the idea of life being circular and in situating Gibson and Opdol on adjoining walls, O'Brien doubles the contemplative quality of each artists' work. All three artists engage the topic of nature as artistic subject, but here I will focus on Gibson's work.  I focus on Gibson in this group show because her presentation of her subject matter works in a very subtle way which I found attractive. I also wanted to explore the idea of bringing a familiar, yet perhaps neglected nature – that of the everyday unspectacular kind into the gallery, therefore making it a subject for aesthetic critique.
In an essay titled "Art, politics, environment" written by Paul O'Brien in Circa issue 123, he divided artists taking nature as their subject into three categories – Promethean, Critical and Integrative. [2] He gives an example of Promethean art as Walter de Maria's Lightning Field – a work using nature as the raw material, yet avoiding commentary on the 'humanity/nature split'. Promethean art tends to focus on the spectacular or sublime in nature. Critical environmental art then, as the name suggests, strives to raise awareness about environmental issues. A notable example of this is the work of Hans Haacke. And the Integrative approach models its practice on healing the perceived 'humanity/nature split'.
Gibson's video Evensong captures 'portraits' of trees. The camera lingers on a single tree at a time, as the evening light fades in the background. Thus each tree is centre stage, so to speak – presenting perhaps a clichéd stoicism. However, this stillness acts as a counterpoint to a flurry of birds, which draws the viewer's attention further. Evensong is an invitation to contemplate the workings of everyday landscape.
The species of trees and bird life used in the work are interlinked – this, in turn, induces the viewer to reflect on their place in the order of things. The video piece Evensong (featuring a Scott's Pine, a Pine, a Beech, and a Lime tree) and the lyrically named Overhang in Oak, and Rufous are in conversation. Rufous shows the artist's visualisation of the wren heard in the video, while the video portraits bring to life the acrylic silhouette of Overhang in Oak, while also allowing for movement and song.
The mixed media drawing/painting Rufous is reminiscent of 19th century landscape painting. Here, a wren in pencil and watercolour is depicted making its way along a nondescript path hemmed in by clouds of black with yellow highlighting its delicate features.  The wren offers itself readily to allegory. The tiny bird has been hunted for centuries  – yet he is also 'king of the birds'.[3] By tearing the paper that the wren is painted on, Gibson evokes its vulnerability. The wren may not be hunted in the traditional sense so much these days but its habitat is now under threat. This is a reading that could also be applied to Overhang in Oak. Gibson's placement of the pencil drawing between the video shot at dusk, and the blacked out acrylic Oak branch offers the wren as the common thread between the trees.
Gibson's work asks questions, with an ecological basis, in an unassuming and accessible way, while striving towards being an artist in the integrative vein of practice. By doing so she offers works that when contemplated upon, open up new habitats for thought.
Edel Horan is writer who lives and works in Kildare.
_____________________
[1] Artists included in the Link Gallery were: Maureen O'Connor, Brian Harte, Anne French, Selmar Makela, Remco de Fouw, Emma Houlihan, Mark Durcan, Sanja Todorvic, Hannah Breslin, Emily Mannion, Ciaran Hussey, Ramon Kassam, Damian Magee, Fergus Byrne, and Fiona Mulholland.
[2] See "Art, politics, environment" Circa, Issue 123, Spring, 2008.
[3] Persian poem by Farid ud-Din Attar. In the poem, the wren outsmarts the eagle in a flying competition by hiding in his wings and overtaking him – therefore becoming 'king of the birds'.