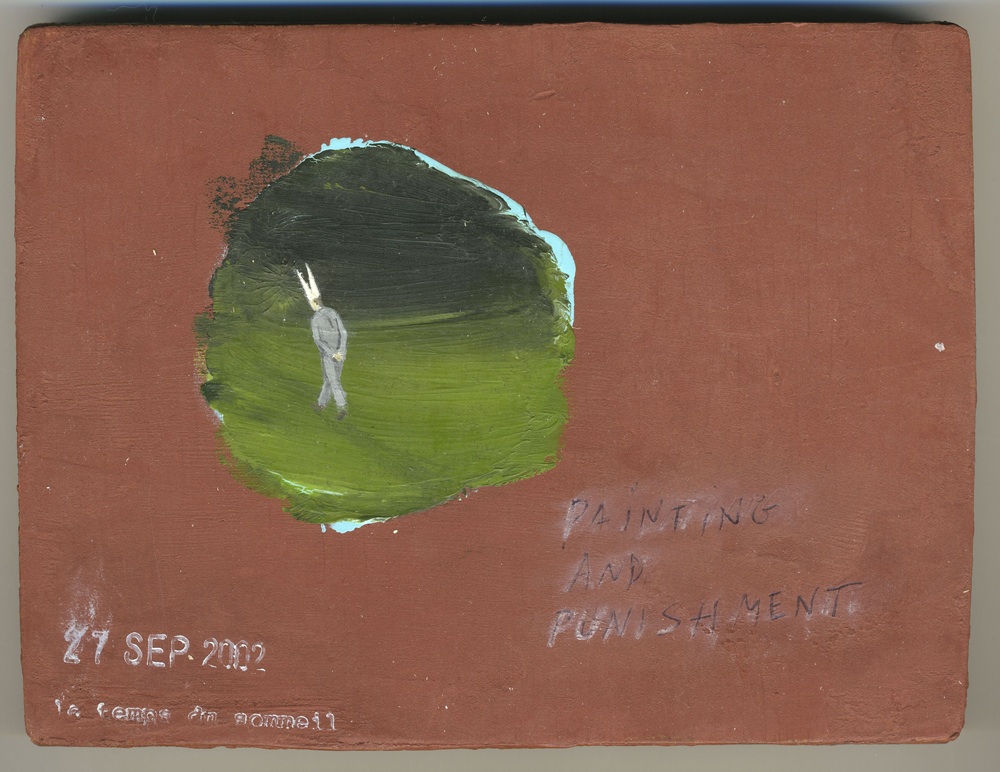 Francis Alÿs, Le Temps du Sommeil
1996 – present, series of 111 paintings (ongoing)
oil on wood,11.5cm x 15.5cm
Image courtesy IMMA.
After participating in the group show Order. Desire. Light.: An Exhibition of Contemporary Drawings at IMMA in 2008, Francis Alÿs returns with a solo show on which he has been working since 1996. Belgian by birth, he studied in Venice before eventually settling in Mexico. The concept of journeying is the primary platform from which Alÿs's projects develop. Much of his work is influenced by, and a direct response to, the city of Mexico where he now lives.  He once described it as "a place that was coinciding with my obsessions." [1]  It is here that his focus on architecture was diverted onto a broader artistic path.
Finding expression primarily through documentary film, performance, video, photography and painting, Alÿs's projects usually find their beginnings in everyday journeys, actions and events, exemplifying the old adage that great things often have small beginnings. His desire to engage with his immediate surroundings results in projects that often respond to current social, economic and political conditions. Le Temps du Sommeil, comprising of 111 paintings with accompanying texts, could be seen to represent a visual diary of the artist's life, a selection of events, observations and meditations that have influenced his work to date.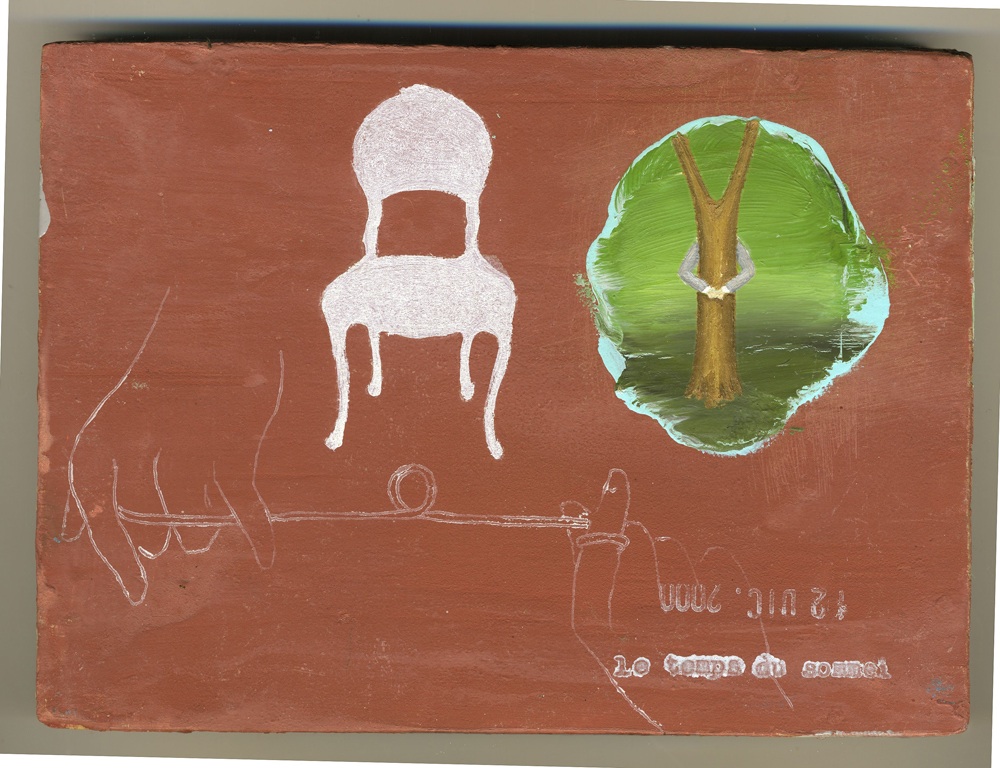 Francis Alÿs, Le Temps du Sommeil
1996 – present
series of 111 paintings (ongoing)
oil on wood,11.5cm x 15.5cm
Image courtesy IMMA.
Arriving at the exhibition space, the viewer is immediately presented with a tell-tale sign of the process involved in Alÿs's paintings: tiny figures, objects and animals on tracing paper dot the windows and glass panels in the door. Upon entering the room, a seemingly endless sequence of small pieces, alternating between text and paintings, line the walls. The small dimensions require the viewer to approach closely and encourage engagement with the work. Almost all paintings are composed in the same way with a red background and a small, circular setting of olive-coloured grass and a dark green sky where different scenes unfold. Alÿs has compared this technique to the early Renaissance Veduta.  Veduta are detailed paintings or drawings of a town or city where a distant scene was inserted into a landscape.  In later years, however, all artists who employed the Veduta feature were also involved in the painting of Capricci, defined as imaginary scenes, and this would seem an equally appropriate reference for Alÿs's visions, where figures are repeatedly engaged in seemingly absurd and surreal activities.
While scenes within the green oval are executed with precision, the images also contain splatters of paint and sketchy, white drawings suggesting speedy execution, suited to the  capturing of fleeting thoughts. Some of the images recall past projects while others resemble the artist's allegorical visualisations.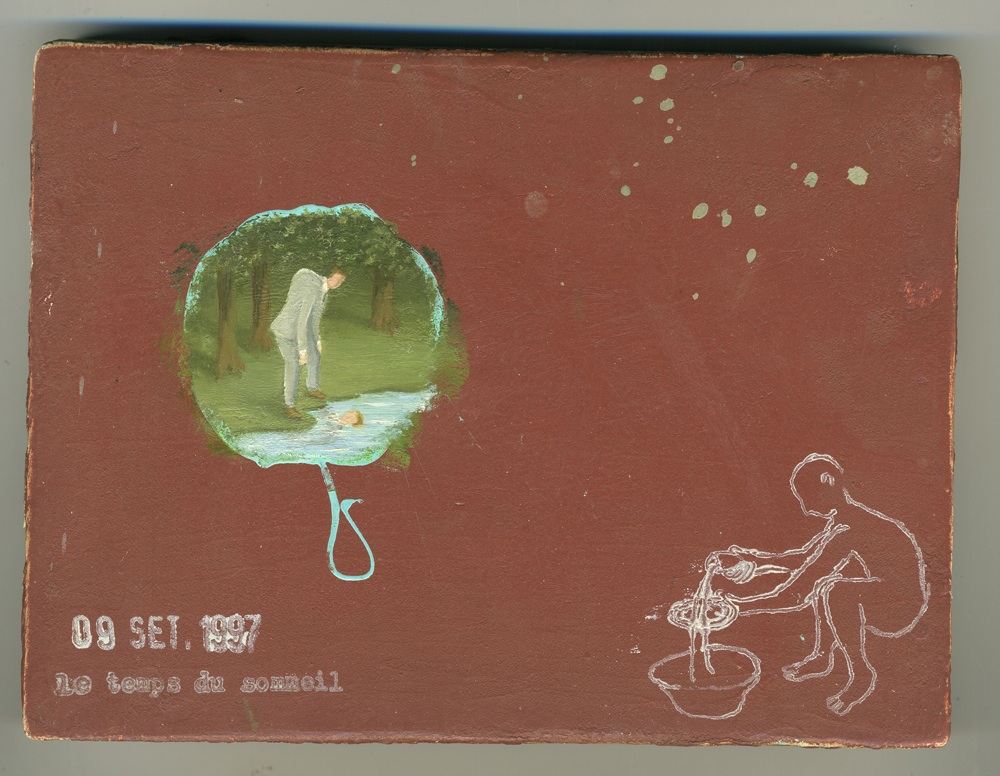 Francis Alÿs, Le Temps du Sommeil,
1996 – present
series of 111 paintings (ongoing)
oil on wood,11.5cm x 15.5cm
Image courtesy IMMA.
Rather than serving as an explanatory piece for each painting, the texts accompanying the visual add to our understanding of the narrative. Many of the texts recount journeys undertaken in the past.  For the 5th Havana Biennale (1994), Alÿs used magnetic shoes to gather metal scraps as he walked through the city. This created a symbiotic exchange between the artist and city and is part of an ongoing series called paseos (strolls). In the exhibition, instructive texts advise readers to follow suit, interacting with often familiar cities in various different ways, encouraging a new form of engagement, while paired instructions recommending contradictory actions suggest the endless possibilities for the curious mind.
Certain texts read, at first glance, as everyday lists; however, on closer inspection, the items resemble notes for potential future projects – a subtle reminder that many of Alÿs's projects stem from mundane actions. Further texts consider gathering individuals to undertake experimental group activities.  Individuals begin at various locations around the city with the aim of finding each other to perform a final, pointless activity together. Alÿs has confessed to initiating many projects in the hope of them eventually being passed on for others to complete. [2]  He discloses an evident interest in the latent potential in group collaboration or the contrasting futility of the final action.
Le Temps du Sommeil offers a glimpse into the highly restless, imaginative and curious mind of an artist whose endeavours reflect an ongoing desire to journey, to observe, to question and to share his findings with an attentive audience.
Roisin Russell lives and works in Dublin.
_________________________________________________________________________________________
[1]  http://www.postmedia.net/alys/interview.htm