At the opening night for Portico at the Complex – the first opening I and most of the others in the room had attended since the beginning of the pandemic – it was clear that a new set of relations and considerations were at play, governing the experience of viewing art, in person, again. These included: constant awareness of the distance between you and others in the gallery; checking to make sure an appropriate amount of time was spent viewing each work, so as not to cause a queue of frustrated visitors; reverse-engineering artworks to determine how artists and/or technicians could have installed while maintaining social distancing. But the strongest impression of exhibition-making in this new mode was a dual sense of transparency and contingency.
This was first made evident in the press release for the exhibition, in which the curators (Mark O'Gorman and Paul McGrane) disclosed that both artists in this two-person show, Tanad Aaron and Mark Swords, were originally approached separately for solo exhibitions, before it was decided that their work might be presented under the aegis of an 'intriguing single project'. Such information would likely have gone undeclared under pre–Covid-19 circumstances; group shows becoming solo shows, or vice-versa, is hardly unusual. But perhaps after a year of cancelled and postponed exhibitions, there is a demand for more openness about the processes behind exhibition-making, or at least an acknowledgement of the chance late decisions and thinking that informs it.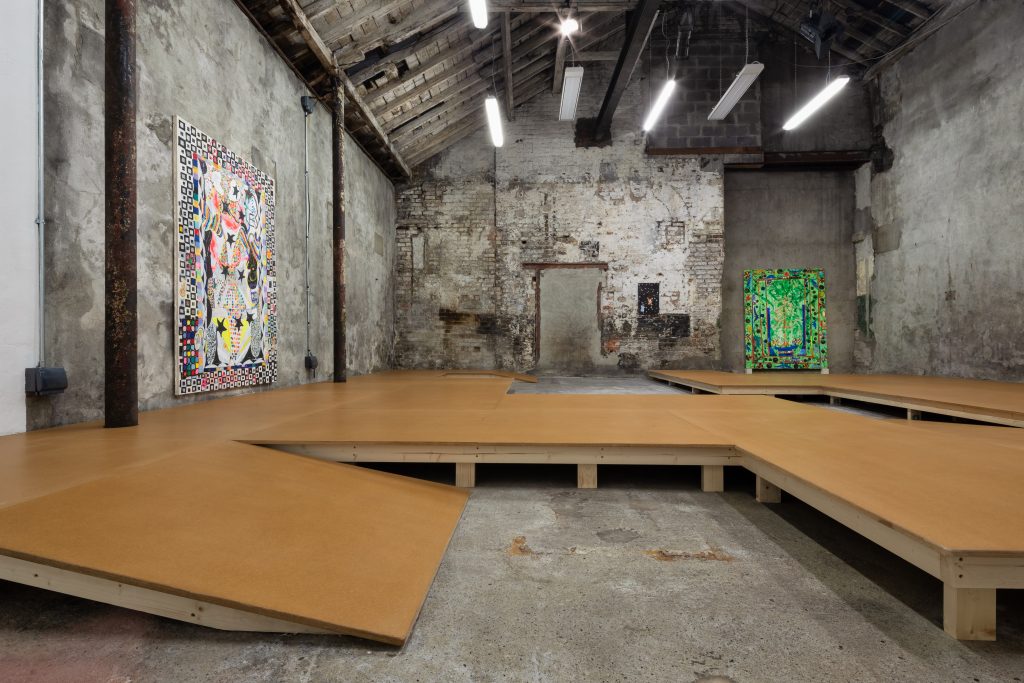 Tanad Aaron and Mark Swords
Portico
Installation view
Courtesy of the artists and the Complex, Dublin
Photo: Kate-Bowe O'Brien
Two solo shows evolving into a two-person show might have tempted the curators to impose a unifying theme, or to describe the two artists' projects separately. Alternatively, as was the decision taken by the Complex curators, the work can be presented with little contextualisation, resulting in a more interesting, nuanced effect. My initial impression of Portico was one of surprise. Seeing the work of these two artists, with such differing aesthetic tones, side by side, felt unexpected, a feeling compounded by the Complex's rather dominant warehouse aspect.
The most immediately striking element of the installation was Aaron's Dear X (2021), a platform structure, raised about thirty to forty centimetres above the gallery floor, made of MDF and white deal and featuring a lead text motif. This structure felt like a way of resetting the space of the Complex and meeting the challenge of its site. The ramp close to the gallery entrance led the viewer around the space, though its height also allowed for individual deviation, making it available for viewers to choose not to engage with the spirit of the installation. Following Dear X around the space, my footsteps felt harsh and clumsy on its MDF boards, eventually leading me to move with shuffling steps to quieten each wooden thud.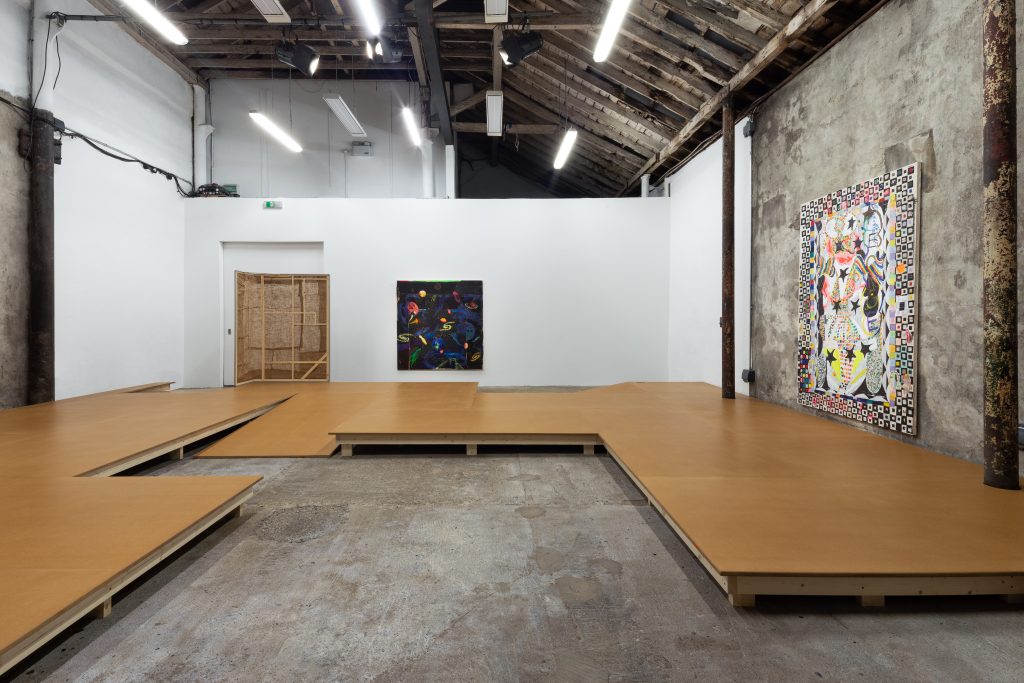 Tanad Aaron and Mark Swords
Portico
Installation view
Courtesy of the artists and the Complex, Dublin
Photo: Kate-Bowe O'Brien

On the walls of the gallery were Sword's paintings, and it was in the interconnection between these and Aaron's Dear X that the most intriguing elements of the exhibition were to be found. Sword's work demands a close examination of its textures, layers, and marks – after sustained looking, eventually the viewer can make out the micro-narratives of Sword's process, identifying elements that came first and last, discovering the remnants of brushstrokes not fully erased. But it is from a distance that these marks cohere; the colourful chirality taking shape among the chaos. This can be most clearly seen in Sword's Important Dinosaurs in My Life (2020), a mixed-media painting on canvas, that leant, stacked on white tiles, against the gallery walls. Aaron's Dear X platform ends a few feet away, inviting the viewer, if they wish to inspect the work, to step off. This single gesture suggests that the artists were not trying to generate a tension between the two works in a contrived manner but allowing them both to be at play.
An exemplary work within the presented series is Quelle Etoile (2020), a mixed-media work on canvas, its border made up of painted mosaics, ordered and regular, containing a mass of black stars and coloured dots and flowers. The words 'quelle étoile' (what star) are written on the top and bottom of the canvas. I misread these words as the entirely ungrammatical 'quelle et toile?' (what and canvas). The letters G-E-O-R-G-E, vertically descending the right-hand side of the canvas, did not provide an answer to my faulty translation. In Sword's work, first impressions can often prove misleading. Signs turn out to be analytical dead ends. Close examination can prove that what appears to be an extemporaneous brushstroke is in fact part of an orderly and systematic pattern, or a vividly drawn, apparently focal detail might actually be a late addition to a work.
In a spirit that echoes Carroll Dunham's assertion – 'I'm only interested in painting that's aware of its own dilemma'[1] – Swords seems to be tackling the dilemma of painting, but with a humour and a sense of the absurd that prevents the work from becoming a painterly meta-analysis or a demonstration of its own formation.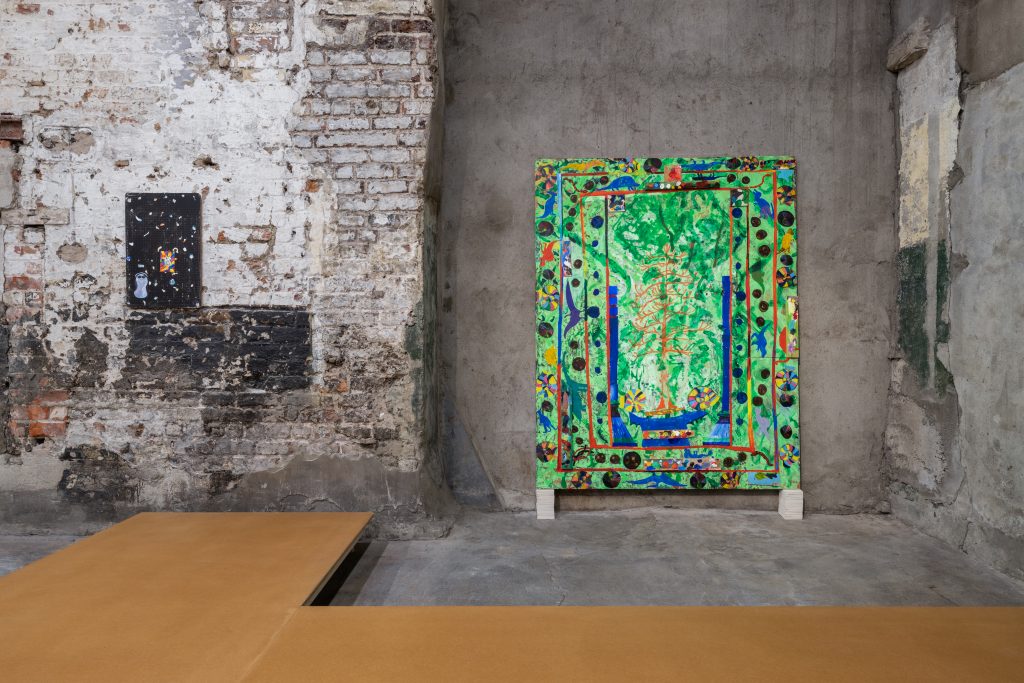 Tanad Aaron and Mark Swords
Portico
Installation view (left-to-right): Mark Swords, Little Bethlehem (2020), 61 × 41 cm, various materials on board; Tanad Aaron, DEAR X (2021), MDF, white deal, lead; Mark Swords, Important Dinosaurs in My Life (2020), 200 × 157 cm, various materials on board.
Courtesy of the artists and the Complex, Dublin
Photo: Kate-Bowe O'Brien

I found it intriguing how both artists' work and the space itself all made different demands of the viewer's gaze. Aaron's Dear X required the viewer to look down at their feet, often following the footprints of previous visitors; Swords's work asked the viewer to look straight ahead at the work on the walls; while the Complex's tall ceilings encouraged the viewer to look up and around. This orbicular viewing of the space could translate to inattention; rather, it allowed for a gainful haphazardness. Both artists deal with problems relating to art's form and function, but their methods are as compelling in the ways they differ as in how they converge. There also seemed to be several implied viewers here, for Swords, a semi-static viewer who examines each work in a preferred order, for Aaron, a mobile participant. But this asymmetry was not vexing. Indeed, it became the source of Portico's appeal.
Accompanying the physical exhibit was an ambitious and wide-ranging programme of online events, featuring performances by a range of artists and musicians who were invited to use the exhibition as a site and occasion for performance.[2] The openness of this invitation indicated a welcoming and unusual approach. Event programmes are generally devised in response to a set of concepts determined by an exhibition. In this case, the programme has been decoupled from the specifics of the artists' work. Instead, there is an emphasis on the exhibition as a physical place – one of active enquiry and experimentation. I think it is becoming more vital for galleries, in an Irish context, to perform such a function, as the spaces previously available for these purposes are rapidly disappearing. This is best done without imposing any homogeneous expectations as to how invited artists might respond. There is a generosity in allowing an exhibition to be variously a stage, a theatrical backdrop or a site of discussion, without the gallery setting parameters on what results. In what has been released at the time of writing, the qualities of the performances shine through not as supplements to the exhibition but as standalone works.[3]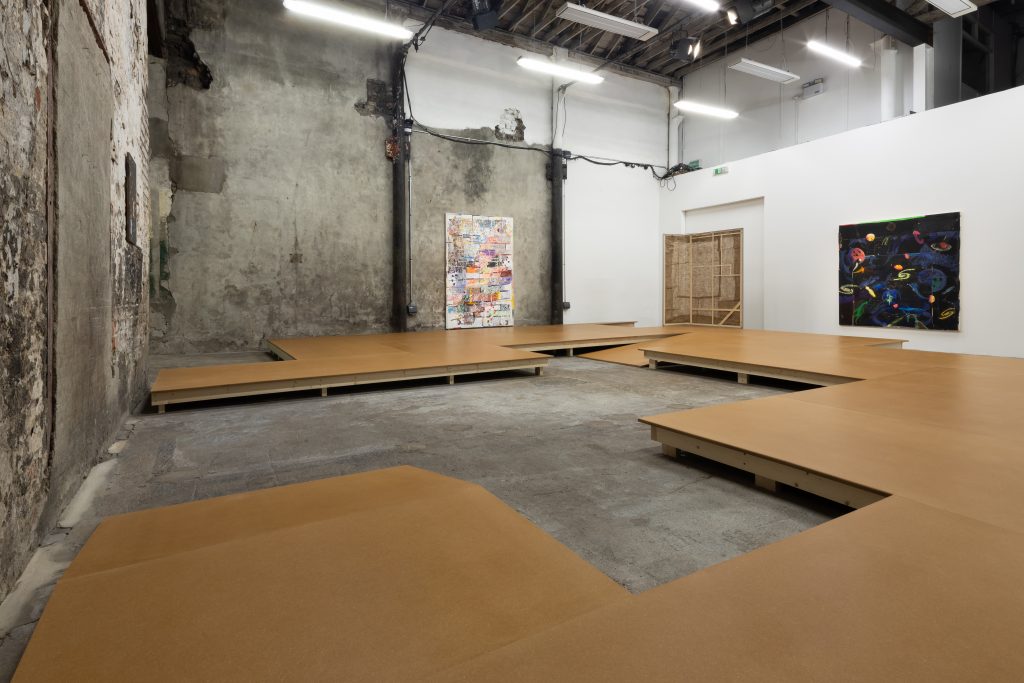 Tanad Aaron and Mark Swords
Portico
Installation view
Courtesy of the artists and the Complex, Dublin
Photo: Kate-Bowe O'Brien

Such a collaborative approach may be an appropriate way to recognise the singularity of contemporary art practices. It also presents certain difficulties, not least how to exactly locate oneself within the ensuing spectacle, and how to navigate, within such an elaborated exhibition format, the various potential meanings of the different works – those of the invited performers as well as the exhibiting artists. Portico did not resolve these questions, but this did not strike me as a failing. Instead, it supplied an intriguing template for an expanded form of exhibition-making; one in which the work is not passive – it constantly adapts and is subject to change. What seems important about Portico is that participation, as a viewer or as an artist, did not have to equate to some form of agreement or consensus, but rather the opposite: the show worked to emphasise the divided and incomplete, revealing the incongruous.
Eoghan McIntyre is an artist and writer based in Dublin.
Notes
[1] Carroll Dunham, quoted in Barry Schwabsky, 'A Painter of Our Time', The Nation 284, no. 1, 1 January 2007.
[2] The exhibition space was also originally intended to be made available for physical rehearsal at intervals during the run of Portico. Unfortunately, this excitingly unorthodox aspect of the programme had to be curtailed.
[3] Performers included Austin Hearne and Glenn McQuaid as Satin Shadow, Michelle Doyle as Rising Damp, and Kirkos Ensemble as well as a filmed conversation between the artists and a virtual walkthrough.