Sunday afternoon in December and the light is watery. I'm standing at Shaftesbury Square, a scuffed junction where five roads meet. An energetic part of Belfast twenty, thirty years ago, now it's weary. Next to a pink and cream Presbyterian church, the restaurant that used to belong to one of Belfast's celebrity chefs lies empty. All enquires are directed to the estate agents Lambert Smith Hampton. There's a small, dour-looking casino and beside it a Northern Ireland Supporters Club. Beyond that you'll see a bookies, the glass front of a restaurant called Brooklyn Square, a KFC, the giant digits of a taxi firm's number. Turn to the other side of the square and there's a big building wrapped in bright hoardings which say Building a Better Belfast, and which show heritage sites, key architectural features, a close-up of someone playing a cello, someone playing a guitar. Down on the pavement there are road works, sectioned off with metal barriers and traffic cones, black tarpaulins concealing some aspect of whatever is being worked on. Turn around again to face a pale wall and, if you look up, about five metres from the ground are two men. Two men attached to the pale wall. They are larger than life size, constructed from aluminium, and they are naked. One of them appears to have a wing of some type. It is not clear if he has a second wing. Perhaps it is tucked underneath him. The two figures do not lie side by side but rather at a forty-five-degree angle from each other. If you were to compare their positioning to the hands of a clock it would be twenty-five past three, or thereabouts.
Aliens who've lost their way home and ended up stuck here
Cú Chulainn, is it not something to do with him? Cú Chulainn and well I don't know who the other one is, Cú Chulainn and a pal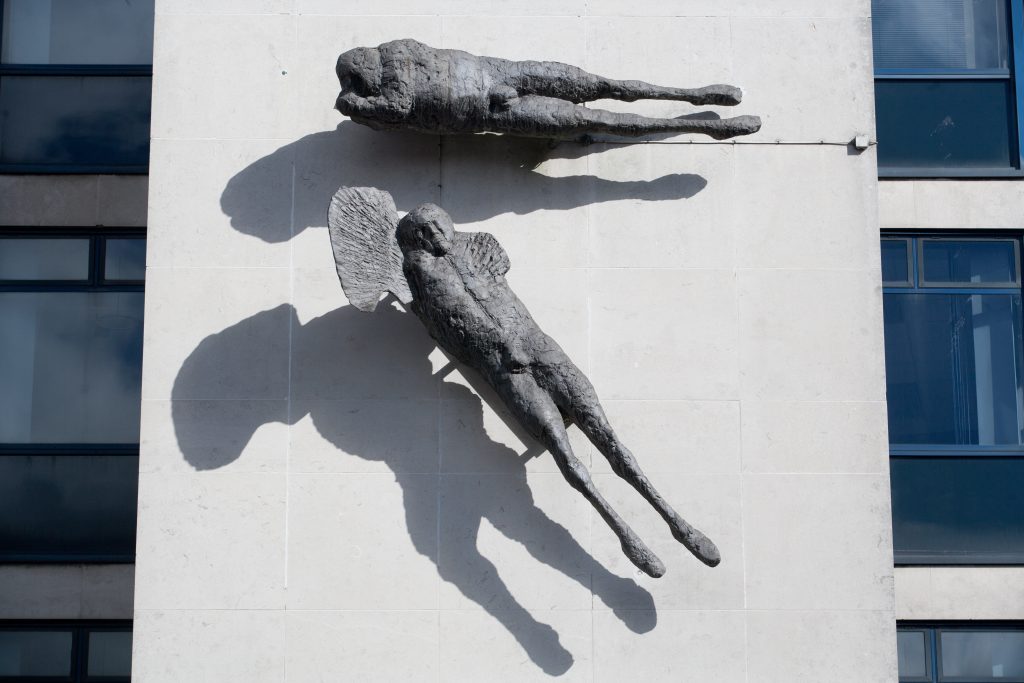 Elisabeth Frink
Untitled (Flying Figures)
1963
Ulster Bank Building, Shaftesbury Square, Belfast
Photograph courtesy of the Arts Council of Northern Ireland
It's a generalisation I know, but gallery art is viewed by people who to some degree or other, want to consider stuff, subject it to some degree of scrutiny. Public art is afforded no such privilege since it must take its chances along with whatever else the street throws up, and what the street throws up can be highly diverting: a big Ferris wheel in the distance; a street altercation; a bus going by with decals of the latest hot celebrity; someone wearing crazy trainers. And the longer public art is there in the street, the park, the square, the more it is assimilated into the environment. Sometimes what proves most arresting is the kind of thing that disrupts the scene and then is gone: Helen Lessick's Rapunzel perhaps where a huge rope of braided hair hung from Belfast's Albert Clock Tower in 1999, not there long enough to be accommodated by the usual, or Jeremy Deller's Sacrilege, a bouncy castle version of Stonehenge, in Belfast for only one day in August 2012. These male figures, however, have been at Shaftesbury Square for over fifty years, and are perhaps as natural to the scene as the black-and-white stripes of the crossing or the picture of Colonel Sanders. The men were commissioned in 1961 by the Lurgan architects Houston & Beaumont, and the Arts Council of Northern Ireland on behalf of the Ulster Bank Limited. They were the focal point for a new and impressive banking facility. The interior was modern and sleek, and the external finish of the building was of Portland stone, marble, and ceramic mosaic. The building, like quite a few others in the vicinity, has now been empty for a number of years. When I peer through the window, the reception area with its shiny counter top still looks efficient. There is only a small stain on the carpet. On one of the pillars outside, the remnants of an old club flyer are stuck to the mosaic tiles.
Way back I used to get the bus in to Belfast from the country, Saturday night, heading to Lavery's back bar and basically Shaftesbury Square was the big city, so cool, this is me coming from the country, there was the Frink sculptures and the Jenny Holzer electronic signs up there, the Metrovision one, all lit up
Punishment beatings or shootings, to do with that cos look at them, they're wrecked, all beat up
I don't know how usual it was for the Northern Ireland Arts Council to work in collaboration with a commercial concern such as the Ulster Bank. Neither do I know whether there were many artists in contention for the commission, and if so, why the Lurgan architects, the Arts Council, and the Ulster Bank chose to award it to the English sculptor Elisabeth Frink. Certainly, it could be regarded as a brilliant and unusual choice, although it was in fact only one of several important commissions Frink received in the early 1960s. In 1962 she produced the Eagle Lectern for Coventry Cathedral. This remarkable sculpture had a four-feet wing span and was cast in bronze. In 1964 Frink completed the Alcock and Brown memorial, for the newly opened Terminal 1 at Manchester Airport. It commemorated the first non-stop transatlantic flight across the Atlantic, and took the form of a horizontal, flying man constructed from aluminium, his blade-like arms as outstretched and extended as aeroplane wings.
Angels that have fallen to earth is how I have always viewed those things, angels dirtied and broken by our world
Lovers' tiff. Absolutely. You know the way you manoeuvre yourself in the bed so that none of you is touching the other person, but you're still in the bed together? Well that's them
Frink had originally begun by casting her sculptures in concrete, but after previous pieces had been damaged by gales and on one occasion, a reversing petrol tanker, she moved to bronze or aluminium. Her surfaces were, are, battered, tortured, and twisted. Her subject matter, while encompassing dogs, horses, rabbits, birds and animal/man chimeras, seldom focused on the female form. Her obituary in The Times described her key preoccupations as being 'the nature of Man; the horseness of horses; and the divine in human form.' She was concerned with masculinity and its various permutations: power, brutality, heroism, violence, vulnerability. But she was not an artist who saw herself as an intellectual. When a critic noted a classical analogue for one of her sculptures she was, her biographer Stephen Gardiner notes, a little irritated. 'I'm not literary,' she said. 'I get fed up when people say, "Oh Icarus or something.'" The sculptures at Shaftesbury Square were not titled.
Always loved to see them when I was a kid because we'd go on these long car journeys on a Sunday and when I saw the men on the wall it meant that we were nearly home again
People kicked off about nudity at the time, you know naked fellas but they are so unsexy, know what I mean, not like some of those Italian ones or Greek ones that are attractive, these are like – not
The poet Ciaran Carson, in an article first published in the Northern Ireland Troubles Archive, and later in the Irish Times, draws attention to how Frink deliberately left the sculpture unnamed and how this allows it to hold whatever meaning a viewer cares to place in it. Another Belfast landmark of roughly the same time period is Transport House, the headquarters of the Amalgamated Transport and General Workers Union. It too now lies empty. A building in the International Style, its outstanding feature is the five-storey high, constructivist mural, depicting in tiles a plane, a crane, a ship, a public transport bus, the proletariat. I love it. It reminds me of the Miners' Strike, The Redskins, the brass section on Dexy's records, Battleship Potemkin, my old A-level History textbook, a Man with a Movie Camera poster. Although others will not share these particular reference points, their response is perhaps not likely to be so incredibly different, such is the mural's ideological and cultural specificity. For Ciaran Carson, the figures at Shaftesbury Square are 'alien, humanoid and angelic', at once three entirely different things.
Something to do with Seamus Heaney, those bog poems you know? Something that somebody's dug up. From the peat
Divided community and all of that stuff, they're not ever going to be going in the same direction, they're not on the same page, just the way it is
Frink was only thirty-four when she completed the figures of the two men. But there was a new generation of sculptors using incongruous materials, welded structures, beams, plastics, who favoured component pieces placed on the ground. In some quarters, she was starting to be seen as really quite traditional. Gardiner says that in fact Frink gave up her art-school teaching because she could not tolerate the intrusion of artistic 'fashion'. In 1960s Belfast, however, Frink found herself regarded by many as startlingly, disturbingly avant-garde. The statues were 'metal monstrosities', and 'aluminium yahoos in a state of rigor mortis'. In the Belfast Telegraph, concern was expressed that an English 'sculptress' had been chosen and that the statues had been put in situ on the Sabbath. It was suggested that a modern mural portraying banking and commerce might have been more appropriate, or a plaque honouring the philanthropist Earl Shaftesbury, who gave his name to the square, because what Frink produced was devoid of any meaning.
Thing we did in school, Skellig, he was a person like that. He lived out in a shed
First World War, the trenches, lying covered in mud
I look up at the men and note the one ineffectual wing, too small ever to take flight. It reminds me of a fish, a skate. Some of Frink's men, particularly the later ones, are stocky, muscled, meaty. But both of these men have the cast of middle age, it seems to me today at least: spindly legs, skinny shins, barrelled torsos. One is looking down, almost in surprise, his hands cupped round his face as he peers at the sight below, these road works, these people walking to the Supporters Club. The men seem old, tired friends. And I also see the woman pushing the pram with the bags hooked on the handles, the man unlocking the door at the church. Someone drops a Slush Puppie drink near the traffic cone and the thick ice is amazing blue on the pavement. I take a last look up at the flying figures before heading off in the direction of the Markets, where I want to take a couple of photos of an abandoned butcher's shop.
Wendy Erskine lives in Belfast. Her collection of stories, Home Sweet Home, was published by the Stinging Fly Press in 2018.
This essay was originally published in PVA 10.