elsewhere was an expansive and ambitious group show, thoughtfully curated by Helen Farrell, that included work by selected members of the Backwater Artists Studios, in Cork. [1] In choosing 'elsewhere' as a title, Farrell devised a theme that was both elastic and evasive, allowing ideas of location or place to be summoned, but also endlessly deferred or displaced. Farrell invited participating artists to respond to one of a range of specific sites in the CIT Wandesford Quay Gallery and the nearby Elizabeth Fort. This choice of spaces offered the artists some compelling opportunities to either intervene within the physical space of the gallery or to respond to the warren of buildings, walls, and shelters within the fort. elsewhere also extended this invitation to viewers, prompting them move through the various locations of the show as its spilled out of the gallery.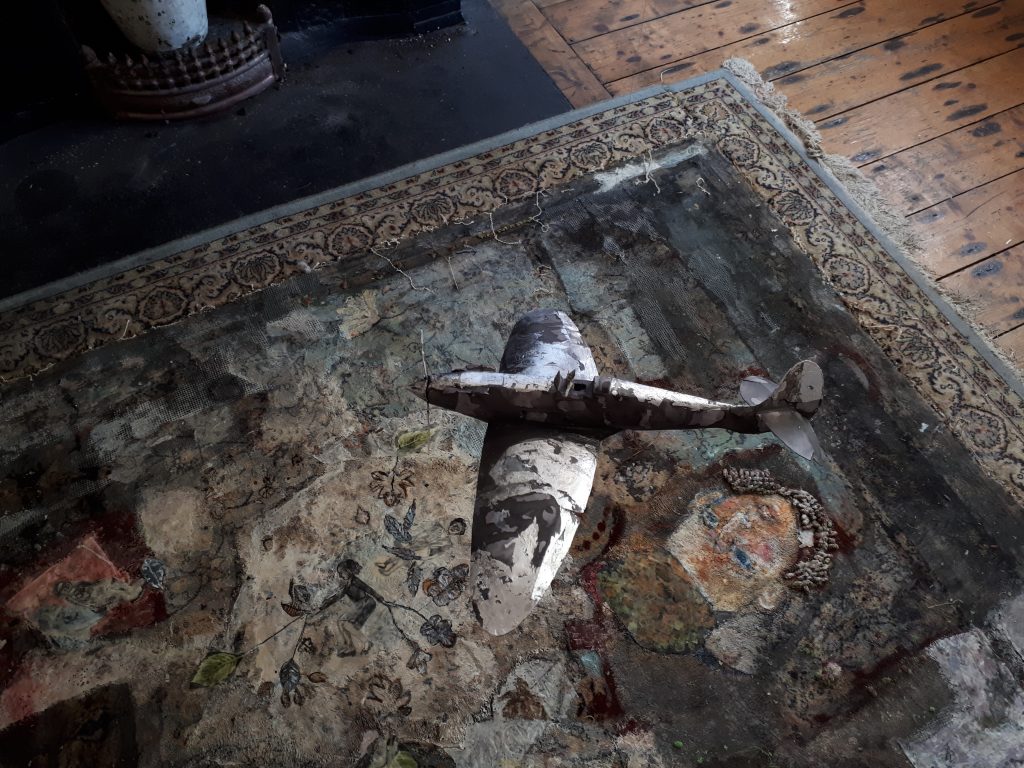 Jo Kelley
Fallout
2017
Mixed media, dimensions variable
Photo: Brian Mac Domhnaill
Courtesy of the artist and Backwater Artists Group
First constructed in 1601, Elizabeth Fort has been in continuous use by various occupants until its closure in 2013. As a result, its massive walls contain an intriguing mix of environments – from domestic accommodation to a former Garda Station and training centre, as well as the elevated outlook of the northwest parapet and an air raid shelter. As diverse exhibition site, it set the viewer on a scavenger hunt, compelling viewers to roam up and down stairs, in an out of bedrooms and bathrooms, to push open doors, and peer into cupboards. These spaces were occupied with an impressively light touch: the homely decay of the bedrooms and kitchens were largely untouched, with artworks sitting comfortably amid the peeling wallpaper and chipped tiles. Some of the artists chose to respond directly to these locations and their distinct atmospheres. Tracy White Fitzgerald's tiny paintings, dotted across the lumpy woodchip of a small bedroom, reproduced fragments of old wallpaper or found photographs. Downstairs in a gently mouldering sitting room, Jo Kelley's surreally dÈtourned tchotchkes offered moments of mischievous surprise: ceramic birds with bizarrely elongated beaks; tiny handmade cups, wonky and childlike, pepper the window sills and shelves. In the purple painted kitchen, Peter Martin's pop-inflected light boxes reproduced family photos in etched and painted glass.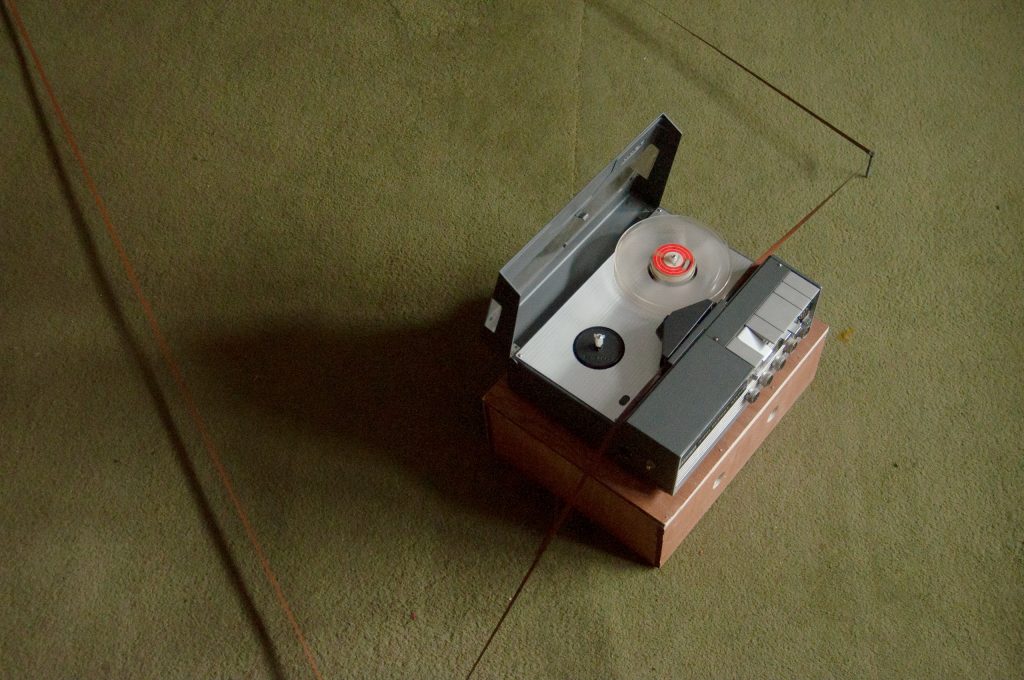 Darn Thorn
Arcadia in Particular
2016–17
Synchronised audio loop and slide projector, dimensions variable
Photo: Darn Thorn
Courtesy of the artist and Backwater Artists Group
Upstairs in an old training room, Darn Thorn presented elegantly sculptural slide projection and audiotape installation that evoked an elusive narrative set in an unknown location, and in doing so he treated the theme of 'elsewhere' in a more abstract manner. The magnetic tape was staked out across the carpet forming a long triangle as it passed through the reel-to-reel player, while the intermittently changing slides showed scrubby, deserted shorelines. Johnny Bugler's deeply affective intervention in the complex of rooms that make up the air raid shelter played a 1942 BBC recording of nightingales in a Surrey wood, which unexpectedly captured the sound of departing Lancaster bombers. Beyond, in a profoundly dark concrete room, a hallucinatory arrangement of misshapen bubbles hung still and blue – empty sea urchin shells, lit from above. The installation was lyrical and poignant but steered clear of sentimentality.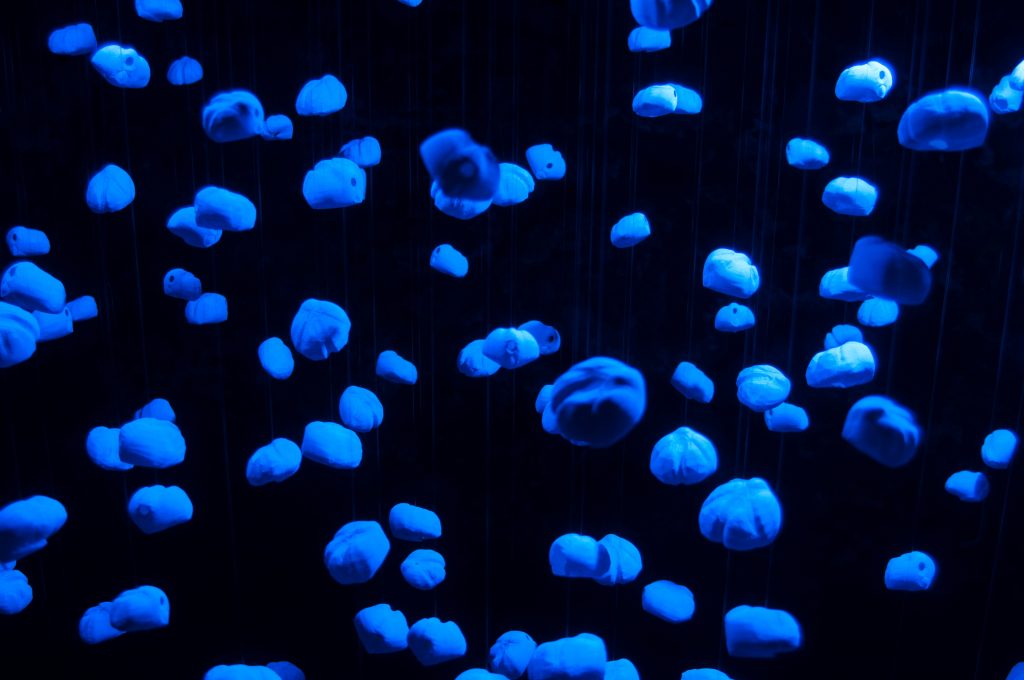 Johnny Bugler
Bombers and Birdsong
2017
Mixed media; Urchin shells (Echinocardium cordatum); Audio: BBC live audio recording, May 1942, dimensions variable.
Photo: Dan Thorn
Courtesy of the artist and Backwater Artists Group
Meanwhile in Wandesford Quay, Luke Sisk reacted to the idea of location in a more literal way. His gracefully minimal ceramics were made from clay rehydrated with water collected from various points along the River Lee, in Cork; the surface of each small vessel was imprinted with textures from each site. Farrell ably choreographed the largest space of the gallery – Sisk's delicate work was well positioned next to the Wandesford's expanse of windows, allowing the visitor to pick up on the intricacies of surface texture. The array of small objects was balanced by Éilish Ni Fhaoláin's suspended scroll, which was illustrated with a comically stretched sweeping brush and draped across the full length of a thin extended table. The whole arrangement had the appearance of a domestic chore gone awry.
The gallery offered more challenging and atmospheric locations than many white cube spaces; its twin-barrel vaults were usefully dark for video projection, but for elsewhere had been cleverly co-opted as sites for a collaborative drawing and sculptural installation by Cassandra and Megan Eustace. The dim light of the inner vault allowed the artists to create a compelling optical illusion, where faint bands of light seem to hover and pulsate. In the outer vault, a sheaf of paper layered with expressively drawn outstretched arms draped over a bar, seemed to capture or register motion, recalling Duchamp's Nude Descending a Staircase (1912).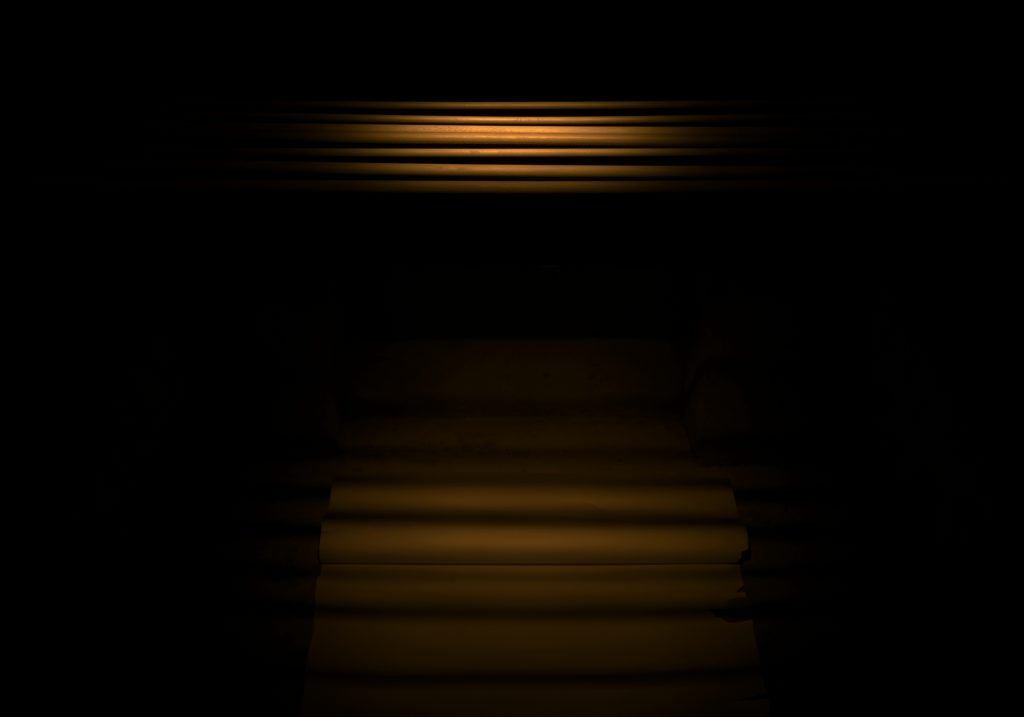 Cassandra and Megan Eustace
Inner Calm
2017
Mixed media, dimensions variable
Photo: Darn Thorn
Courtesy of the artist and Backwater Artists Group
Within the shifting cultural landscape of Cork, the most recent upheaval being the dispersal and rehoming of Sample Studios, the Backwater Artists Group has established itself as a steady fixture. Founded in 1990 by graduates of the CIT Crawford College of Art and Design (CCAD), the studio complex supports a vibrant range of practitioners, and this breadth of practices was well represented here – sculpture, drawing, photography, installation, ceramics, stained and flashed glass, film, and painting. A key aspect of Farrell's curatorial strategy was to develop an interactive project with current students from CIT CCAD. Each participating student was paired with an exhibiting artist, and had a chance to follow the development of each project from conception through to exhibition, thereby gaining invaluable insight into the complexities of dealing with tricky sites, and with the intricacies of large group exhibitions. The generosity displayed by all parties – CIT CCAD's support of the project, local businesses' sponsorship of the endeavour, as well as the artists giving their time to share their studio practice – is characteristic of the arts community in Cork, increasingly under pressure from dwindling studio and gallery space. elsewhere was as much a heartening example of continued resilience and resourcefulness within collaboration as it was a compelling aesthetic proposition.
Sarah Kelleher is a PhD candidate based in UCC's History of Art department whose research is supported by IRCHSS.
The show ran from 28 April to 20 May 2017.
Notes
1. Participating artists: CIT Wandesford Quay Gallery – Megan and Cassandra Eustace, Helen Horgan, Róisín Lewis, John Kent, Ben Reilly, Éilish Ni Fhaoláin, Luke Sisk. Elizabeth Fort – Johnny Bugler, Angie Shanahan, Tracy White Fitzgerald, Elaine Coakley, Gerard O'Callaghan, Jo Kelley, Peter Martin, Helen O'Keeffe, Angela Gilmour, Darn Thorn, Sean Hanrahan.