Upcoming events
a heap of language #002: radical publishing
Please join us for the second installment of a heap of language, an ongoing event series organised between Paper Visual Art Journal and the School of Visual Culture at NCAD.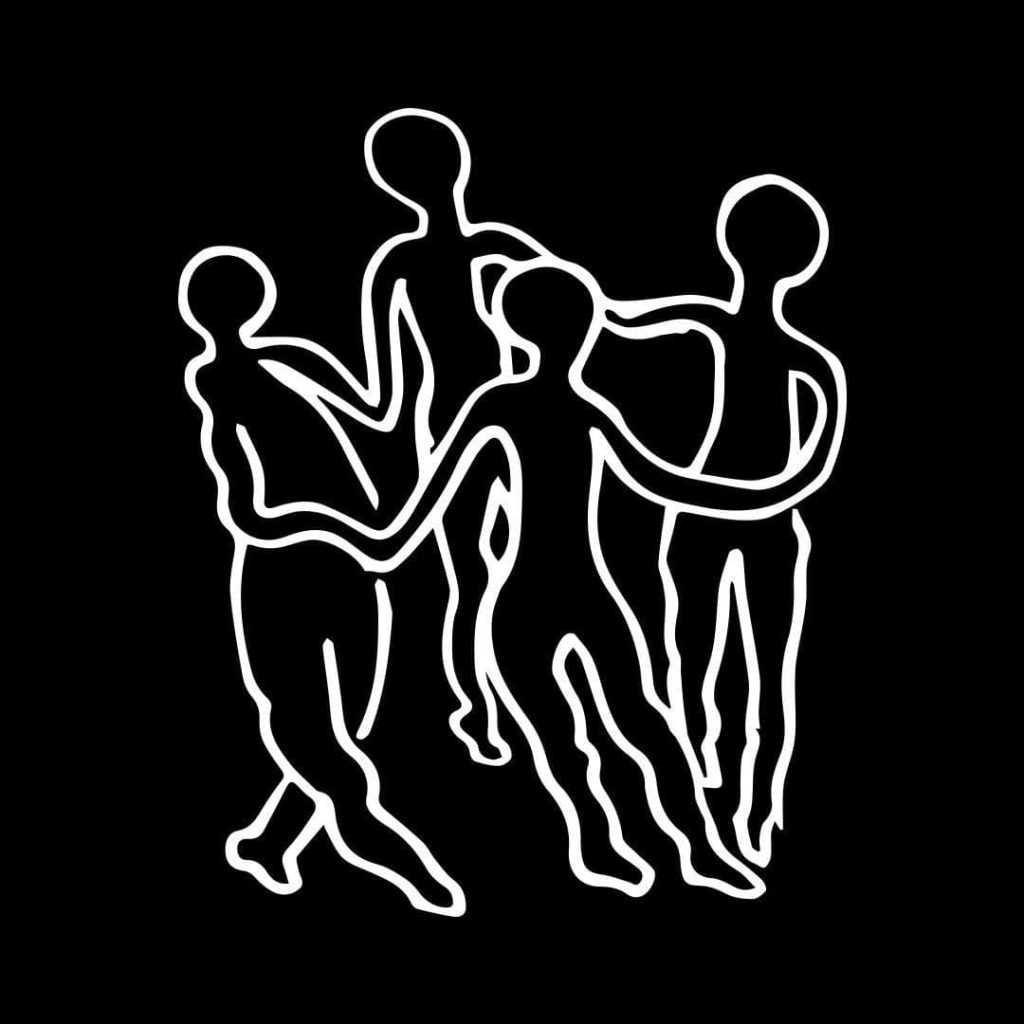 For this event we have invited a number of contributors to speak about radical (artists', small press, activist, and samizdat) publishing.
A publication, compiled by current students of the MA/MFA Art in the Contemporary World, will also be launched. This publication has been collaboratively produced in response to the idea of cohabitation.
Contributors: Christodoulos Makris, Sam Riviere, David Crowley, Simon Cutts and Erica Van Horn, as well as students of the MA/MFA Art in the Contemporary World.
4 pm: transcription writing workshop with Christodoulos Makris [numbers limited, separate sign up]
6 pm: talks at the Goethe-Institut, Merrion Square
8 pm: publication launch at the Goethe-Institut, Merrion Square
This event is kindly funded by the Arts Council of Ireland. All aspects of this event are free but booking is required. Separate registration for the workshop, beginning 4 pm, departing from the Goethe-Institut.
Tickets here.
Recent and past events 
Book Launch: One Here Now at Sirius Arts Centre
Please join us for the launch of One Here Now: The Brian O'Doherty / Patrick Ireland Project, which will take place at Sirius Arts Centre on Saturday 27 April at 3 p.m. The event will be launched by Frances Morris, Director of Tate Modern.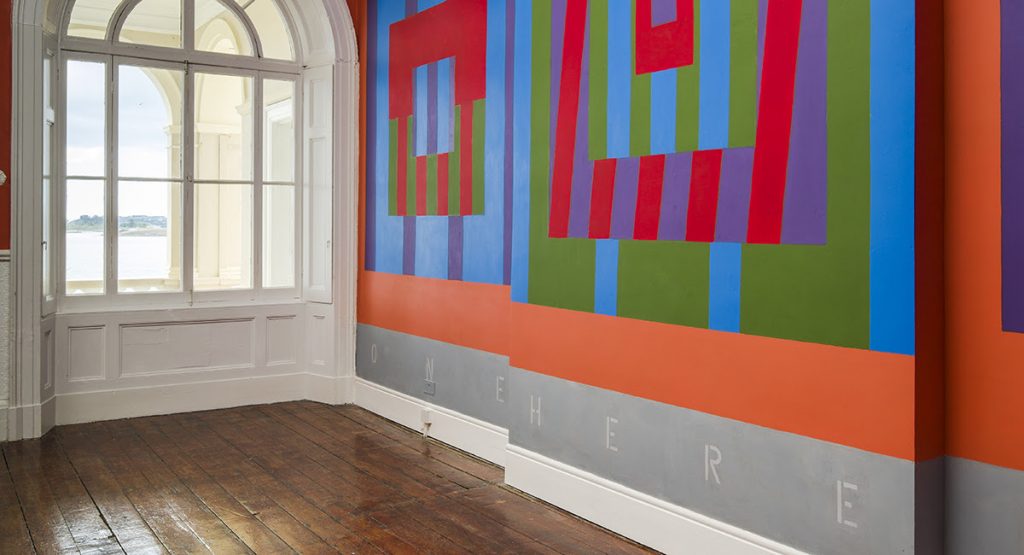 In 2018 Sirius Arts Centre Director Miranda Driscoll organised an ambitious project to uncover and temporarily restore the paintings, with the expertise of the conservator Don Knox. To coincide with this restoration, she also commissioned a year-long programme of artworks, compositions, performances, and talks that would respond to O'Doherty/Ireland's work. One Here Now: The Brian O'Doherty/Patrick Ireland Project, co-published by Sirius Arts Centre and Paper Visual Art, comprises essays on O'Doherty's wall murals and on each of the exhibitions and events that took place at Sirius Arts Centre from 2018 to 2019. The contributions in this book re-examine and re-interrogate the wall paintings and reflect on a project intended to preserve the legacy of these important artworks for future generations.
Contributions by Alexander Alberro, Chris Clarke, Miranda Driscoll, Emma Dwyer, Luke Gibbons, Francis Halsall, Sarah Hayden, Kathleen James-Chakraborty, Sarah Kelleher, Prem Krishnamurthy, Eoghan MacIntyre, Ian Maleney, Brenda Moore-McCann, Peter Murray, Kirstie North, Brian O'Doherty, Nathan O'Donnell, Jenny Roche, and Mary-Ruth Walsh.
http://www.siriusartscentre.ie/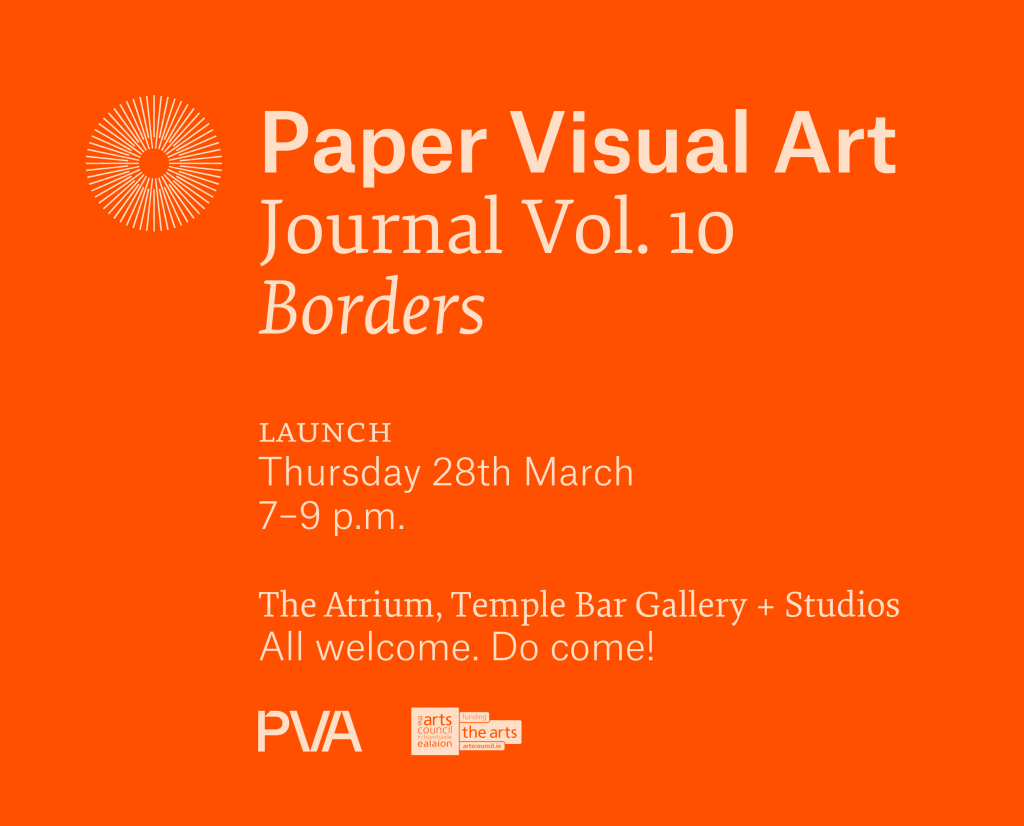 Please join us for the launch of volume 10 of Paper Visual Art on Thursday 28 March. For this issue, as well as continuing our commitment to publishing reviews and responses to exhibitions and public artworks in Ireland and elsewhere, we have assembled a series of texts that focus on borders and their increasing centrality to contemporary art and culture.
In connection with the launch of the journal and its focus on the theme of 'borders', we have also organised two half-day symposia titled 'Fault Lines'. The first event will take place at Void, Derry, in March, and the second at the National Gallery of Ireland, Dublin, in May.
PVA was established in 2009 so this marks our tenth year of publishing. We hope you can join us to celebrate!
Fault Lines: Void, Derry
Saturday 23 March, 2 p.m.
Alongside the Northern Ireland launch of PVA 10, we have co-organised with Void an afternoon symposium that will include a series of presentations and talks, chaired by Mary Cremin. With contributions by Darran Anderson, Gareth Doherty, Willie Doherty, and Siobhan McDonald. The event is ticketed so early booking is advised. Book here.
Fault Lines: National Gallery of Ireland, Dublin
Saturday 2 May 2019, 10 a.m.
This second symposium, co-organised with the National Gallery of Ireland, will take place at the National Gallery of Ireland on 2 May. Speakers to be confirmed shortly.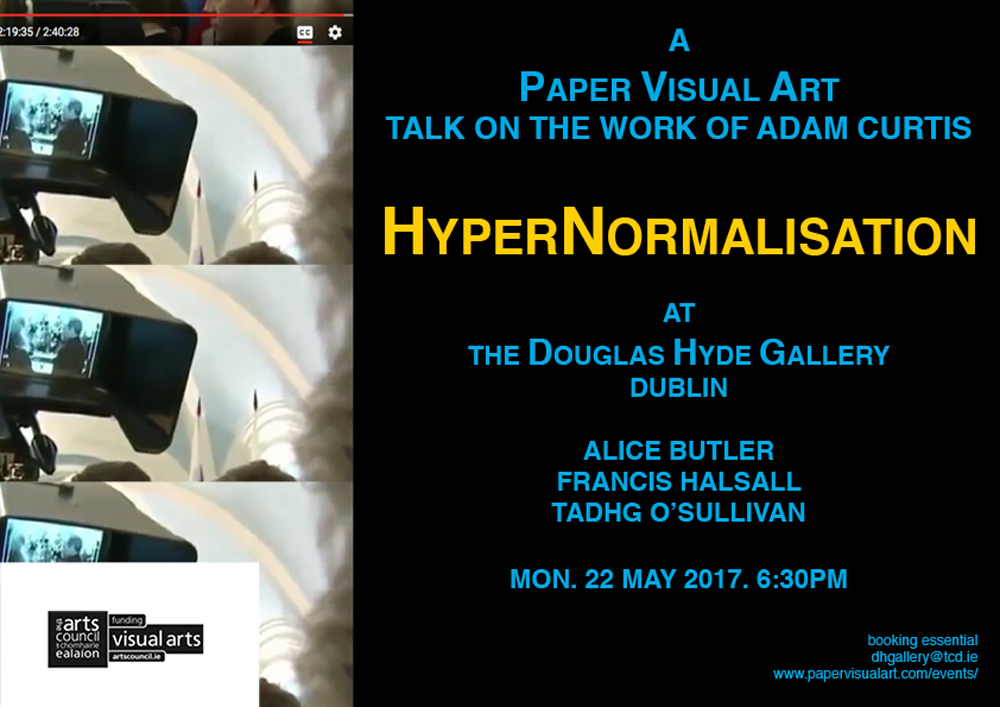 Paper Visual Art Journal hosted an event at the Douglas Hyde Gallery, Dublin, to discuss some elements of the recent work by British filmmaker Adam Curtis, particularly his 2016 essay-film Hypernormalisation. Participants included Alice Butler of the Irish Film Institute, Francis Halsall of the National College of Art and Design, Dublin, and independent filmmaker Tadhg O'Sullivan (The Great Wall). The major focue of the talk was the content and form of Curtis's argumentation in this film and how this form of argumentation has evolved from earlier works.
This event was kindly supported by the Arts Council. An audio recording of the conversation will be made available on the PVA website subsequently.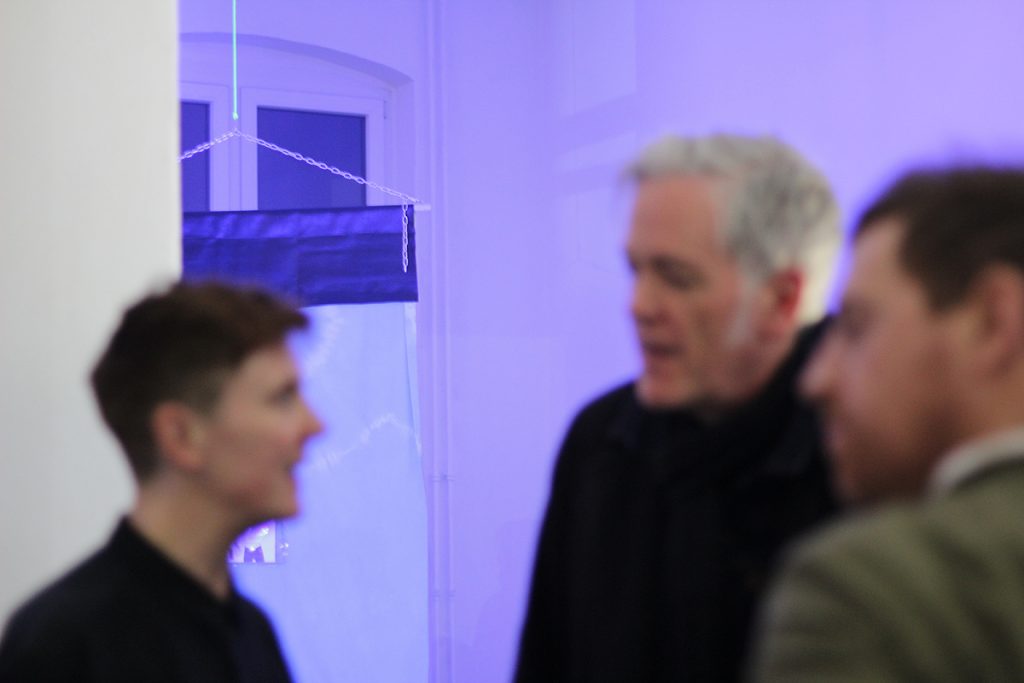 Berlin launch of Having a Kiki at Archive Kabinett, Berlin, 2017
Launch
Having a KiKi, Queer Desire and Public Space
edited by Emma Haugh
With exhibition of The Re-appropriation of Sensuality by Emma Haugh
And talk: Adrian Duncan and Emma Haugh
At Archive Kabinet, Wedding, Berlin
January 2017
Talk
Art & Writing no. 3 (with gorse journal)
Structure
Selina Guinness and Adrian Duncan
With Susan Tomaselli as chair
At Temple Bar Gallery & Studios
November 2016
Launch
PVA 7
And
Having a KiKi, Queer Desire and Public Space
edited by Emma Haugh
At Temple Bar Gallery & Studios
October 2016
Talk
Art & Writing no. 2 (with gorse journal)
Desire
Joanna Walsh and Emma Haugh
With Nathan O'Donnell as chair
At Temple Bar Gallery & Studios
October 2016
Talk
Art & Writing no. 1 (with gorse journal)
Imprint
Dennis McNulty, Nick Thurston, Christodoulos Makris
With Jessica Foley as chair
At Temple Bar Gallery & Studios
September 2016
Presentations
Reading as Practice (with NCAD ACW)
Nathan O'Donnell, Francis Halsall, Eleanor Flegg, Emma Haugh, Adrian Duncan
At Irish Museum of Modern Art
May 2016