During a recent artists' talk at the National College of Art and Design, Niamh O'Malley showed a segment from her recent film titled Island that was shot on Lough Derg.[1] Shown early last year in Centro Cultural Montehermoso in Spain, it will be exhibited at the Model Niland in Sligo this year. The film consists of one continuous shot where the camera moves slowly across the island's terrain capturing its rhythms and movements.  As the camera pans from left to right, a black, flat screen interrupts the viewing (a mechanism set up by O'Malley on site) creating a blind spot. The whole image must now be imagined.
O'Malley's exhibition Model which took place last October at the Green on Red Galley also draws on image-making and representation.  It is through an investigation of materials that O'Malley heightens a failure to grasp and understand beyond the surface of things.
Screen is a Di Stijl-like structure made of timber, two large mirrors, clear glass, and coloured glass. It is well made and sits in the centre of the gallery space. When viewed from one side, there is a cloud painted in oil on the surface of a large mirror. Beside and slightly behind sits a two-way mirror with a large, circular black form painted in the centre, staining and interrupting the surface – obstructing a full viewing both through the glass and on the reflective surface. Screen, although physically static, is one which animates and transforms, thus also evoking a Minimalist relationship between object and bodily movements. The work, however, is not simply a reduction in form, her chosen materials are transformative, conjuring up a sensation of viewing that extends beyond surface. The glass and mirror surfaces are continually obliterated by the reflection of the viewer's body, or by the large film projection behind it.
Model is a black-and-white HD video projection onto a large screen of stretched black cotton. Filmed in a life drawing studio in the Royal Hibernian Art Gallery, it is slow moving and at times, still.  A nude male model sits on the table in front of a large window, stretching, adjusting, posing. The camera navigates around the room, at times closing in on details. This is an examination of the surfaces of skin, of absence of form, and of stillness. There are moments too when the video blacks out. The gridded black frame of the window behind the nude in this film acts as a flattening point to measure and draw an image from the body. The subject becomes an object to be deconstructed, analysed, reworded, put back together; in effect, O'Malley builds an image. The relationship between Screen and Model is central to this; both film and structure together offer a plurality of perspectives, which more closely recapture an experience of the world that "is not given but rather emerges over time."[2]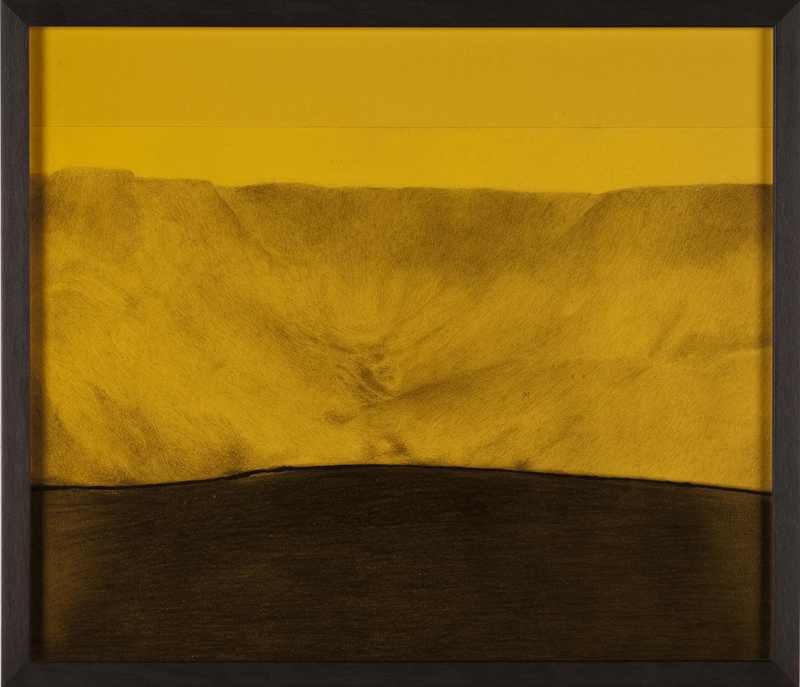 Niamh O'Malley: Yellow (2011), pencil & gouache on paper with coloured glass, 378 x 439mm
Image courtesy the artist and the Green on Red
Photo: Fionn McCann.
O'Malley's delicate and neatly contained drawings in this show are framed in black and are hung, equally spaced across the back wall, and three are placed at the main entrance. They are given coy titles such as: Yellow, Grey, Pink, Blue. Each is covered in textured, stained glass which interrupts the viewing, creating a barrier between the viewer and the image. The glass itself creates a fluid effect and seems to animate these pieces where O'Malley re-demonstrates this failure both in seeing and image making.
Previous work and the work on show is made up of a variety of internal associations and extensions. Despite this fluidity, there is a denial of any definitive meaning.  This endless, unfolding of image unveils absences that can never fully be grasped. O'Malley's subjects – a bridge, an island, a flag, a life-model, a quarry – operate as fragmentary objects which expand and contract. They bring to mind Virginia Woolf's essay "Street Haunting, A London Adventure." Here the writer – seeking to purchase a lead pencil – wanders through London. The pencil becomes the starting point to explore the world, a mechanism to trigger experience. This comes not from the object itself, but from the bodily experience of moving through the world, and shifting angles of perception:
The eye is not a miner, not a diver, not a seeker after buried treasure.  It floats us smoothly down a stream; resting, pausing, the brain sleeps perhaps as it looks.[3]
Niamh Dunphy lives and works in Dublin.
---
[1] Lough Derg is a lake island located in County Donegal. This remote island has been a pilgrimage destination for centuries.
[2] Merleau-Ponty, The World of Perception, Routledge Classics, 2004, London. p 41.
[3] Virginia Woolf, "Street Haunting, A London Adventure" in The Art of the Personal Essay (1995) New York: Anchor Books p. 257