Once, walking down Canal Street in Manhattan, I saw a Cristiano Ronaldo Barcelona shirt for sale in one of the outdoor stalls that line the street, largely composed of I 'heart' New York T-shirts. It's funny because it's not true: Ronaldo never played for Barcelona. At the time, Ronaldo was playing for Real Madrid, the other big, successful, rich Spanish football team. He's since played for the big, successful, rich Italian team Juventus, and for Manchester United, one of the most identifiable brands in football. The T-shirt on Canal Street was an example of brand recognition creating a Frankenstein's monster: Ronaldo is one of the most famous athletes on Earth; Barcelona one of the biggest football teams. It makes sense the two should meet. For a moment that T-shirt looked fine to me. The familiar scarlet-and-blue stripes of Barcelona, the name Ronaldo so well-known, the number 7 on the back.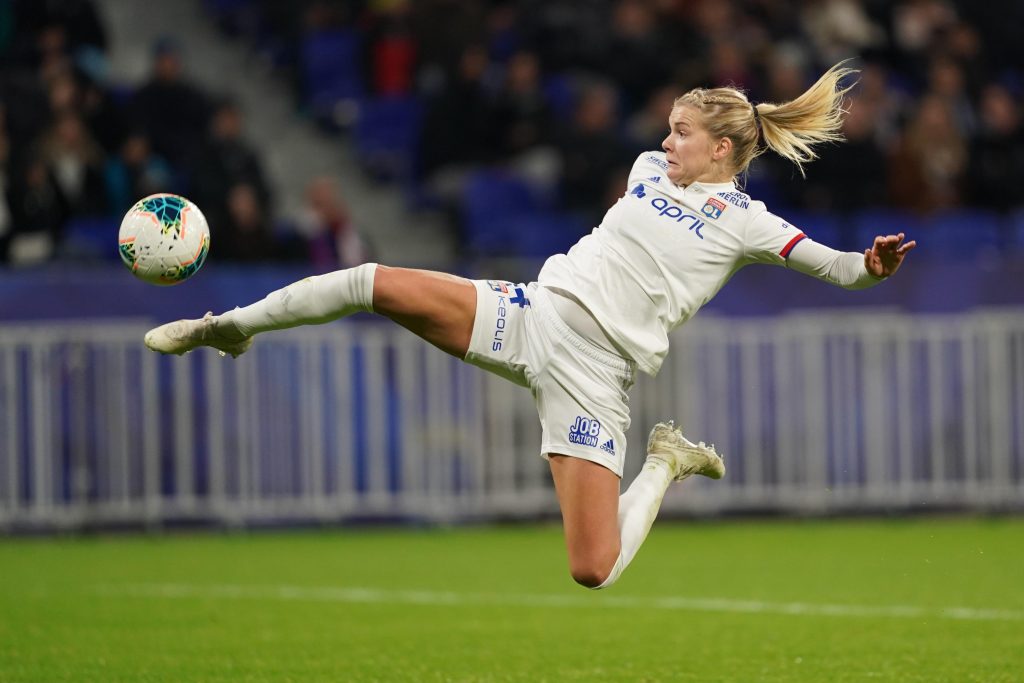 Ada Hegerberg of Olympique Lyonnais close to scoring during the Division 1 Feminine football match between Olympique Lyonnais and Paris Saint-Germain at Groupama Stadium on November 16, 2019 in Lyon, France.
Photo: Daniela Porcelli/SPP
A counterfeit shirt is a minuscule by-product of the financial stakes in football. It is a trivial reflection of the commercialisation and brand-building of footballers, clubs, competitions, and the sport itself, a process that has been accelerating in the past few decades with the introduction of huge sums of money and complex financial and political interests into world football. To be a football fan today is to watch how these forces affect something you love, how something very deep about the game has been lost. To be a fan is to see this process, and to mourn it, and to still hold on. The examples that follow are not as minor as T-shirts, or as major as a shift in the global economy of football. These are just three stories of change and response to change. They are emblematic of some of the big problems of the game and some of the concerns they force fans to face. These are not new stories; quite the opposite: they're just the recent manifestations of deep-seated issues. And thus they return, time and time, again in different forms and different places, to haunt fans and disturb them and also hopefully stop them being too complacent. What would you do if your club was bought out by a human-rights-dismissing sovereign wealth fund, as Newcastle was? Would you go to a World Cup held in stadiums built by labourers working under conditions that could be described as modern slavery? Can you support a team whose success mirrors the lack of equality in opportunities across the sport? These are the kind of contradictions that contemporary football introduces into the lives of fans. Can you go on loving it?
This is a story that doesn't begin in Qatar, though it could.
Before the World Cup ever kicked off (which it will do, contentiously, in November 2022 rather than June, because the summer in Qatar is too hot to play sports), football pundits and journalists were already wondering – publicly – whether they will feel comfortable discussing the games. They were asking themselves and each other if they should reserve the airtime for talking about the many reasons Qatar is unfit to host the tournament. They were speculating on whether they will get carried away in the games, in the normal enthusiasm of a major tournament, and whether there is any shame in this. Can you peacefully sit in a stadium built by exploited, endangered migrant workers? Can you feel you belong in a crowd of supporters knowing that LGBTQ+ fans are unwelcome – in a country where homosexuality is a punishable offence? Would you feel comfortable in a country that imprisons journalists? The pundits aren't the only ones asking these questions. When the Danish team qualified for the tournament, they vowed to step up their criticism of human-rights abuses in the Gulf state. Several federations in different countries are pushing their teams and fans to boycott the games. Guardian journalists dedicated much of their coverage of the qualifying stages to discussing whether this World Cup should be held at all.
It's impossible to presume any of this will really derail the World Cup. Come November 2022, footballers will play, the games will be aired on television and watched all over the world, and fans will fill the stadiums. Perhaps some FIFA officials, who never imagined the PR nightmare a single World Cup could generate, will exhale in deep relief. They will survive this, as FIFA has for a long time survived, in spite of numerous questionable, definitely unpopular, decisions. The structure of FIFA, the global organisation based in Switzerland that governs football, is convoluted and hard to decipher. There's a president (elected by representatives from the different member associations during the FIFA Congress, which happens every four years after the World Cup) and a council (with representatives from each FIFA confederation, selected at the same time as the president). The previous president was impeached for corruption. The current president ran uncontested in the previous congress. These are the people who decided a World Cup in Qatar makes sense. There were other bids, from Australia, Japan, South Korea, and the US. Indonesia fielded a proposal and was disqualified for lack of government support; Mexico pulled out for financial reasons. These two abandoned pitches only make Qatar's power more evident: the Gulf country's energy-based financial influence, the government's interest in holding the global event. In this light, a World Cup in Qatar does make sense.
It's also in keeping with history – there was a World Cup in Argentina in 1978 during the darkest years of the rule of the military junta; the fact that Argentina won only helped distract the local population and divert international attention away from the violent authoritarian rule in the country. It's also aligned with a rising propensity to use football for reputation-building, that is to say, sportswashing. Russian oligarch Roman Abramovich became not only famous but respected in the West largely because of his ownership and stewardship of London club Chelsea. Mansour bin Zayed Al Nahyan, the Deputy Prime Minister of the United Arab Emirates, owns Manchester City and has been flowing money into that team. Qatar's national investment fund owns Paris Saint-Germain. In this context, a World Cup in Qatar is just another item in an endless list that revolves around the same rich nations and individuals and some large global brands.
I write in a way that makes these issues seem so big that they are already separate from the sport itself, like something fans could have nothing to do with. As football becomes a global brand, it moves farther away from the Saturday kick off at your local ground. Nothing feels further removed from traditional fandom than the politicking of FIFA officials certifying the decision to hold the World Cup in a country with a terrible human rights record and inhumane labour conditions. This is what it looks like to be governed by a non-democratic entity whose motivations are, at times, hard to decipher, and who are almost impossible to hold to account. As football fans, players, and pundits describe their discomfort at the prospect of the Qatar World Cup, we still can't even expect what the experience of that tournament would feel like. Or maybe we can. It would feel like a loss for words to describe still caring about something while opposing it. It would feel like a lack of control. It would feel like fandom often does these days.
Ask Newcastle fans. They used to sing against their club's owner, hoping, season after season, that they could oust him. Mike Ashley, a British businessman who owns a chain of sports shops, bought the club in a surprise move in 2007, and put it back up for sale within a year. It took fourteen years of repeated failure before he managed to double his investment, selling the club to the Public Investment Fund of Saudi Arabia in October 2021. The following January, the new owners spent £91 million on player transfers, pulling Newcastle (in a division of twenty teams) from number 18 to number 9 within four months. This achievement cuts short a long history of mismanagement and fan disappointment, but it ends in a familiar problem: Newcastle fans got their club where they wanted it – competing – but at what cost?
Officially, the Premier League, the English top division where Newcastle play, has an Owners' and Directors' Test that outlines what would prohibit someone from owning or becoming the director of a club. The test looks at criminal convictions and breaches of football regulations like match-fixing; it was written in an age preceding the public investment funds of wealthy countries gobbling up local teams. Football is, in this regard, essentially an unregulated industry, and no fit-and-proper test or financial fair-play rules (which have been introduced in the past decade across European football) can control this confluence of power, will to influence, and entertainment. All the Newcastle fans can do, really, is watch. When Newcastle start winning, cynical football fans will see it as proof that money now has an outsized influence on the sport. I am cynical as well, so much so that I typed, then deleted the clause 'which they inevitably will' after 'start winning'. Newcastle fans will say they couldn't compete otherwise, that the system is rigged, and they will be right. Money changes everything. Just look at Lyon.
In the 2010s, Olympique Lyonnais Féminin dominated women's football. Lyon has won the French top-flight division for fourteen consecutive seasons between 2006 and 2020, while at the same time winning seven European Champions League trophies and coming in second three times. Lyon's success is incomparable across any team sport in history, male or female. No other squad has ever defined a field like Lyon has for European women's football in this period. More than half of the French national team that reached the quarter-final of the Women's World Cup in 2019 played for Lyon; the final was hosted in Olympique Lyon's Groupama Stadium, a tribute to a city that fell in love with the women's game and its phenomenally successful women's team. The reason for this unprecedented series of victories? The club's owner, Jean-Michel Aulas, invested comparable sums of money in the men's and the women's team. It was enough to keep the men's team middling in the French league, occasionally making it to the different European competitions, the kind of selling team whose most talented players are likely to stay a couple of years before being sold to one of the richer teams. It was also enough to create a women's team compiled of global superstars. It feels good to describe and celebrate Lyon for their commitment to women's football, so often neglected, but the dominance they achieved is also a mirror of the lack of investment across the rest of the sport. Once another team began to marginally improve their investment in their women's team, the dominance of Lyon began to wane. In Lyon, success was actually a sign of inequality.
I don't particularly hate Newcastle or Qatar. Nor do I support Lyon. Had I written this essay in 2018, I would have written about Russia being selected to host the World Cup. In 2008, I would have written about Emirati royal Sheikh Mansour buying Manchester City. I could have covered how Olympique Lyon Féminin was actually formed when Lyon swallowed the independent women's team FC Lyon. This could have been an essay about how, two months after sanctions were imposed against Roman Abramovich in the wake of Russia's invasion of Ukraine, I still enjoyed watching Chelsea's women's team win their third Women's Super League title in a row and admired Sam Kerr's wonder goal on the last game of the season. Nothing is one-sided. Lyon is promoting women's football and its fans get to enjoy supporting a team who win all the time. Newcastle, a club with a storied history, could not compete in the contemporary moneyed football world until it was purchased by Saudi Arabia. And Qatar will be only the third World Cup held outside Europe and South America. How to talk about these things, ask the journalists heading to the 2022 World Cup? The possibility of non-participation presents itself as one solution. Just don't go, just support another club, just look away. But that ignores the love. The examples I describe above are not unique problems – quite the opposite. They are narratives embedded in the changing face of all sport, with the introduction of huge sums of money, state interests, and global branding. If these conditions feel firmly established, the question that lingers is why love something like what football has become?
It's hard to answer. But I would begin by reflecting on how love is a form of insistence. Our histories are long. To love a football team – passionately, inexplicably – is not a natural state of affairs. Yes, football is entertainment, and yes, it's a way of spending weekend afternoons. But it's more than that: for many fans it is tradition, something inherited like a genetic trait. For me it was an adopted identity. I am a global football fan, the result of the sport expanding beyond its traditional geographies – I passionately support a team from a town I did not visit until I was over thirty. I started supporting them because they had a player from my home country when I was a child. And then that love became something that defined me, a lifelong habit that I can't let go of. Love: that emotion that swells across the stadium when fans raise scarves, flags, and signs, when they sing. As I type this, I can feel the same swell of emotion I often feel when my team plays, when the familiar songs are sung. I get emotional. I can't explain it. And I don't want to. I'm not writing this from reason, but from feeling. And that feeling – love – is what motivates me not to walk away. Perhaps the question is not why love football, even if your eyes are open to its problems, but how to love it.
With football, the answer often is, you keep going. Love is insistence. How to love something that poses a political problem, a personal moral quandary, an ethical test? The answer: you hammer on. You keep discussing your concerns, you refuse the branding and the sportswashing, you don't let go of the love and leave the club to those who do not represent you, the fan. Also: don't buy that Ronaldo Barcelona T-shirt. Also: perhaps don't buy that Newcastle shirt either. This is not moral relativism, but refusal. Football can be a lesson in politics and how politics isn't something that happens to you, inflicted by others who control the object of your love. It's something you can answer. It is a recognition that to have love, a history, and a tradition of fandom, matters. Nothing can take that away.
Orit Gat is an art critic based in London and contributing editor of The White Review and Art Papers. She is currently working on her first book, a memoir about watching football, tentatively titled If Anything Happens.
This essay was originally published in PVA 14, the football edition.