A screen aglow with a family photograph. A boxy pink chair, its fabric worn from years of use. A wooden case, perhaps for storing trinkets, topped by a clay ornament. The collection of objects gathered inside the entrance of Alice Rekab's Family Lines at the Douglas Hyde Gallery sets the tone: domestic, intimate, tactile. Music hums from the screen, while the clay ornament – a ring of figures, plaited in a tender embrace – introduces the exhibition's key material, a chalky, pliable clay substance that holds disparate contents together. Almost literally at times: descend the staircase and notice the foam-like mounds thumbed into the gaps between the stairway and the wall, squeezing a human touch into otherwise austere concrete architecture.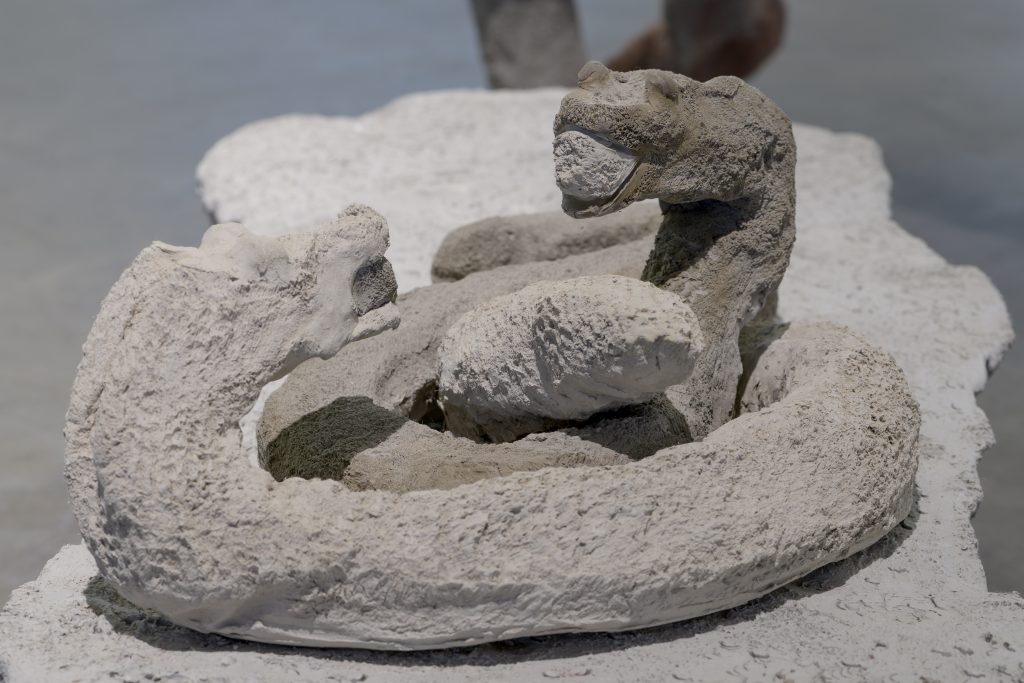 Alice Rekab, Family Lines, 2022
Douglas Hyde Gallery
Installation view 
Image courtesy the Douglas Hyde and the artist
Photo: Louis Haugh
Down in the main gallery, clay forms populate the floorspace. Several of them resemble tables, low to the ground with uneven, tentacle-like legs. On one of these, two writhing snakes are locked into a face-off; on another, two more snakes intertwine, cheek-to-cheek. Nearby, a lizard crawls out of the ground, piggybacked by two babies. Each of these clay forms has a soft, muted palette – pumice grey and pink, mottled purples – and each shows the artist's 'hand', scooped indentations spotting the surfaces like scales. In an airy gallery space that is notable for its vast cubic volume, these objects draw our attention back to the ground, the earthly, the animal, and the humble.
Five large panels are stacked in a row against the back wall: Our Common Ancestor: Five panels of enmeshed historical narrative is a sort of 'quintych' upon which sweeping cosmic marks unfold. A striking starburst form seems to radiate outwards, emitting a white comet that streams its way left. White paint drips down the surface, while more clay – taking on a painterly role now – is pushed into prehistoric impasto forms. Photographic fragments are collaged into patch-like arrangements. Subject matter is elusive: blown-up large and digitally edited, the images become grainy; it looks like a personal photograph, but its contents are softened through reproduction and difficult to discern.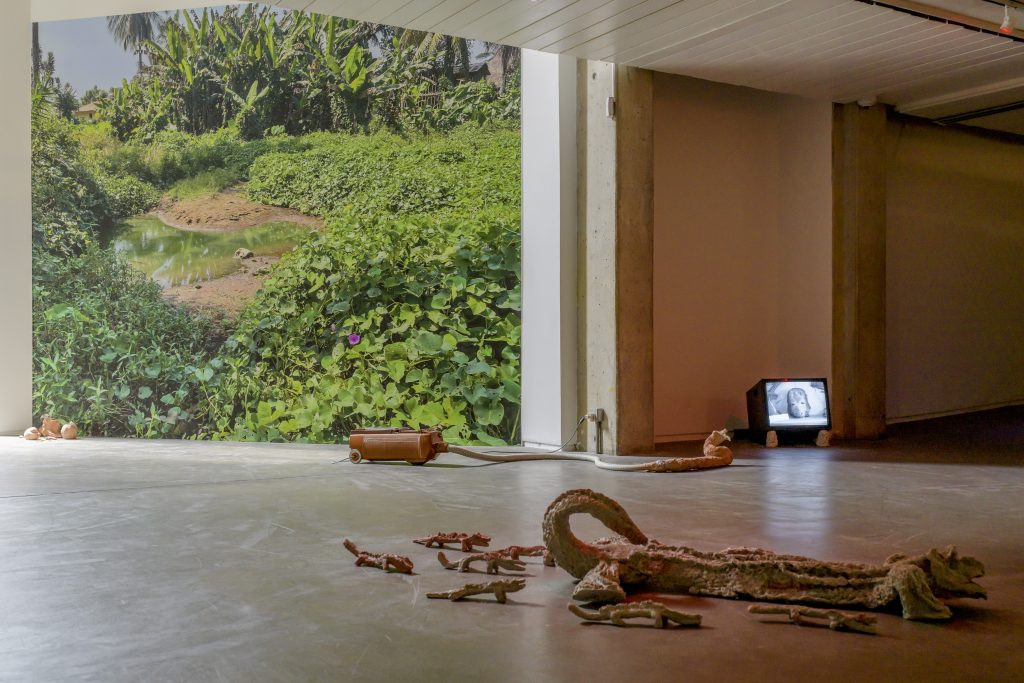 Alice Rekab, Family Lines, 2022
Douglas Hyde Gallery
Installation view 
Image courtesy the Douglas Hyde and the artist
Photo: Louis Haugh
Despite such acts of erasure and elusion, there is a strong autoethnographic seam being mined here. This comes through most palpably in what, for me, is the exhibition's highlight: two beautiful, tender paintings of the same figure. On the left, a framed portrait of a woman alone, perhaps nursing a pregnant stomach, in a striking palette of dusty pink and midnight blue. On the right, the same figure but doubled, nestled together like Matryoshka dolls. One figure seems to float behind, extending a hand onto her likeness's shoulder in a gesture of support. The painting on the left is by the artist's mother, Louise Meade; it is reworked by Rekab into the second piece, not so much in tribute as in continuation – taking the figure and adding to its lineage, continuing the pastime of artistic creation their mother has passed down to them. Elsewhere in the exhibition, a metronome that once belonged to Rekab's father is encased in tactile clay, while the wonky table-like forms make reference to family domestic interiors, cycled through the artist's imagination and made soft by memory.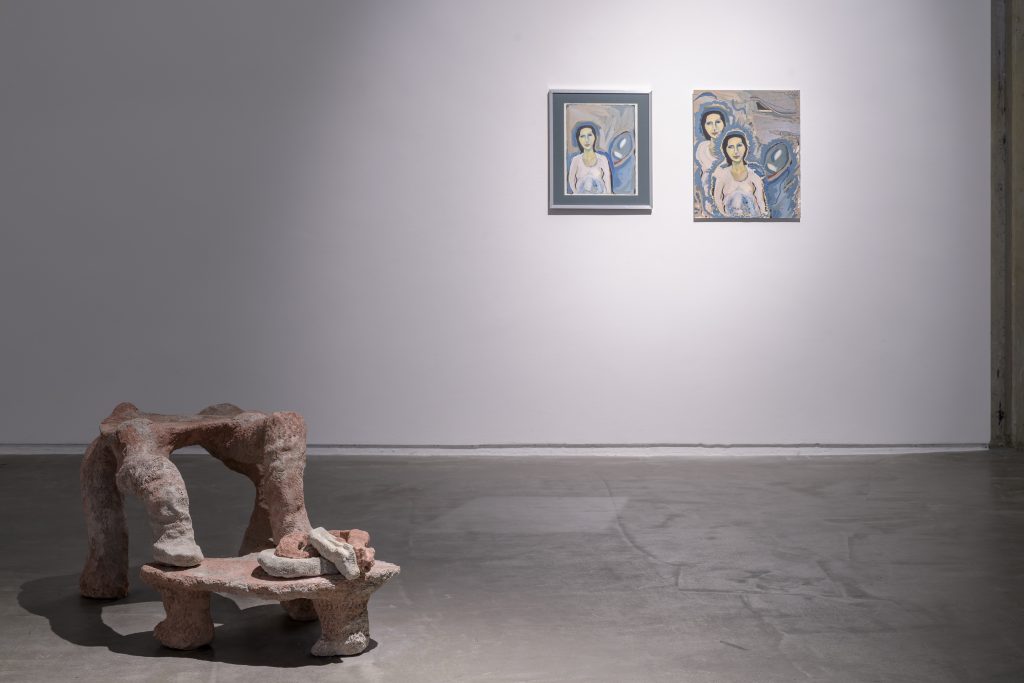 Alice Rekab, Family Lines, 2022
Douglas Hyde Gallery
Installation view 
Image courtesy the Douglas Hyde and the artist
Photo: Louis Haugh
This exploration of cultural identity through ancestry and material history is further contexualised by the inclusion of a scanned book-spread headed 'DIAMONDS'. One page of the spread shows a photograph of diamond miners in Sierra Leone; on the other, the author describes arriving in Sierra Leone from Guinea, comparing the influence of British and French colonial rule and likening it to arriving in Dover after a trip to France. Sierra Leone is a mineral-rich region famed for its diamond mining (including blood diamonds during its civil war); it is also where Rekab's paternal family are from. The actual book also features in the exhibition, sitting on a clay sculpture-table and pinned open by small clay objects. On a neighboring wall, a vinyl photographic print of a clay swamp near Bo in Sierra Leone links the materiality of the handmade objects on display to the natural landscape of the West African country, its cultural history, the extraction of its resources, and the formative impact on experience and identity Rekab uses them to explore.
Behind the stairs of the gallery is a maximalist arrangement of objects including, prominently, two Nomoli, a type of stone figurine found in the Sierra Leone region since the fifteenth century, and which has appeared in Rekab's work for several years now. These figures sit alongside other sculptural fragments, including a box monitor showing Rekab's grainy video work, What Is a Nomoli?, a soft-wrapped object, a patchy suitcase, pottery tools, and scattered sheets of paper printed with black and white ethnographic photographs. Dwarfing them all on the wall behind, a huge vinyl photographic image in black and white, showing what appear to be piles of waste plastics (lids, baskets) stacked in front of corrugated metal sheets. This dense layering of objects, incongruous at first, reinforces the exhibition's motif of layered storytelling; overlapping material histories; the sifting through of the sometimes-overwhelming mass of materials, stories and cultural jetsam that is handed down to each of us, but especially individuals of a mixed-heritage background, with two sets of histories to explore.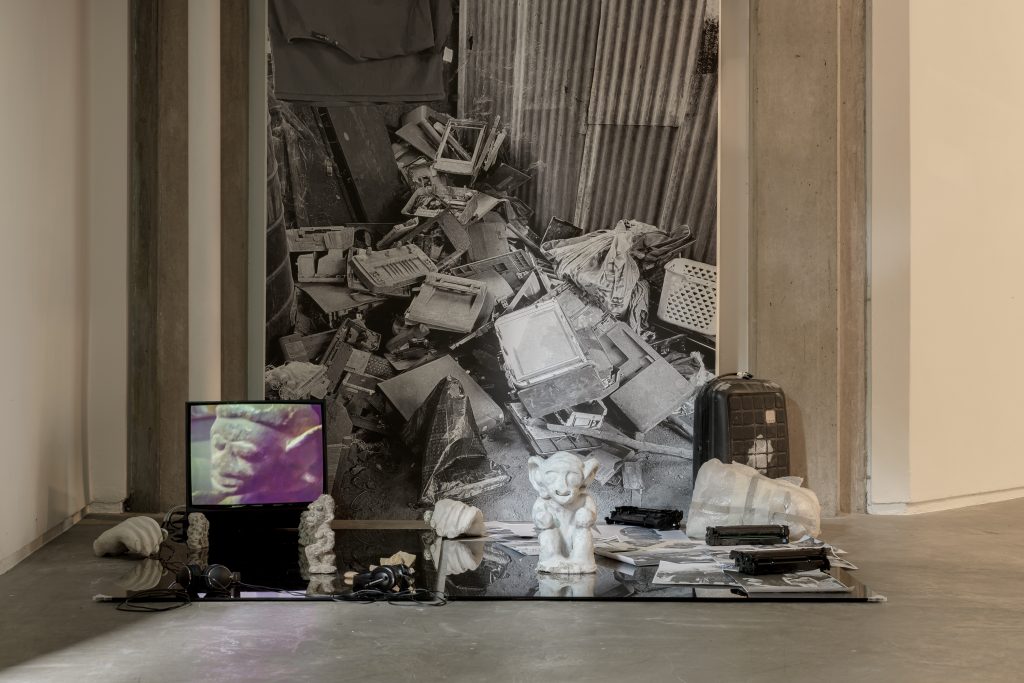 Alice Rekab, What Is a Nomoli?, 2022
Archive version, 2018–22–
Douglas Hyde Gallery
Installation view 
Image courtesy the Douglas Hyde and the artist
Photo: Louis Haugh
For several years now, the Douglas Hyde has used its smaller Gallery 2 space for ancillary programming. Under the rubric 'The Artist's Eye', main-space artists are invited to select and present the work of another artist who has influenced their practice or thought. For this exhibition, Rekab invited Éireann and I, an archive project devoted to Black life and the experiences of Black migrants in Ireland. The group transformed the space into a living room, with leather armchairs, glass cabinets, photo albums, a TV set, cassette tapes and player, handwritten letters from a Scottish prison, lace doilies, and a copy of the Qur'an. Its homely atmosphere invites us to linger a little longer; to sit, to watch, to listen, to read and reflect on Black histories and communities in Ireland; taking us out of the museum and into a more convivial, sociable environment. In this sense, both exhibitions, by Rekab and Éireann and I, act not just as displays of objects, but as containers for other things to happen. On Culture Night, the main gallery space was activated by music and visuals by BLACKBOYSBLUSH*, filled with bodies, sound waves, and energy (I didn't attend but watched footage via Instagram stories and was disappointed to be missing out).
Rekab positions Family Lines as one permutation of a wider body of work. The ongoing Family Lines Project is collaborative in nature and has encompassed workshops on 'Race, place and belonging', ten screenings of art from the African diaspora, and a series of billboards. Two of these billboards were displayed for roughly two weeks after the exhibition in the Douglas Hyde closed: a billboard by Rekab flanked a road at Fairview Strand, while one by collaborator Henrique J. Paris, an Angolan artist based in London, was installed at Gardiner Place. Both centre on the personal photograph: Paris's a set of six passport-style snapshots, paired with a constellation-like pattern mapped onto music notation sheets; Rekab's an erased but outlined family grouping, radiating with drawn lines and surrounded by knotted threads, with a hand-scrawled text that reads 'The Beauty of ancestors'. By placing these intimate offerings in the most public of spheres, Paris and Rekab created a space for Black family life in the Irish urban landscape, and a means for connection through a surface otherwise reserved for corporate advertising. It's an act of tender defiance that echoes outwards into civic life, extending a hand out into the world and, much like the exhibition, inviting us to reflect on the tangled relationship between cultural objects, family histories, identity, and belonging.
Rosa Abbott is a writer and curator based in London. She is a co-founder of the curatorial collective Liquid.