This first exhibition at the newly revamped KW Institute for Contemporary Art, curated by incoming director Krist Gruijthuijsen, is an expansive and coherent presentation of works that includes and extends from the oeuvre of South-African artist Ian Wilson. Wilson, who has been exploring the aesthetics of spoken language since 1968, is an appropriate starting point for this institution's new programme that seeks to 'experiment with communication and exchange' through 'the common articulation of many possible parallel narratives'.[1] Wilson's work, in this instance, acts as a centrifugal point to which the other artist's works respond to, overlap with, and counter-inform.
A selection of Wilson's output, before he began de-materialising his practice in 1968, occupies the ground floor of KW. His Circle on the Floor (Chalk Circle) (1968) appears alongside Circle on the Wall (1968), Untitled (Disc) (1967), and Untitled (The Grey and Red Two Panel Painting) (1966). These wall- and floor-based works are placed spaciously through the interconnecting rooms. Among them are two large vitrines containing relics from Wilson's practice since the late sixties – namely, his Discussions, an ongoing series of works that chart his abstraction from the material to the vocal. His Discussions originated as informal vocal interruptions – inserting the word 'time' – into conversations or exhibition openings. These abstractions were formalised during the seventies into group discussions at art institutions and galleries. The subject matter of these conversations morphed, thanks to Wilson's growing fascination with Plato's Parmenides dialogues, from discussions about the known and unknown to conversations that focused on 'the awareness of the Absolute'.[2] To close the exhibition, Wilson will hold a formal event, The Pure Awareness of the Absolute / A Discussion, with past and present curators and directors of KW. The power of abstraction for Wilson is that it enables him, he claims, 'to come close to the truth, it is a means by which I can approach things and build them up on neutral ground'. [3]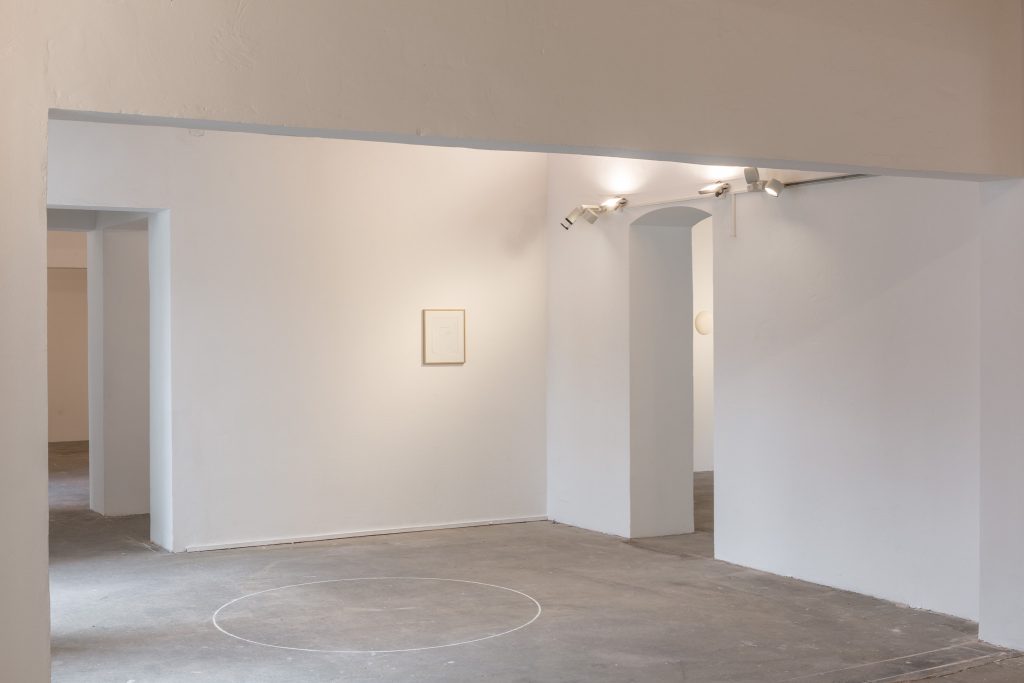 Ian Wilson, Circle on the floor (Chalk Circle), 1968, unlimited edition
Courtesy of the artist and Jan Mot, Brussels
Ian Wilson, The Pure Awareness of the Absolute / A Discussion, 2014
Courtesy of the artist and Jan Mot, Brussels; on loan from Jan Mot, Brussels
Untitled (Disc), 1967
Courtesy of the artist
Installation view KW Institute for Contemporary Art, 2017
Photo: Frank Sperling

Displayed in these timber-and-glass vitrines are announcement cards, newspaper ads, letters, and other such communications pertaining to these Discussions over the years. [4]
One card reads:
May 2nd through 4th 1978 Ian Wilson will be in Basel for discussion
Another:
Ian Wilson
Can something be "Made" Clear?
A discussion to be held at the
John Weber Gallery, 420 West Broadway, New York
on Thursday, 25th May 1992 at 6.00pm.
And another:
Ian Wilson
Discussions of the Absolute
On Sunday 9th of May 1999 at 1800 p.m.,
there will be a discussion at the Palais des Beaux Arts, Brussels.
And perhaps most famously:
that which
is both
known and
unknown
is what
is known
that which
is both
known and
unknown
is not
known
as both
known
and unknown
whatever
is know
is just
known
There is something disconcerting about reading all of these past notices for then-future events. One can only guess at the actual content of the Discussions themselves; one is forced, looking at these remnants, to project a curiosity for them into a future that is now long gone.
Hanne Lippard's installation/audio-work Flesh at once conflates and quotes Wilson's chalk circle drawings and his work on time. In the neighouring ground-floor space, a large cream-coloured steel spiral staircase leads from the ground-floor concrete slab up to a specially constructed attic floor. The audience member is asked to climb the stairs to a room with an extremely low ceiling. One can sit on a bench here, or lie on the pink-coloured carpet. The viewer's actions and movements are dictated by the space. Within, there is a four-channel audio work played through four speakers positioned in each corner of this elevated and glazed chamber. What follows is a breathless voice-work (by breathless, I mean the voice seems disembodied, almost robotic) asking questions like those one might hear in an interview for a very odd job: Where do you see yourself in five months from now? What did you do in 1991, 1992, 1993, 1994, 1995, 1996, 1997, 1998, 1999, 1990-night-before-2000? Describe yourself in five lines.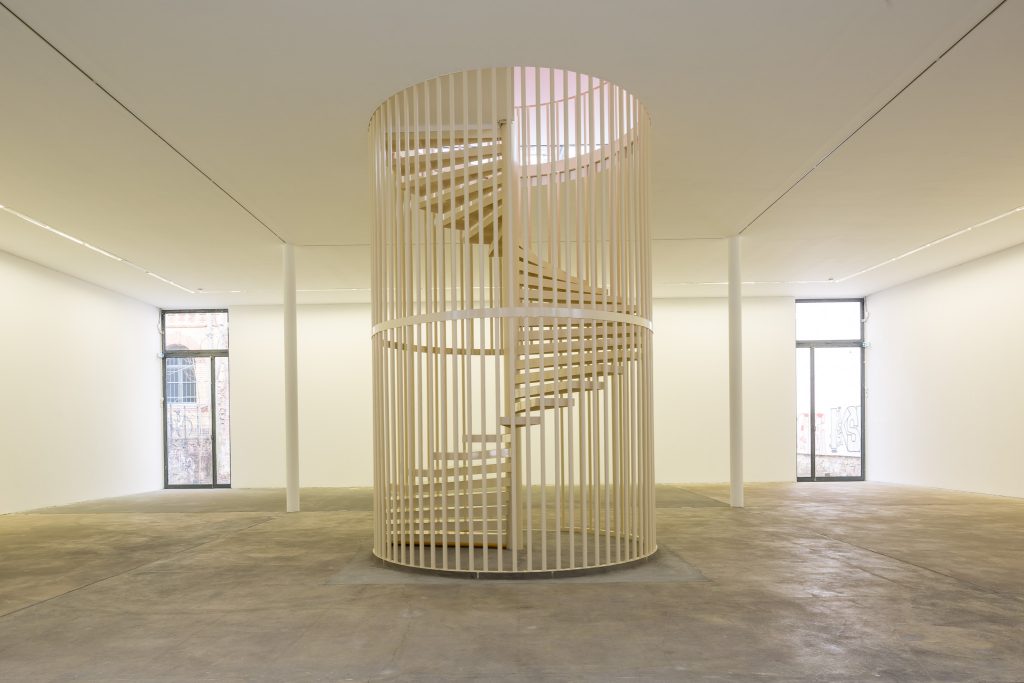 Hanne Lippard, Flesh, 2016
Installation view of KW Institute for Contemporary Art, 2017
Courtesy of the artist and LambdaLambdaLambda, Prishtina
Photo: Frank Sperling
The flatness of the delivery throughout proposes the voice as a mechanised instrument. [5] The nature of the questions and how their delivery criss-crosses the space at once acknowledges and dismisses the importance of someone hearing them. A disjuncture between content and form appears often too. The language sits between the motivational corporate speech-writer, the gnomic voice of a computerised poet, the hectoring tones of a self-appointed authority figure, and the tag lines of a bleak dystopian self-help guide. Here pithy wordplay and meaning and sense and logical order slip in and around each other. Rhyme and synonym are used to create new syntaxes, the logic of which surface and vanish as the sentences proceed. It is a strange language world to sit in for any length of time.
Adam Pendleton's shot him in the face takes up the entire third floor of KW. It comprises a full-height wall that diagonally bisects the space. On one side of the wall at the far end of the building is one of Wilson's last paintings Red Rectangle (1966, reconstructed in 2008) and at the other end is Pendleton's large black silk-screened canvas titled Black Dada/Column (A) (2015). The other side of the wall is covered over entirely with a comprehensive black-and-white vinyl print, IF THE FUNCTION OF WRITING (2017). The work takes as its secondary point of departure American poet Ron Silliman's poem 'Albany' (1978/80), particularly its first line: 'If the function of writing "is to express the world."' This is an interesting counterpoint because 'Albany', Silliman claims, consists of one hundred 'new sentences'. [6] These new sentences are writing units that he generates as independent lines placed without traditional-causal connection to the previous or following sentences. Here Pendleton overlays the sentence – printed in huge block capitals – across a number of wall panels that feature scaled-up photocopies, scans, and photographs from a variety of publications on social history, botany, architecture, fabric design, salon exhibition, among other disciplines. The wall becomes a lively and strangely textural interface of intended and unintended reference. On it are hung a series of silkscreen and collage works, again in black and white, thus bringing this surface back into a different form of function – a wall in a gallery used for hanging things on. One of these framed works, A woman on a train asks angela davis for an autograph (2016), consists of this title, silkscreen printed on mylar, cut up and re-arranged in such a manner as to be almost illegible. The connection between object and title is emphasised. Layers of inter-reference, index, text, image, and types of pattern are built up on this wall work in such a way that the viewer/reader is asked to continuously query any dogma of structure that the reading experience suggests. This wall work is a place of constant criticality and play. It at once brings to bear and dissolves any hierarchies or systems of viewing that the physical navigation of the piece seems to request. It continuously undercuts and proposes itself anew. It is a remarkable work. The lo-fi copy-shop aesthetic coupled with the scale of the piece allows its ambition to exist as something quite serious while also holding a certain and appropriate frivolousness. It is a piece whose surface asks to be worked over by the viewer/reader.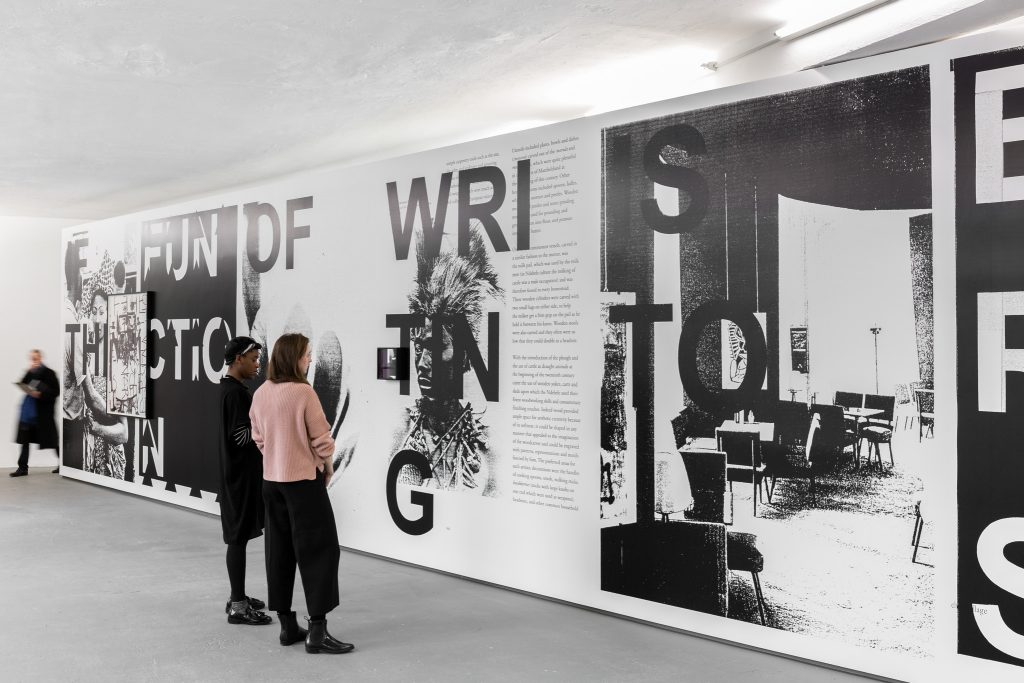 Adam Pendleton
shot him in the face
2017
Installation view of KW Institute for Contemporary Art
Photo: Frank Sperling

This sense of reading and physical navigation is pulled into another register in Paul Elliman's expansive presentation on the first floor, As you said. Here grids within grids of works are arranged on the floor in the space, and in vitrines that echo those containing Wilson's cards and newspaper clippings downstairs. Again, a large propped wall surface is in place, this time hosting two billboard-sized photographs of a person covered over in garments made from shipping blankets and sleeping bags. [7] These same garments, Autumn/Winter 2016/17 (2017), slump inertly around the gallery space too. In conversation with these garments is Flattened like a shadow (2010), a work made up of the black carpeting from the floor of a vintage (and now presumably destroyed) Vauxhall Viva car. The carpeting is reappropriated and arranged to suggest a carefully laid out if rather stiff hooded garment.
In the far corner of the space, Elliman has organised, in a particularly sensitive and suggestive way, another conversation, this time with Wilson's framed paper work, Time (spoken) (early 1970). This wall-mounted work – which comprises a signed piece of paper with the words 'Time spoken' typed onto it – looks down upon Elliman's floor-work, The London Stone (2011), a loose matrix of fifty-three rocks, stones, and stone fragments gathered by the artist from a street in Hackney in London on Monday, 8 August 2011. These works, between them, gently parse time and space using a narrow range of art-presentation tropes, building materials, and suggested action. The compulsions, habits, and movements of these artists are gathered here in this small placid cloister. Picking up stones from a street is at once a repetitive and singular action. The shape and position of each stone corresponds/coalesces with the shape and position of each movement required for its procurement. With this work, the individuality of each movement takes precedence over any visualisation that might generalise the movement.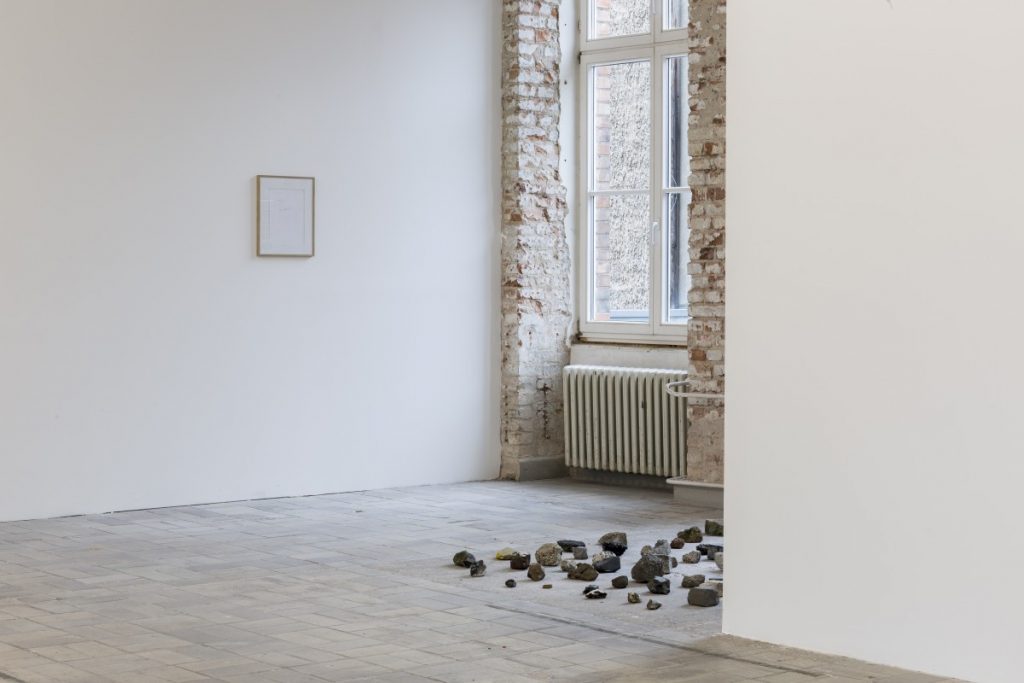 Ian Wilson, Time (spoken), early 1970
A typewritten sheet of paper with the text: 'Time spoken'
Courtesy of the artist and Jan Mot, Brussels
Paul Elliman, The London Stone, 2011 (detail)
Courtesy of the artist (f.l.t.r.)
Installation view of Paul Elliman As you said at KW Institute for Contemporary Art, 2017
Photo: Frank Sperling

These quietnesses, however, are surrounded by noise emanating from two audio sources: one is the multi-speaker Detroit as Refrain Votrax SC-01 (circa 1974) (2013), and the other is the audio from the video piece Body Alive with Signals (2009/17) – a looped video played on a chunky television placed behind the wall structure of a dance performance that incorporates Wilson's Circle on the Floor (Chalk Circle) (1968). The audio element of this work includes Joy Division's As You Said (1980). These audio-works resonate through the space dispelling any possibility of an over-committed devotion or reverence towards Wilson.
Centrally placed is a large timber and glass vitrine, similarly designed to those used in Wilson's part of the exhibition. Within are fourteen gatherings of objects, carefully placed, forming a colourful and, though closed off, rather tactile presentation. The objects within take on a glyph-like status; it is as if one were being made privy to a typesetter's plate before printing. One of the clusters of objects, Industrial Minerals (2016), features things like the burnt-out head of a golf club, a hairband, a small shiny S-hook, a metal pipe-joint, a thick lens, and so on. With the title comes a list of base materials – the cultural connotations of these objects are subsumed beneath the strata of their parent materials. This playful nomenclature forces the viewer/reader to skip over the objects' recognisable shapes, possible uses, and surfaces, suggesting something more elemental, and once in the process of doing this, one realises how preposterous a device this sort of indexing is.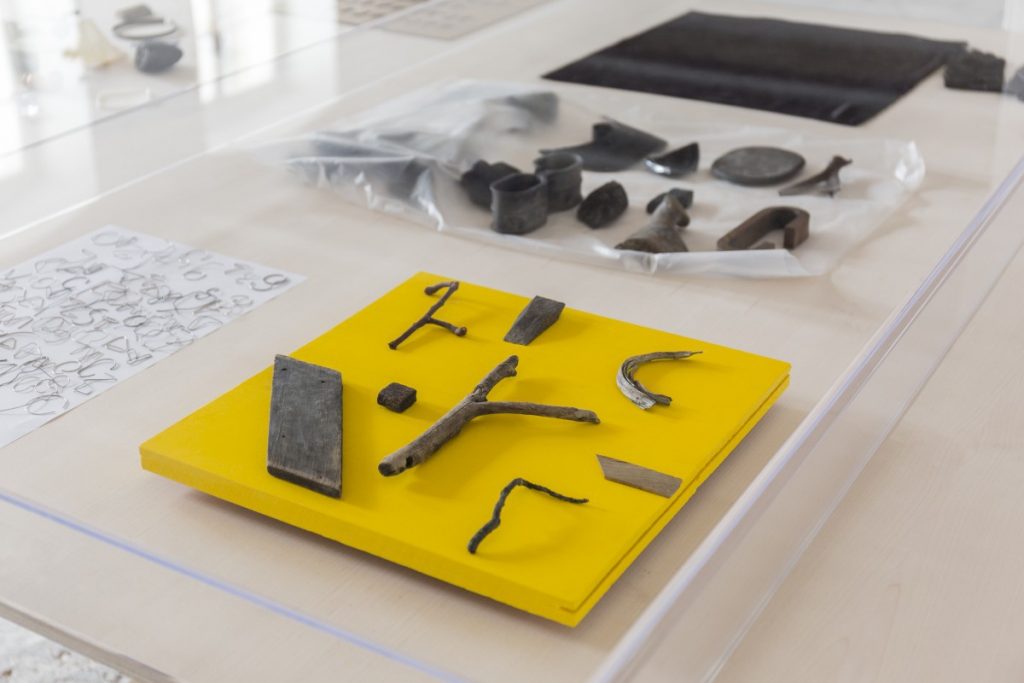 Paul Elliman,
Neither supernatural nor mechanical, 1994/2007 (detail)
Installation view of Paul Elliman As you said
KW Institute for Contemporary Art, 2017
Photo: Frank Sperling
Another work in this vitrine, Language is built like a car (1989), is made up of a collection of innards belonging to (presumably) the same Vauxhall Viva whose carpet lies strewn on the floor to the right of the vitrine. The objects are black and chunky and again seem to move from claiming an independent mysterious object-ness, to being parts of a larger decommissioned machine, to being small language-like runes. The microcosm of the vitrine rehearses the macrocosm of the exhibition that holds it. A sort of set-theory between states of affairs, objects, and their names is proposed here, one in which the intersection of subsets becomes, at times, an impossible rule-bending union of them all – it is another example, in this exhibition, in which what is pragmatic in language can be picked up, shaken out, and made strangely convivial again.
a
Adrian Duncan is an artist and writer based in Berlin. He is a co-editor of Paper Visual Art Journal.

Show runs: 20 January–14 May 2017
Notes:a
[1] From the KW exhibition publications.
[2] From the KW exhibition publications.
[3] From http://www.janmot.com/text.php?id=22
[4] Wilson designed the vitrines specifically for this show.
[5] From the KW exhibition texts.
[6] A small sample from Sillman's Albany here:
… Not just a party but a culture. Copayment. He held the Magnum with both hands and ordered me to stop. They call their clubs batons. They call their committees clubs. Her friendships with women are different. Talking so much is oppressive. Outplacement …
[7] One of which, in its colouring and staging is reminiscent of documentation of Joseph Beuys's 1978 performance piece I like America and America likes me. Also, these billboard images are exhibited in various locations across Berlin and in certain local newspapers and magazines.