A pair of fleshy, enormous testicles suspended from a wooden angle brace. A pint sized yellow effigy of George W. Bush in an oversized stetson. A reclining mannequin with an enlarged doll's head. Floating silicone heads frozen in a state of animated surprise. Discarded, dust filled buckets of KFC chicken, scattered Disney memorabilia, and metre long butt plugs. The layers of dust coating every surface is palpable in the air.  This is Pig Island (2003 – 2010), Paul McCarthy's opus amassed from seven years of toiling in his Los Angeles studio. Transported to Hauser & Wirth's Savile Row space as a sculptural installation, it constitutes the ongoing imaginings from McCarthy's studio practice in an explosion of sculptural objects and ephemera. When observed from above from one of the four strategically placed step ladders, it appears as a sprawling landfill dedicated to the detritus of McCarthy's labour.
McCarthy's multidisciplinary practice from his early performance and video works to his 'mechanical sculptures' critique the hegemonic forces at work in contemporary US culture. His work often lampoons the political emblems of capitalist power, aspects of popular culture and the media as a humorous polemic.

The King (2006 – 2011) at the Piccadilly space is the result of a five year collaboration between McCarthy and a spray paint artist in Los Angeles. Four rows of church pews are arranged in front of a elevated timber platform. A life-size seated doppelgänger of a naked McCarthy, his limbs dismembered at each joint, eyes closed and wearing a blonde wig is the focus of the viewer's gaze. The altarpiece behind him is a giant airbrushed painting of a topless African American man, a women lies against his shoulder in an act of willful submission. Surrounding the timber altar, four spray-painted works propped up on foam blocks adorn the walls. Among them an inverted portrait of Britney Spears overlaid with multiple crotch shots and a pornographic image of a reclining woman exposing her genitals provocatively, in what can only be described as an unholy shrine to male dominance. Here, McCarthy uses parody and self – parody to great effect. The re-contextualisation of the artist's studio setting as a site of holy creation becomes in effect a criticism on the elevated status of the artist today.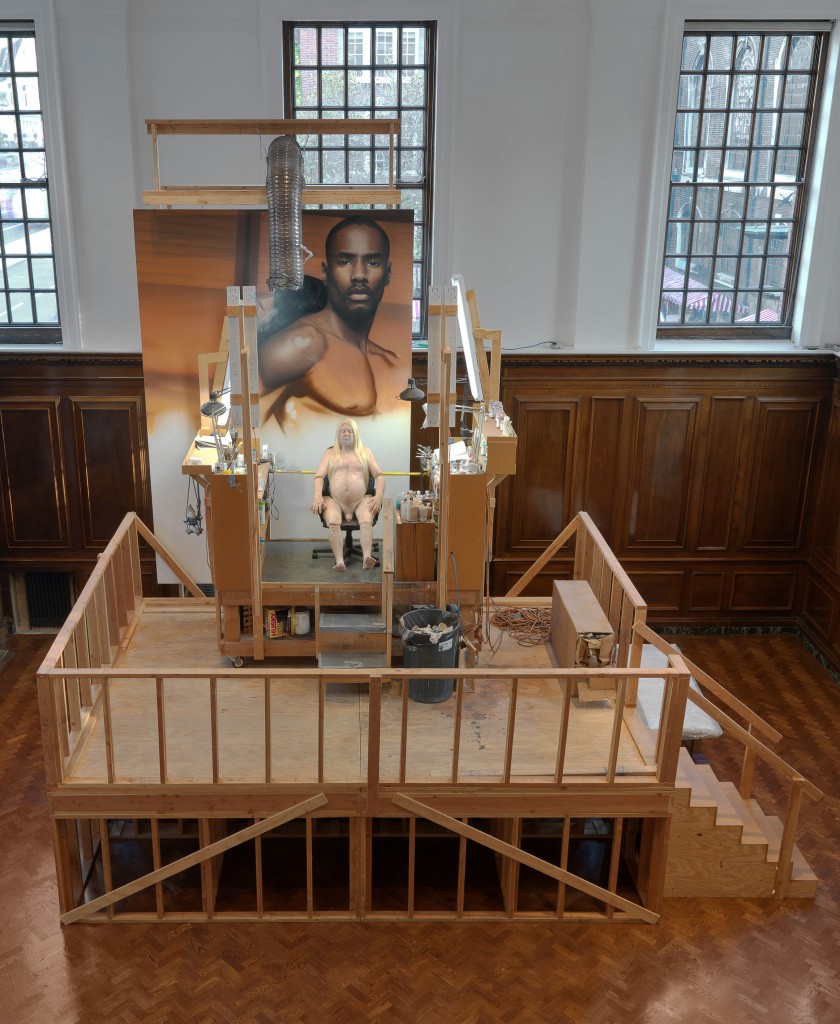 Paul McCarthy: The King (2006 – 2011), multimedia installation; acrylic on canvas stretched over board, wood stage, lighting, life cast, 4 pews. Overall footprint:  6.20 x 12.20 x 8.45 m / 20′ 3″ h x 40′ x  27′ 7 in. Installation view, 'Paul McCarthy. The King, The Island, The Train, The House, The Ship', Hauser & Wirth London, Piccadilly, 2011 © Paul McCarthy. Courtesy the artist and Hauser & Wirth. Photo: Alex Delfanne.
Train, Mechanical (2003 – 2009) features an elaborate metal framework of whirring pistons and screeching levers upon which two squat, silicone replicas of George W. Bush relentlessly sodomise two pigs. The synchronised, debauched action momentarily slows down as a viewer enters the gallery space. The oversized, disfigured heads pivot and swivel at three hundred and sixty degrees following the movements of the viewer, their bulbous eyes eerily returning their gaze.
The prominence of the exposed mechanics in Paul McCarthy's work reveals that the process of the production is integral to its interpretation. These mechanisations serve as an analogy for the capitalist machine and Western ideologies. The exhibition parodies the power structures that govern society and questions how our relationship to capitalism is conditioned. This is more so explicitly compounded in the video work Flicker King (2011). The single channel video is composed of thousands of flashing images taken from magazine advertisements promoting different lifestyle products. The rate and speed at which the images are burned into the retinas fluctuates in a heady frenzy of consumerist delight. Here, McCarthy is demonstrating through the aggressive proliferation of capitalist culture that to accumulate is by way an expression of identity. This exhibition as a whole serves as a warning against the idolatry of consumerist culture, albeit in an amusing and brutal way.
Ruth Hogan is a writer based in London.