Ciarán Walsh's latest exhibition at Pallas Projects consisted of a tripartite arrangement offering viewers disparate modes of experience via a collection of static visual material, a looped video, and a booklet. Presented under the rubric this brief visual pattern, its components comprised a complex and circuitous interweaving of images and text that not only provoked viewers with their unconventional narratives, but also tested their cognitive abilities.

In the gallery's back room viewers were able to drift through the Image as it Appears (2010-11) – what amounted to a didactic presentation bereft of any labels or sheets of explanatory information – and parse the links and potential meanings posed by an assortment of old photographs, painted text, a geometrical structure, and some partially obscured watercolours. While the objects' arrangement according to a colour coded system conferred museological underpinnings, other aspects contradicted such precepts. Visual and physical access to the artworks, for example, varied dramatically and their organisation intimated no timeline or other logical type of progression. Whereas some objects had been placed beneath glazing, others rested on top of it, and translucent white paper veiled two of the images. Pictures of an aboriginal bear costume, an ancient terracotta mask, and a diaphanous hooded figure represented diverse cultures and referenced a spectrum of practices that included primitive ritual, theatre, and investigations of paranormal phenomena. Similarly, the sole 3-dimensional component contributed to this evocation of transformative possibility and mystery. The portion of the form that should have projected laterally out into space from the edge of the table appeared to have been affected by a structural quirk. Instead, it gravitated downwards directly toward the floor.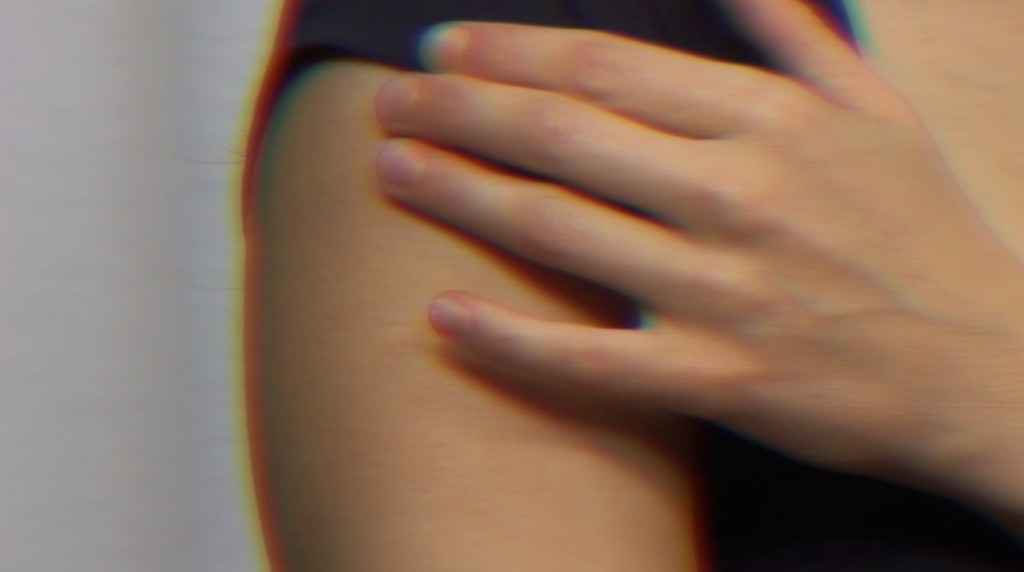 Ciarán Walsh: It's Just a Shadow Away, 2011
DVD duration: 9'30" (looped)
Image courtesy Pallas Projects and the artist.

Perusal of It's Just a Shadow Away (2011), the work in the front room, tendered an equally enigmatic experience. This looped video projection depicts two actors performing scenes from Tarkovsky's Solaris, a Russian film adaptation of Polish writer Stanislaw Lem's science fiction novel of the same name. Set in the bleak surrounds of a production studio, the actors speak a language neither of them understands in an attempt to convey the emotional and psychological content of a story that features conversations between a man and a hallucination of his dead wife. Even for those familiar with this slow moving tale about the strange events on a space station, the work disorients. Walsh alternates performance excerpts with English translations of the Russian dialogue. While the format recalls the structure of a silent movie, viewers first stepping into its continuous pattern of play found it difficult to tell if the translations preceded or succeeded the actors' scenes. Though ongoing observation eventually established the correct sequence and allowed me to modify my first impressions, I initially drew what I could from the sounds of the performers' voices and their body language. Then, as the subjects' predicament became more legible, it also assumed greater intensity. Moreover, key words and phrases stood out, particularly the brief repetition of a short clip in which Kris' ex-wife Hari says "listen."  In one sense the word represented an obvious contradiction as it implied listening to a language that I could not understand. But in another it functioned as an imperative that, reworded, could be understood as 'pay attention', a term that implied the use of more than one's ears. Ultimately, recurrent viewings of this charged and awkward encounter failed to dispel the video's haunting aura. I became preoccupied with all the ambiguities of the narrative. For a time I was stranded between states imaginary and real.
In essence, the publication no one can arrive in the past, before they depart from the future brackets the presentation. Released in the form of a pdf file in advance of the opening and a print version, it formed an introduction, became a component of the installation, and functions as a souvenir/reference that can be read and reread long after the exhibition's closing. The content, which clearly mirrors themes evident in the gallery works, consists of edited correspondence between the artist, curator Pádraic E. Moore and Friedrich von Bose, a scientific assistant with the Department of European Ethnology. Though it is concise, the discussion touches upon a broad range of concerns. They range from the complicated position of museum objects and established conventions associated with their presentation to notions of time travel, abstract sound poetry, non-rational responses to artwork, unobservable phenomena, and the role of the audience. Of course, the gist of the discussion revolves about the ways we experience and translate works of art and other cultural artefacts. Not only do the correspondents convey a general sense of dissatisfaction with traditional modes of presentation, they also consider ways through which it may be possible to see back to the past or circumvent such conventions. In this respect Walsh's stimulating gallery contributions offered viewers practical experience. He has reordered – or distorted – familiar structures as a means of destabilising our intellectual footing that we might discover previously unseen information and develop new elucidations from it.
John Gayer is a writer based in Dublin.
*This review was first published in Paper Visual Art Dublin Edition 1 last November, 2011.