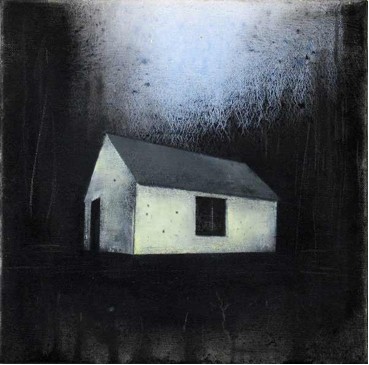 Elizabeth Magill: Lodge (2)
oil on canvas, 30cm x 30cm
2006
Elizabeth Magill, born in Northern Ireland in 1959, studied in Belfast and at the Slade School of Fine Art in London. In her early years, her work changed both in formal execution and approach. Her method of working involved juxtaposing items that would not normally go together. For the second stage of her career, her work became photographic whereby she often painted directly onto photographs.
Magill's process of working is fascinating. She begins with the canvas, horizontal on her studio floor without any idea how the finished piece will turn out.  The physicality of the material drives the idea and by repeatedly pouring layer upon layer of colour, the process continues until a suggestion of landscape emerges. Art historian and critic, Andrew Wilson, [1] describes her paintings as "constructed objects" whereby layers of washes, sometimes over previously rejected paintings, forms a ground onto which the image will develop. Like the abstract painters from New York in the fifties such as Morris Louis, whose traces and stains of previous washes are apparent within the work.  Her work also references Helen Frankenthaler's paintings of both real and imagined landscapes.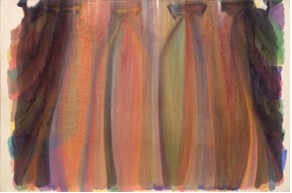 Morris Louis, Saraband
acrylic resin on canvas 8ft 5 1/8inches by 12 ft 5inches
1959.
Magill never intends for her work to fall under the auspices of realism. Once something emerges from the built-up washes on canvases, she paints, using photographs as her starting point, often working from childhood memories. The result is a combination of  photography and personal memories. Memories evoked by photographs often cause tension between the past and the present. [2] The amalgamation of her memories and photographs, render the resulting works into new realities or imagined landscapes.
Bay (2) fits into the viewer's idea of a landscape as it drifts between veracity and a dream. The stars do not just stain the sky; they are all over the picture.  Magill's work forces the viewer to question if the marks are fireflies or stars or just paint. When the viewer gets close to the work, their perception is challenged and the stars just become marks – a sort of penimento [3] in reverse.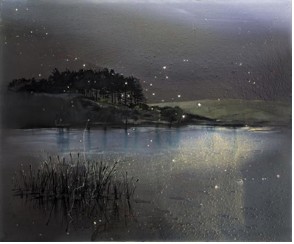 Elizabeth Magill: Bay (2)
oil on canvas 5 x 5 feet
2004.
Magill's landscapes are incongruous. In one sense she pays tribute to a genre of painting from past centuries and 'on the other she approaches the genre with an audacious empiricism that has the potential to sacrifice canvas in image in the process.' [4]
Lodge (2) is an atmospheric painting of an old, isolated lodge with a dark and gloomy background. The seemingly self-illuminated lodge seems hover and glow. A number of small holes pierce the canvas and seem to point to another space which in turn breaks the visual logic and disrupts the reading of the work as solely depictive. The painting is open to interpretation – are we in a wooded location?  Is that a sky or a clearing? There is contrast in tone between dark and light. The heavy monochrome seems to push the landscape back.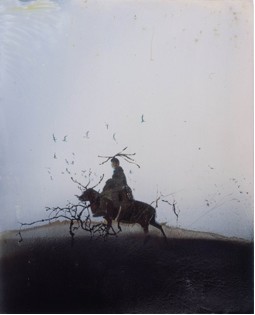 Elizabeth Magill: Even (on a reindeer)
oil on canvas, 137.2 x 167.6cm
2003.
Peter Chapman, of London's Independent described how artists such as Casper David Freidrich were renowned for their ability to capture the sublime power of the natural world. Today, the genre of landscape painting does not occupy such a position of grace and is often regarded as kitsch. The work of Magill, however, may signify a turnaround for landscape art.  Her work is not straightforward representation but 'imaginary mise en scenes, [5] at once recalling some place and no place, yet instantly recognisable.' [6]
Oonagh Latchford is fourth year student studying for her BA (Hons) in Art at IT Carlow, Wexford Campus.
---
[1] Andrew Wilson is an art historian, critic and curator living in London. He has been Deputy Editor of Art monthly since 1997 and has been a regular contributor to the publication since 1991. Publications include major contributions to Art & Language (Musee d'Art Moderne Lille Metropole); Hamish Fulton (Tate Britain, London); Grayson Perry (Stedelijk Museum, Amsterdam); Boyle Family (Scottish National Gallery of Modern Art, Edinburgh); and Anthony Hancock, Paintings and Sculpture (London Institute of Pataphysics)
[2] Kuhn, A. Remembrance, The Child I never was, in Wells, L. (2003). The Photography Reader. pp 309-401, New York. Routledge.
[3] The term Pentimento relates back to renaissance times and refers to the act of under drawing tempera paintings. Interestingly, in Leonardo's Madonna, it is through the pentimento that we can see it was originally planned for her to look the other way.
[4] O, Kane, M.(2004). Gateshead:Elizabeth Magill at Baltic. Circa Art Magazine – 110 Winter 2004, p65. Dublin
[5] Mise en Scene is a film term that literally means put into the scene and it refers to what we see. It refers to the design and direction of the entire production, the directors work.
[6] Kennedy, C. (2003). Elizabeth Magill New Work. Dublin. Dublin City Gallery The Hugh Lane, p.1.