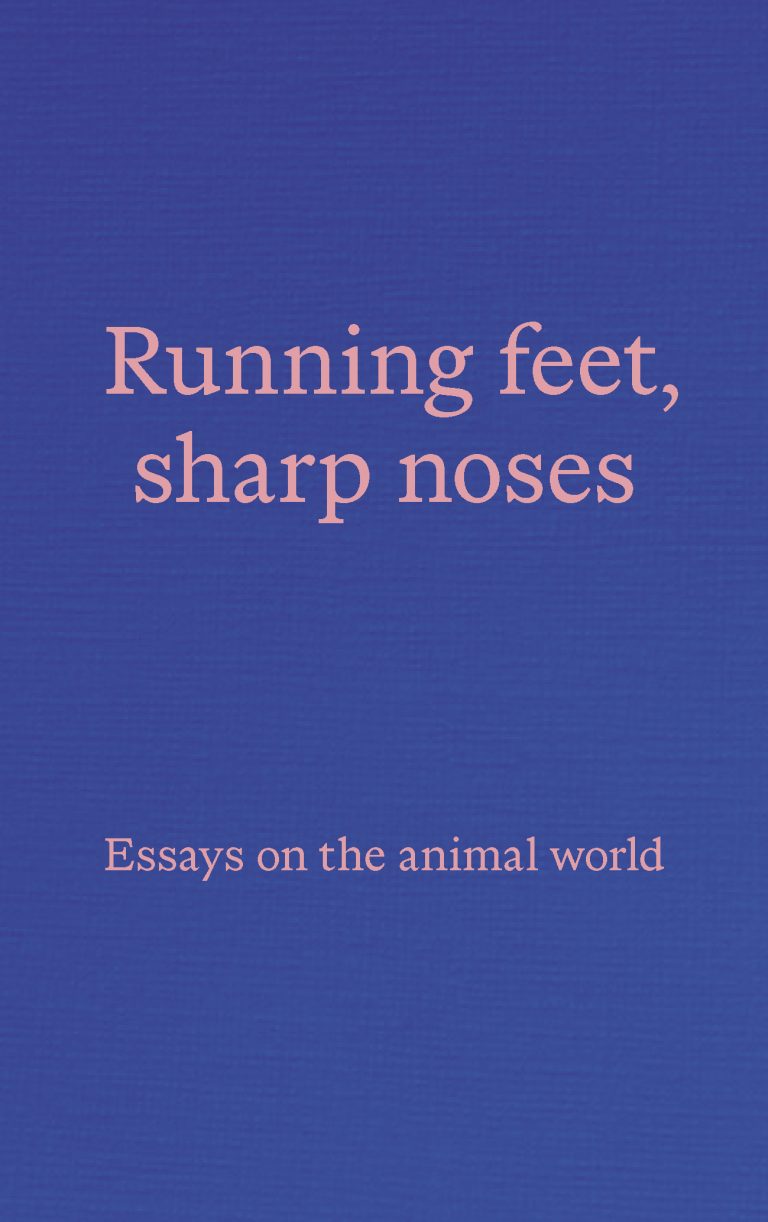 Running feet, sharp noses
The speed of a cinema film is 25 frames per second. God knows how many frames per second flicker past our daily perception. But it is as if at the brief moments I'm talking about, suddenly and disconcertingly we see between two frames. We come upon a part of the visible which wasn't destined for us. Perhaps it was destined for — nightbirds, reindeer, ferrets, eels, whales …
– John Berger, 'Opening a Gate'
What is it about animals? – those creatures that keep us company, a figure in a memory or folktale, the shadowy presence in a photograph, or an ancient drawing on a wall. Guides, companions, imaginary beings, hindrances, sources of fear and love …
Edited by Nathan O'Donnell, Adrian Duncan, and Niamh Dunphy, Running feet, sharp noses: Essays on the animal world is an essential collection of essays on the animal world. Each piece is a profound meditation on how animals affect our sense of self, our memories, our actions.
This brilliant new book of non-fiction investigates – with the insights and perceptions of some of the finest writers at work today – how animals shape and determine our everyday lives, whether we realise it or not.
'Spirited and intense, compact as poetry, Running feet, sharp noses reads like a classic.'
– Martina Evans, Irish Times
'Running feet, sharp noses unveils a collection of chambers, with each writer's cosmos featuring the animals in their lives; "a source of magic".'
– Aisling Arundel, Totally Dublin
'Sensitive, playful, and every bit as charming as its subjects, Running feet, sharp noses is a modern bestiary, a fitting tribute to the fragile and dear connections we forge with animals, and their ability to capture the literary imagination.'
– Roisin Kiberd, author of The Disconnect
'A joy.'
– Irish Independent
'Extraordinary … Animal lovers, or indeed lovers of great, philosophical writing, will adore this book which invites repeated readings and reflections.'
–Andrea Cleary, Business Post
'A treasure … exquisite … A beautiful anthology.'
– Anne Cunningham, Westmeath Examiner
'These unique non-fiction stories deserve to be on your reading list in 2023.'
– 'Hot 100', Irish Examiner
Listed in: 'The best new fiction and non-fiction coming your way from January to June.'
– Anne Cunningham, Irish Independent
With contributions by Latifa Akay, Sara Baume, John Berger, June Caldwell, Niamh Campbell, Vona Groarke, Edward Hoagland, Sabrina Mandanici, Darragh McCausland, Tim MacGabhann, Honor Moore, Eileen Myles, Stephen Sexton, Jessica Traynor, Erica Van Horn, and Suzanne Walsh.
Publication date: March 2023
Publicity: peteroconnellmedia@gmail.com
EXTS: 11 × 17.5 cm, 176 pp, 1 b/w ill., softcover
ISBN: 978-1-9161509-4-2
Design: Daly & Lyon
€15.00Add to cart