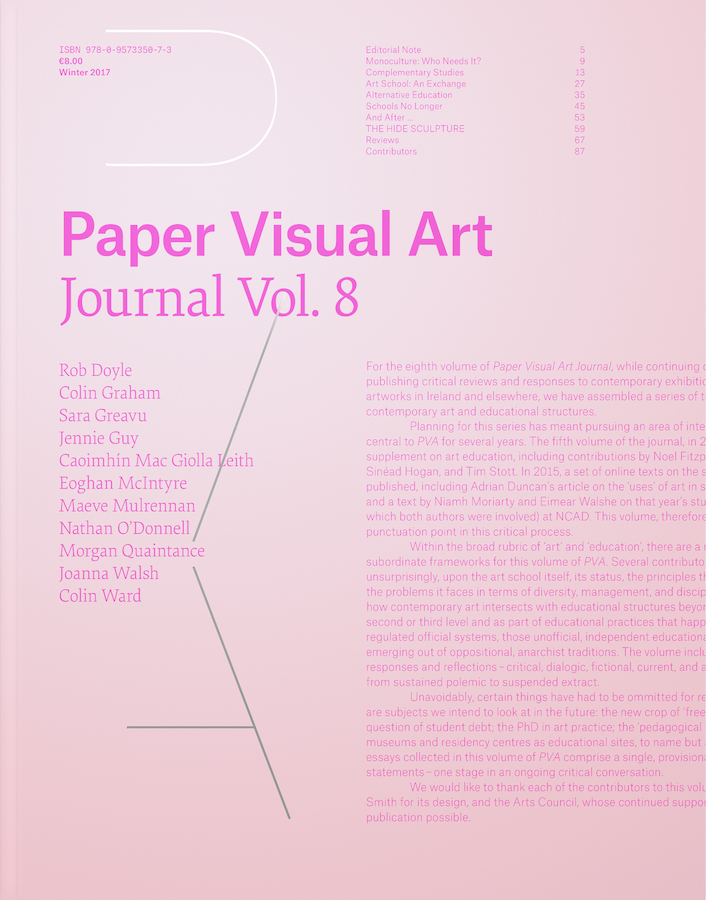 Issue 8
Paper Visual Art, vol. 8 includes a series of essays focused upon art and education, as well as reviews of contemporary art in Ireland and internationally.
Contributions by Rob Doyle, Colin Graham, Sara Greavu, Jennie Guy, Caomhin Mac Giolla Leith, Eoghan McIntyre, Maeve Mulrennan, Nathan O'Donnell, Morgan Quaintance, Joanna Walsh, Colin Ward.
Winter 2017
Design: Atelier Projects
Kindly Supported by the Arts Council
Winner of the ICAD bronze bell for design. After seven 'individual and unique' issues of PVA, volume 8 was the first of a new and consistent editorial identity that rolls across all future editions. The design refresh of the journal implemented new typographic standards, a larger format, and a new cover design. Predominantly produced in two colours the journal is printed using a special mix of fluo ink, customised to improve legibility in different lighting/reading conditions.
€8.00Add to cart