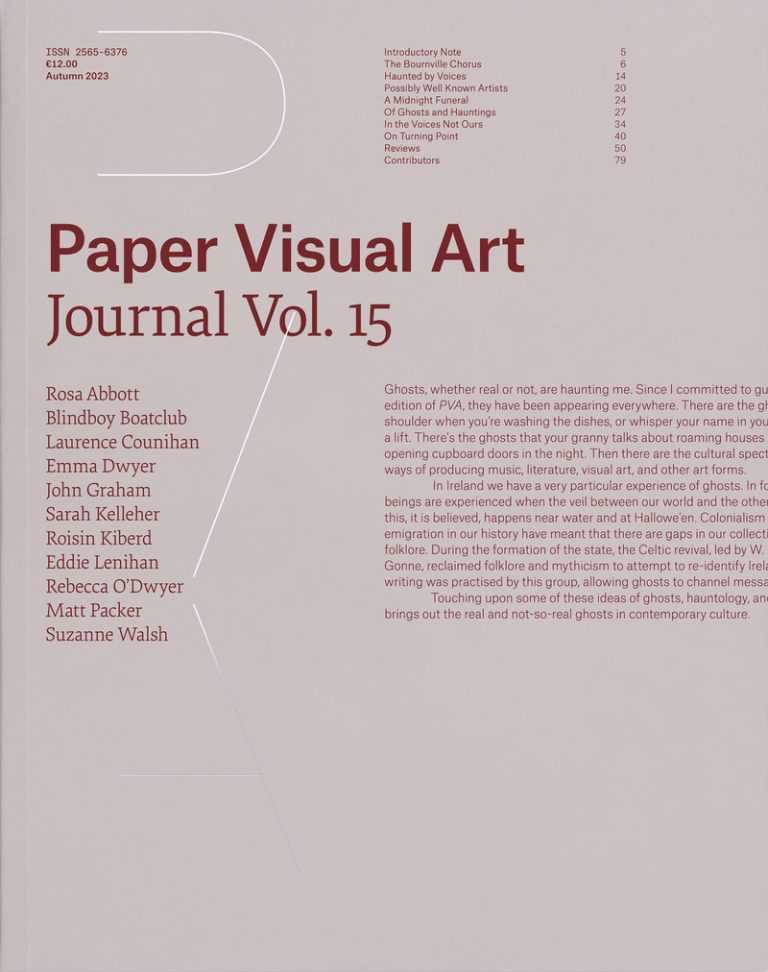 Issue 15
Guest edited by Emma Dwyer
Ghosts, whether real or not, are haunting me. Since I committed to guest-editing this edition of PVA, they have been appearing everywhere. There are the ghosts that tap your shoulder when you're washing the dishes, or whisper your name in your ear when you're in a lift. There's the ghosts that your granny talks about roaming houses and misplacing keys, opening cupboard doors in the night. Then there are the cultural spectres that haunt our ways of producing music, literature, visual art, and other art forms.
In Ireland we have a very particular experience of ghosts. In folklore, other worldly beings are experienced when the veil between our world and the otherworld is thinner; this, it is believed, happens near water and at Hallowe'en. Colonialism and masse migration in our history have meant that there are gaps in our collective memory of folklore. During the formation of the state, the Celtic revival, led by W. B. Yeats and Maud Gonne, reclaimed folklore and mythicism to attempt to re-identify Ireland. Automatic writing was practised by this group, allowing ghosts to channel messages through them.
Touching upon some of these ideas of ghosts, hauntology, and spectre, PVA 15 brings out the real and not-so-real ghosts in contemporary culture.
With contributions from Rosa Abbott, Blindboy Boatclub, Laurence Counihan, Emma Dwyer, John Graham, Sarah Kelleher, Roisin Kiberd, Eddie Lenihan, Rebecca O'Dwyer, Matt Packer, and Suzanne Walsh.
November 2023,
Design: an Atelier project
Kindly supported by the Arts Council
ISSN: 2565-6376
Available to pre-order
€12.00Add to cart