This is a response to Molly O'Dwyer's performance/installation A Sequel of Events: Vantage Point Series that was part of the group show, To Come So Far For Beauty, curated by Deirdre Morrisey, at Block T, Smithfield, 12 – 17 November, 2010.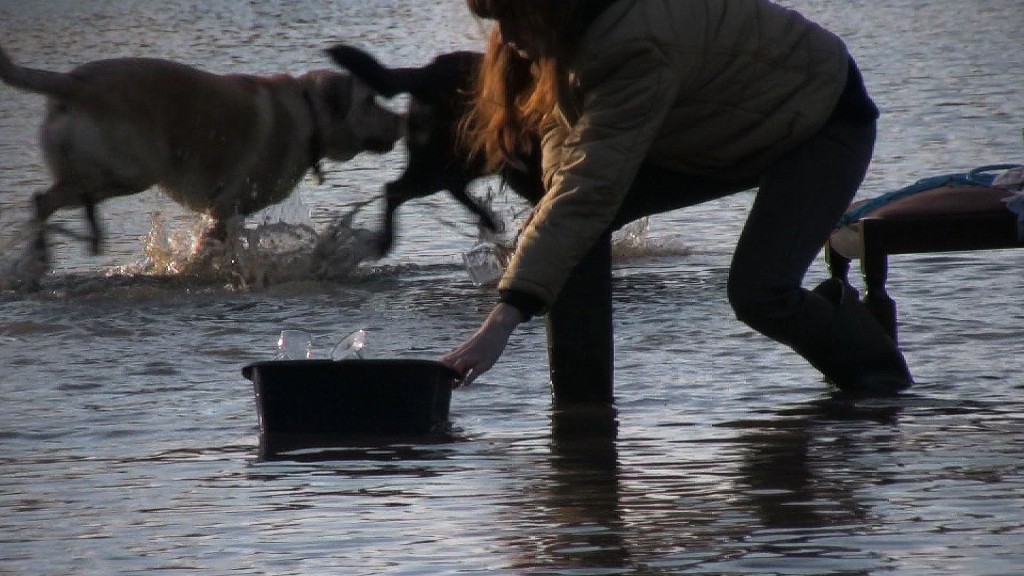 Molly O'Dwyer: A Sequence of Events: Vantage Point Series (2010),  video still, Block T; image courtesy of the artist.
It is difficult to pinpoint what makes a space significant to us, as communicating its import to another may seem to be a futile effort. For example, a corner can be more than a corner. It can represent the most basic geometry for seclusion, a private universe for the daydreamer where restrictive physical dimensions fall away – a pocket full of shadows, or the "most sordid of havens."[1] Similarly, an open vista can be just as closed or private. A turbulent cloudscape may reflect the contemplations or restlessness of the internal subject. It creates the space. As Gaston Bachelard wrote after Noel Arnaud: "I am the space where I am."
Molly O'Dwyer's performance installation transgresses over and back between the multi-perspectival cinematic space and the present, physical space of the exhibition. The installation is constructed as one large corner whose exterior juts into the main exhibition space, creating a semi-enclosed area. The two intersecting interior walls are used as the screens for the projections. O'Dwyer uses this simple geometric form as a visual metaphor that alludes to spaces for containment and space for reflection, both real and imagined. Inversely, the installation works as a means of claiming space from the exhibition space for the subject.
The employment of the cinematic medium – to redeploy space, scale and the position of the subject within a multiplicity of angles -  drives this work from a phenomenological engagement into an investigative one, beyond the three-dimensional.[2]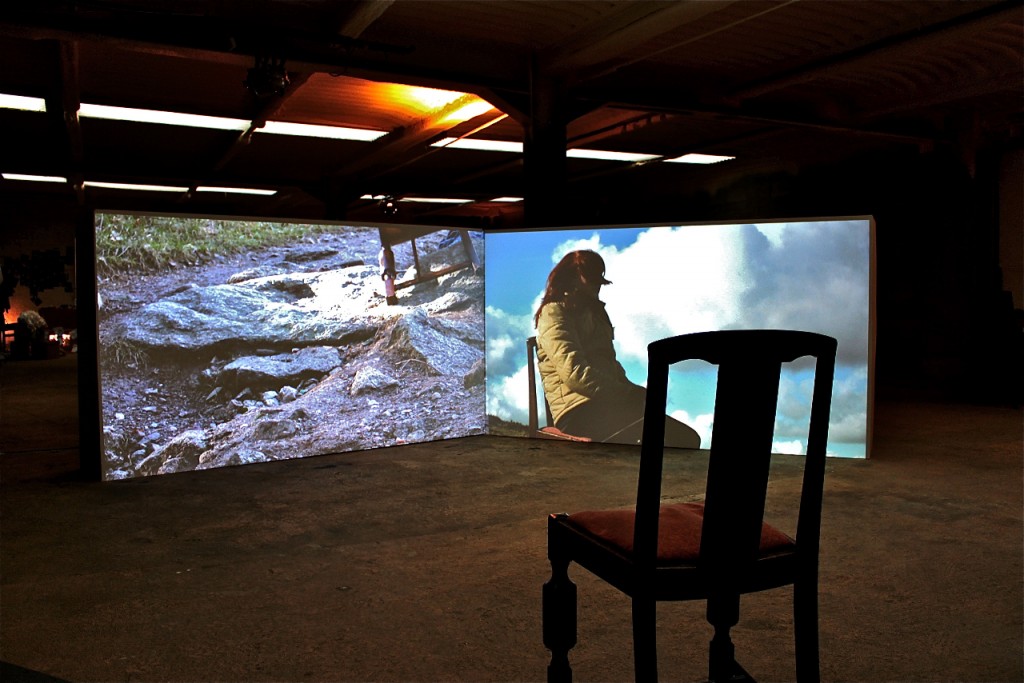 Molly O'Dwyer: A Sequel of Events: Vantage Point Series (2010), installation shot, 2010, Block T; image by Chris Finnegan.
The video documents the journey of the artist/protagonist from the domestic setting, into the suburban public space, and then into the wilderness of the Dublin Mountains. At all times O'Dwyer is accompanied by her threadbare antique chair. O'Dwyer tries tying the chair to her back like a homely shell, but the impracticalities of this arrangement soon become apparent. A forerunning shot reveals the garden beyond the interior space, indicating the internal workings of the subject's inquisitive mind. The chair legs are tied to a stick that she then lobs onto the side extension's flat roof, before climbing up the adjacent shed wall and towing up the chair. Choosing different seating arrangements, looking into the garden onto road, then facing the house wall, the subject finally gets off the chair and sits cross-legged facing into her unlikely quadruped companion.