PVA TICKETS
In 2012 and 2015 we produced eleven tickets. They started out as mini reviews of shows that were on in Dublin. They were designed and printed by PVA and distributed randomly throughout the city. Each edition has a print run of about 100.

We were interested in what a writer could say about a show with a very limited word count (about 350 words). The ticket design shows the information and an image of the show being reviewed on the "stub", and review text sits on the "ticket" section.
We produced versions of this in Limerick and Belfast too.
We have not re-published the writing anywhere else, though some of the writers may have their texts available on their websites.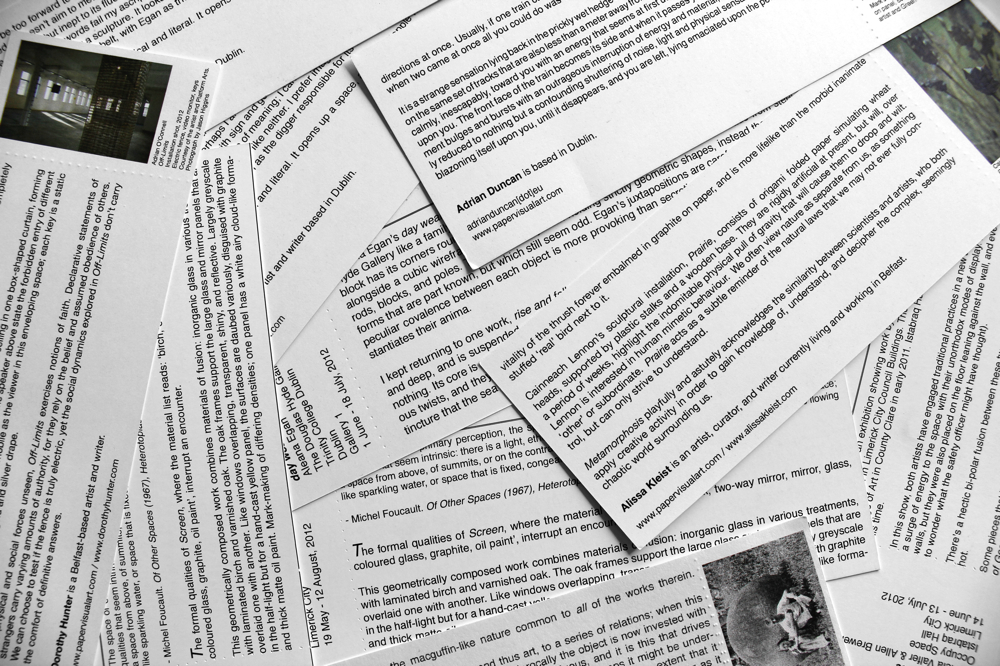 Ticket 1 – Rebecca O'Dwyer on A Maguffin and Some Other Things, Project Arts Centre, Dublin, 2012

Ticket 2 – Adrian Duncan on Mark Joyce, New Works, Green on Red Gallery, Dublin, 2012

Ticket 3 – Adrian Duncan on Karl Burke, Omnipresent, IMMA, Dublin, 2012

Ticket 4 – Seán O'Sullivan on Aleana Egan, day wears, Douglas Hyde Gallery, Dublin, 2012

Ticket 5 – Gemma Gore on Niamh O'Malley, Screen, LCGA, Limerick, 2012

Ticket 6 – Chris Hayes on Pamela Valfer and Allen Brewer, Common Place, at Occupy Space, Limerick, 2012

Ticket 7 – Dorothy Hunter on Adrian O'Connell, Off-limits, Platform Arts, Belfast, 2012

Ticket 8 – Alissa Kleist on Metamorphoses, PS2, Belfast, 2012

Ticket 9 – Colin Darke on Fata Morgana, Catalyst Arts, Belfast, 2012

Ticket 10 – Hugh McCabe on Wormholes, The Joinery, Dublin, 2015
Ticket 11 – Karl Burke on his residency at The Joinery, Dublin, 2015