American painter and assemblagist Allan Kaprow first used the term 'happening' in his 1958 essay "The Legacy of Jackson Pollock" to describe a new form of art. The early 'happenings' disregarded the idea of the art object as something precious, and instead favoured the perishable and the random. Happenings became playful and dependent on audience interaction. The new art events incorporated bodily actions sounds, smells and texts – both spoken and written. Declan Rooney's exhibition Happenings and Nonevents at first glance seems like a text book example of a Kaprow-influenced 'happening' with 'the integration of all elements – environment, constructed sections, time, space, and people [...]'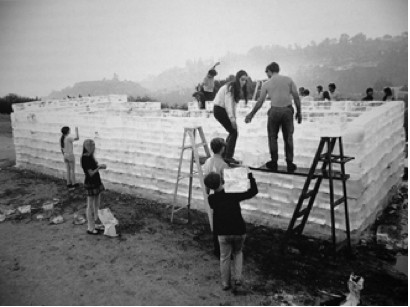 Allan Kaprow: Fluids, October 1967; image held here.
Performance one was the result of workshops with a group of local skaters – Urban Sports Kilkenny. This performance saw Rooney read excerpts from texts about the Beat Movement where he dons a pair of black sunglasses each time he reads the word 'beat.' As the skaters slide and stomp over the wooden jolly, the artist rests on the taller, podium-like wooden boxes, oblivious or ignoring the youths attention seeking tricks. The effort of this could be read as comment on style over substance. The reading of the texts also seems to mock the attempt to radicalise a group and explain the terminology associated with them.
The second performance was a four-hour durational performance. This happening was formed out of the workshops with the volunteer group. As Arthur Browne's Fire Poem screams and drones in the background, Rooney meditates and then performs a series of hand gestures while standing in front of a red stand. Smell, sound, movement and handmade objects confront the viewer. A volunteer moves around Rooney hanging images of symbols, hand gestures and a space view of earth. On the back of the red stand hangs a photocopy with the words "another victory for hysteria."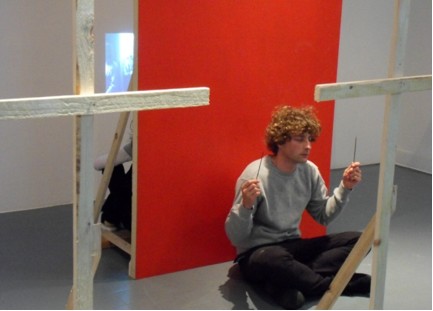 Declan Rooney: Happenings and Nonevents – Performance Two, performance view, 2010, photo: Anna Bernston, image courtesy of the artist.
This room was complex in layout and contained a confusing mesh of symbols, sounds and voices. The unspecified nature of the 'volunteers' makes for a strong performance. Their presence is almost unfelt but also necessary. The quick turn-over of hand actions and hanging images form a more complex interaction with such recognisable hand gestures as the two–finger rocker salute. The artist visibly tires, and his bizarre gestural communication become his means of movement or escape from a physically uncomfortable stance.