Christine Mackey
bio
Christine Mackey was born in Co. Kilkenny and lives and works in North Leitrim. Her practice combines site-specific and public works, exhibitions, performance, and art-books. Mackey has exhibited extensively both nationally and internationally and is a recipient of numerous awards and artist residencies. In 2002, Mackey graduated with an MA Time-Based and Performance Studies at Dartington College of Art, England and in 1992 she graduated with a BA in Sculpture from the National College of Art and Design, Dublin, Ireland.  She is currently pursuing a practice based PhD at the University of Ulster, Belfast. Her most recent work was the subject of a solo exhibition SEED MATTER and 'other' stories at The Butler Gallery in Co. Kilkenny.
In recent years, Mackey's practice has focused on examining the role of ecological systems (social, biological, and physical) and its representation in the present day through the production of drawings, sculptural installations, text, sound and video, photographic and archival documentation, publications, and also public and site-specific artworks.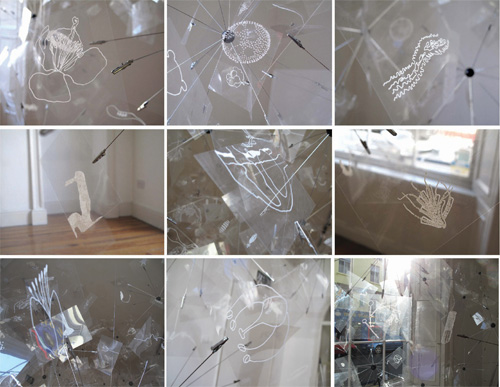 Christine Mackey: Intimate Formations (Phase 3), 2010; image held here.
"Intimate Formations exists as a free hanging sculpture, continually expanded and altered whenever a new situation is presented exploring in minute detail the morphology of plants. The work was initially inspired by John Millar's essay "Drawings That Question Diagrams" a procedural process that involves the selection of a diagram which is copied by hand, "over and over" again that are compiled and presented in book form, or in this context as an expansive free-hanging drawing installation. These hanging 'samples' expand the parameters of the subject matter into typographic minutiae of biological forms that creates a space for visual intimacy experienced by the viewer."
current work
Seed Matter – and other stories is an on-going social investigation between the micro/macro geographies of the 'seed' in an attempt to envision local ecological processes relative to global contexts. It merges historical documentation, 'hearsay' and contemporary agricultural practices by tracing the historical lineage of the Daniel O'Rourke pea [Pisum sativum], an Irish cultivar sourced from the Irish Seed Savers Association in Clare. This pea, which supposedly originated in Cork in the 1800's found its way to America, Germany and much further afield to Russia.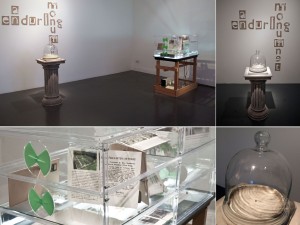 Christine Mackey: An enduring monument, 2011; image courtesy the artist.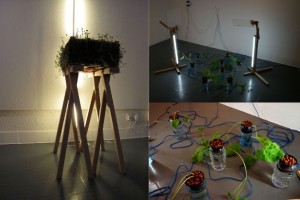 Christine Mackey: Movement of plants B, 2011; image courtesy the artist.
The work forms part of the project 'The Politics of Seed' which has been the predominant focus of Mackey's work over the last three years. It has evolved into various productions including, in 2010, a site-visit to the Global Seed Vault in Svalbard, Norway and a publication TRADE OFF Planters, a seed exchange event through the 2009 edition of TRADE, the annual Visual Arts symposium, and a recent collection of drawings that explored the vulnerability of biological systems, commissioned for publication by the Irish Museum of Modern Art.
In terms of process, Mackey's work acts as a kind of synapse between the different types of systems creating a larger, more connected 'grid' functioning as an integrated whole.
"(…) A key factor of my working process is an interest in institutionalised knowledge systems and how these data systems can be challenged by the artist in new and unexpected ways. All of my projects to date share a commonality i.e., drawing as an extended practice in social and environmental contexts. (…) This systemic approach operates as a transitive response to different kinds of journeys afforded between drawing and writing, thinking, walking, and talking in generating an understanding of the complexity of place and people – a slow process that de-focuses the mind in order to enter new territories."
As part of her continued research into the relationship between man and nature, Mackey plans to continue building upon her work Everything is data: a set of practical logbooks (2010) which offers an alternative take on the traditional logbook. The objective is "to build an alternative universal library that transcends borders, places, people, art and scientific constructs, a human endeavor to inscribe the world as a co-evolving dynamic system".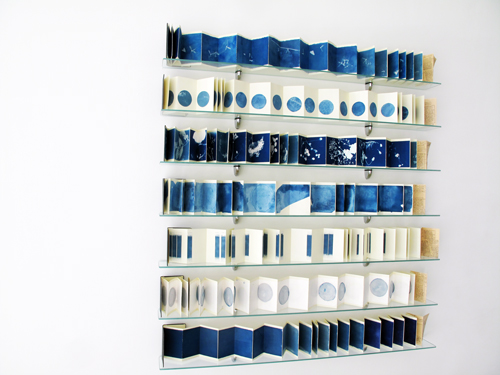 Christine Mackey: Everything is data: a set of practical logbooks that record the dynamic transformation of failure, 2010; image held here.
2012 will see Mackey showing internationally in Beijing and involved in the Sideways Arts Festival in Belgium in addition to residencies at Fort Dunree Artlink in Buncrana, Co. Donegal, and at The Guesthouse, Cork. Further national exhibitions of new work for SEED MATTERS and other stories will follow for 2012/2013 and a publication launch together with new drawing commissions will also be completed this year.
past projects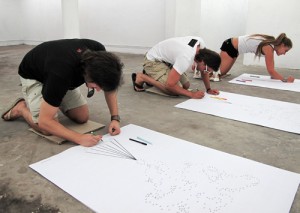 Christine Mackey: It's not what I have started… but where we begin…, 2009. Image held here.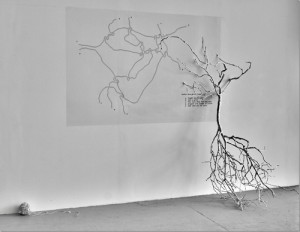 Christine Mackey: Temporary Response Unit, 2008; Installation of drawings, objects, photographs and video, Leitrim Sculpture Center. Image held here.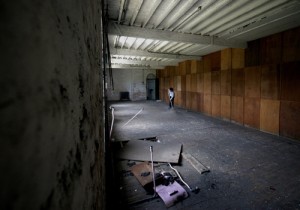 Christine Mackey: Reconnaissance, 2007/2008; image held here.
drawings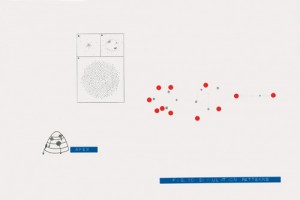 Christine Mackey; image held here.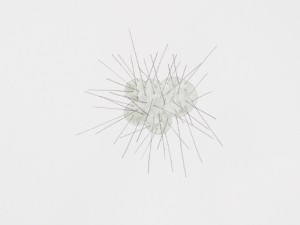 Christine Mackey; image held here.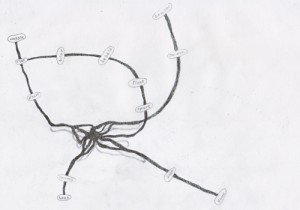 Christine Mackey; image held here.