Emma Haugh
bio
Emma Haugh is an artist currently based in Dublin. She studied photography at the Dublin Institute of Technology (DIT) in Dublin, graduating in June 2010 with a first class BA Honours degree in Photography. She has exhibited in a number of group exhibitions at the Gallery of Photography, Filmbase, Darklight Film Festival, and Pallas Projects' Artist initiative programme.  Solo exhibitions include Without a trace: destroying the archive at the Joinery in 2008, and more recently BERGHAIN in April and May 2011 at Commonplace Studios on Burgh Quay, commissioned by curator Sally Timmons.  Haugh has also received residencies with Commonplace Studios (2009), and The Good Hatchery (2009).  She recently was involved this year with the Good Hatchery's residential summer project Palanquin stills.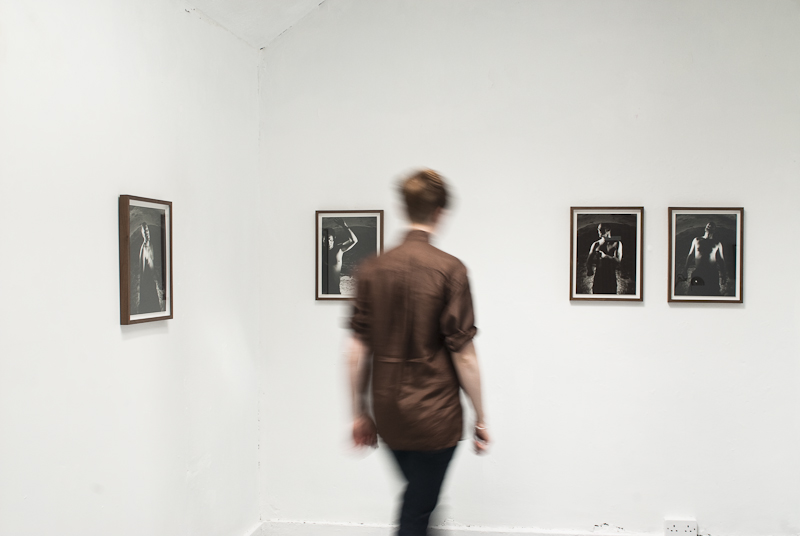 Emma Haugh at her solo exhibition titled BERHAIN that took place at Commonplace Studios this year and was commissioned by curator Sally Timmons; image courtesy the artist.
Through the appropriation and production of photographic images, the use of text, music, mass produced products, web-based materials, and specific social environments, Haugh creates moments of resistance, questioning and remembering.
"I use my work as an opportunity to present alternative moments of representation by creating cultural objects that symbolise something of experience. Moments of transformation and the environments that both facilitate and choke individual revolution are recurrent thematics in the work I make."
Haugh has been involved in and associated with photography, club promotion, DJing, theatre and performance, as well as youth and community arts training for more than fifteen years. Her practice as a photographer has now shifted from the documentation of events to a more speculative investigation of her own experiences, and different sub-cultures.
current projects

Haugh's recently completed body of work entitled BERGHAIN developed after spending time in Berlin in July of last year, and was shown recently in Commonplace projects in Dublin.  It took the form of both photography and installation.  Haugh is also currently involved in the concept and design of an editioned art magazine "Carpet Burn" that will feature queer artists in Ireland and abroad.  The magazine will act as a portable exhibition space for artists in order to access a wider audience, and to develop cross-cultural connections.  Haugh was an invited participant in Aerial Blue summer school, a four-day long event that took place last July, that was organised by artist Ruth E. Lyons and London-based curator Claire Feeley.  Taking place on the deserted island of Dornish, Haugh photographed participants at the edge of the island dancing to Gloria Gaynors "I will survive."
Haugh's current work in progress involves the construction of an archive based on a series of collaborations, social interventions, and fictionalised events. These will manifest through various forms including performance, photographs, ephemera, textual documents, video and other objects. The fictional archive will present imagined events as having happened.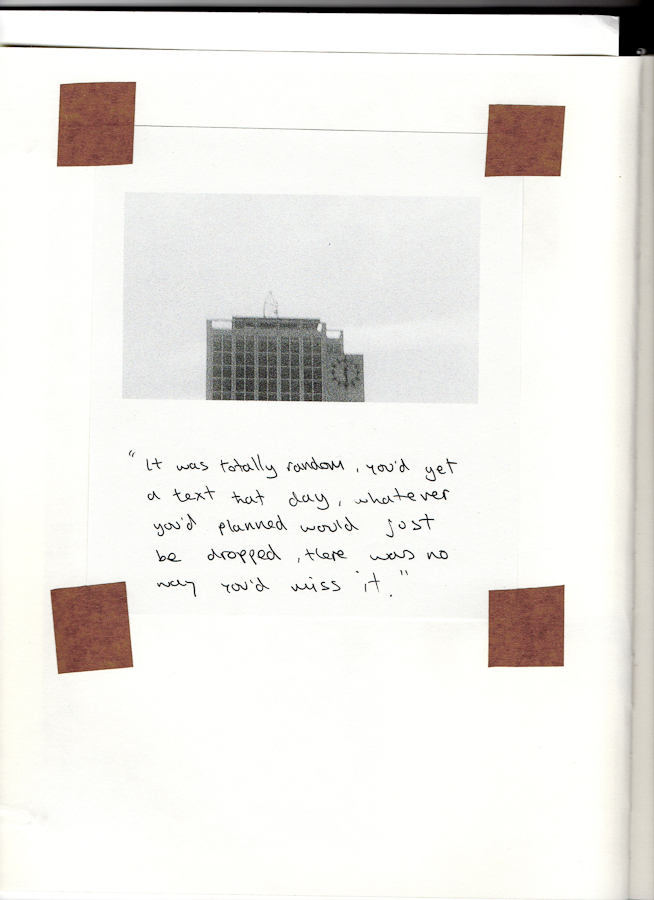 Emma Haugh, photograph, pencil, tape, notebook, 2011; image courtesy the artist..
"The intention of this project is to create a space for questioning, possibility and radical otherness during a time of profound cultural uncertainty, generating ideas through collaboration, improvisation and intervention. Drawing on a documented history of club culture and how it relates to social change and emancipation I am beginning this project with the collaborative imagining of a club culture that responds to the current climate of instability. In Dublin I will be generating an imagined future history of clubs happening in unlikely or unused buildings and working with people to improvise dialogue and images about what happened, who was there and how it came about, raising issues of memory, imagination, desire, possibility and the function of cities in relation to human bodies. These materials will be used to make archival objects that utilise the language of recorded cultural histories rendering them both recognisable and strange."
Photography is central to Haugh's artistic practice and takes the form of highly staged and controlled scenarios.  Audio, text, and ephemera are also incorporated into the work to enhance the viewers overall experience.  Her interest in revealing the internal states of individuals from different cultural situations in the work is evident.  For Haugh, writing is a constant activity and integral part of her practice, she uses it as an exercise to reflect and absorb ideas or research.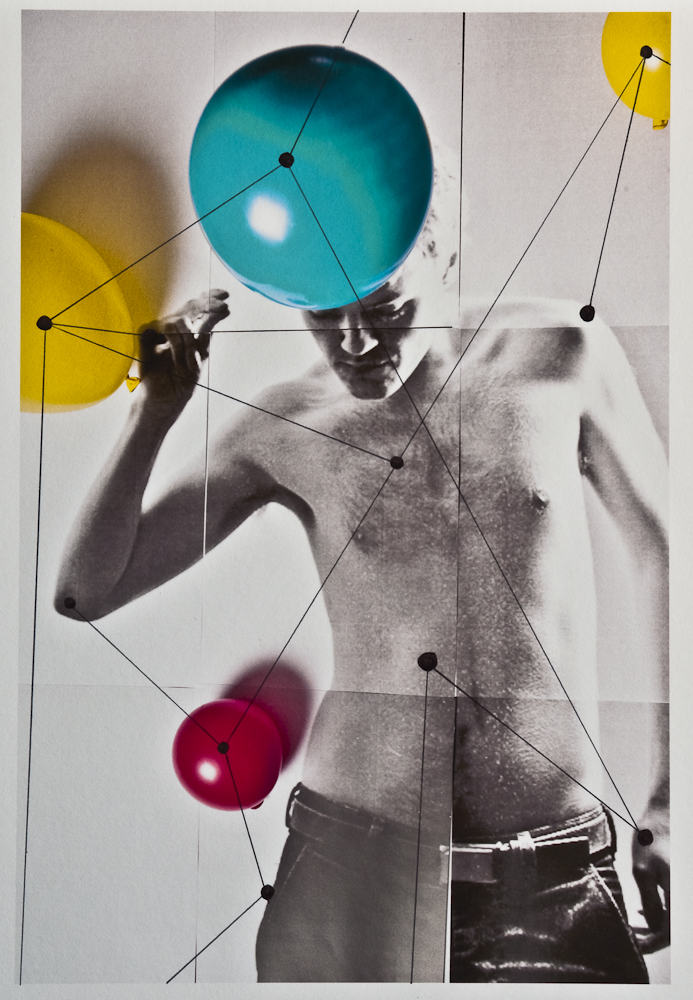 Emma Haugh, Ecstatic resistance series, balloon scans, photo montage, work in progress, 2011; image courtesy the artist.
"I was listening to an interview with the artist Wolfgang Tillmans recently and he said that the fundamental difference between a photograph and a painting is that the viewer automatically looks for reality in a photograph, this idea is very interesting to me at the moment and I am thinking a lot about the photographs relationship to truth and fiction and of curious ways to exploit this particular quality."

Haugh is not limited to photography and uses whatever medium is best suited for each given project.  The camera is an image making tool, and as Haugh says, "it's very possible that other media will usurp photography at some stage, this is why I don't strictly identify as a photographer, more an artist using photographs alongside other forms."
BERGHAIN

BERGHAIN is the title of Haugh's solo exhibition at Commonplace Projects that took place last April on Burgh Quay in Dublin. Exhibited on two floors, the top floor consisted of framed photographs, and the lower level was an installation of sound and text.  The body of work came about after spending time in Berlin in July of last year.  For the project, the artist collaborated with two Dublin-based music producers, Philip Stewart and Peter O'Neill, to create an eight minute dance track.  The photographic portraits on the upper level were captured using a strobe light; the subjects were photographed while they danced to the repetitive beats in almost total darkness.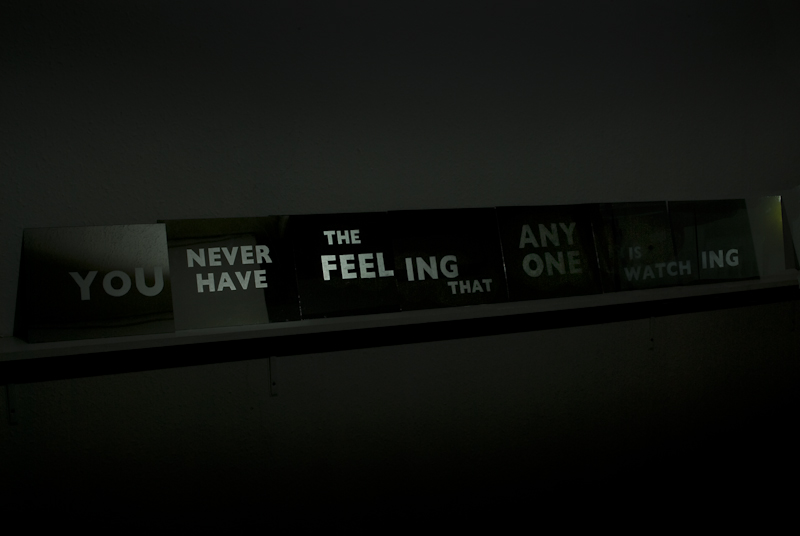 Emma Haugh: BERGHAIN, installation shot, text, strobe light, Commonplace Projects, 2011; image courtesy the artist.
"How we shape our cultural environment and how it shapes us is an ongoing balancing act of resistance and acceptance, vastly complex networks of cultural data are relentlessly disseminated and cognised. The internal life of the individual in relation to their surrounding cultural environment is an important thematic in my engagement as an artmaker."