TACTIC | Artist-run Initiative

PVA invited the two co-directors of TACTIC, a gallery based former Government buildings, Sullivan's Quay, Cork, to discuss their artist-run initiative, questioning how they function, their role and meaning. This was originally published in Paper Visual Art's hardcopy Cork Edition last August.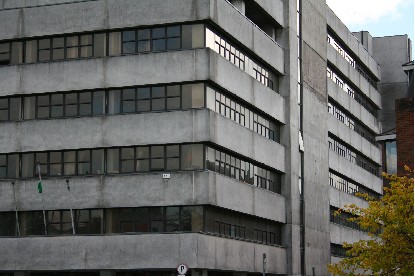 TACTIC gallery, former Government buildings, Sullivan's Quay, Cork; photo: Niamh Dunphy.
Earlier this year a number of artists established a studio group within a building that was once the Revenue Commissioners and FAS offices in Cork city centre. Property developer, BAM Construction, who seems to have an interest, or at least a tolerance, in the arts, now owns the building. Currently the first two floors are rented to the Crawford Art College and another houses Sample-Studios and TACTIC. Over the last year numerous exhibitions and arts festivals have occupied other parts of the building. Currently the developers have been given the go ahead to develop the former site of the Beamish & Crawford brewery into a cultural, entertainment and retail centre.
When the studio group was up and running, there was an area suitable for a gallery. We were both renting studios and were not busy with the managing the studio group so we approached the board with the idea to run the gallery space. We are both visual artists and graduates of Limerick School of Art & Design. We have a variety of experience, so it happened that we worked well together and could bring different skills to the space.
We decided early on that it would be interesting to offer the space as an opportunity for curatorial projects. We felt that many artist-led galleries work with artists presenting solo shows and fewer opportunities seemed available for curators. We are not interested purely in individuals with curatorial backgrounds, in the last 10 years there has been a blurring of the boundary of artist and curator. We would like to blur some more boundaries in the cultural industries and invite artists, curators, filmmakers, writers, musicians, scientists, researchers and academics to the programme. Our name TACTIC stemmed from this idea, of a tactical plan to create links between different areas.
We are very lucky that Sample-Studios cover the costs of rent, council rates and electricity. In return, TACTIC will periodically host members' shows. In addition to these shows, it is beneficial for studio members to have outside curators come into the space where they work. We already have Art Trail Festival confirmed for the space and filmmaker Max Le Cain will be curating an exhibition of experimental video art to be included as part of the Cork Film Festival later this year.
- Pamela Myers & Liam Slevin