Eleanor Duffin
current work
On meeting Eleanor Duffin, an emerging Irish artist who is currently on her final stretch of 3-year residency in the Firestation Artists Studio, one is struck by the unique combination of warmth and matter-of-factness. Both of these qualities find their way into her artistic practice, where the natural interest in the subject-matter coalesces with the rigour of scientific inquisition and love for experimentation.

In her early projects, Duffin concentrated primarily on social structures and behaviour. For her degree show Observing Observation (2003), she built a temporary architectural space equipped with surveillance cameras and a number of monitors thus confronting the viewer with multiple images of themselves. In AC37 (2005), a multi-channel video installation, the focus shifted towards the architectural space as a means of querying our perception of space and our relation to the immediate environment.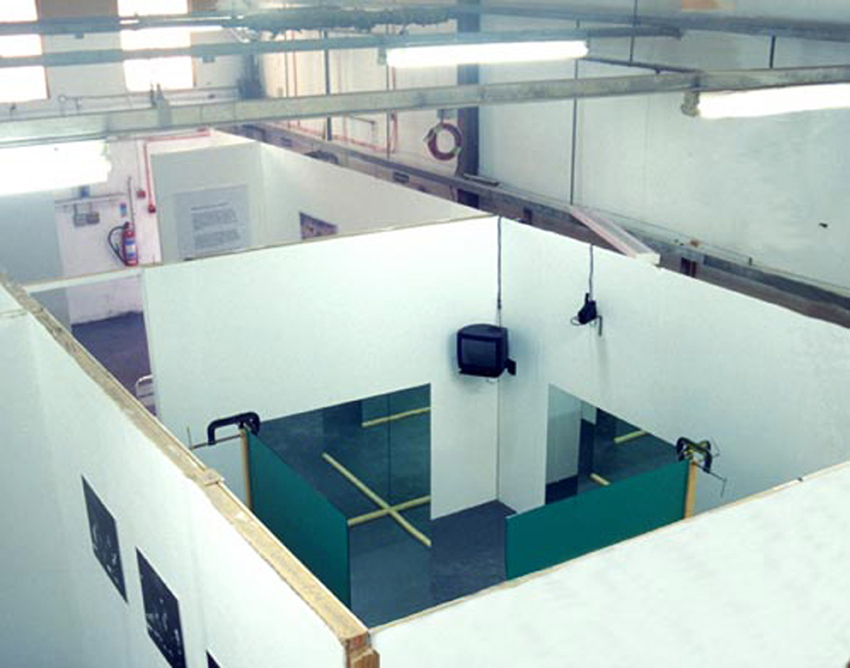 Eleanor Duffin: Observing Observation, mixed media installation, dimensions variable, 2003; Image courtesy the artist.

Duffin's current practice is based on 'an empirical inquisition, which observes belief systems and the construct of truths. She is also currently preoccupied with knowledge production and slippages between reality and fiction. Beginning with a set of seemingly unrelated facts or objects, armed with an intuition that they are somehow connected, she works with abductive reasoning, causing a process of interference that produces a hypothesis.
Recurrent themes within her practice include a preoccupation with ideologies of modernity and the constructs of utopianism. The outcome of her research is presented as multi-disciplinary installations. Using both appropriated and constructed disparate objects, she wishes to create environments, which reflect an overall sensibility of these concluded hypotheses.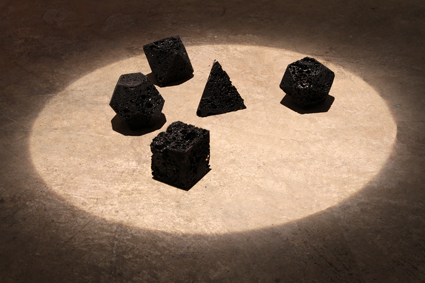 Eleanor Duffin: Tephra, 5 sculptural geometric shapes, installation view; Image courtesy the artist.
Heavily influenced by research, Eleanor's work is first ignited by a speculation of one sort or another. From that point onwards, she would follow different trajectories until she finds a direction in which to proceed. This direction usually happens because certain coincidences or signifiers that act like a validation of the idea/inquisition emerge and allow the work to take on its own momentum. The shape that the visual resolve will take comes in tandem with the reading. It may be derived from a desire to try a new medium or from an attraction to a certain colour.
Duffin's empirical approach is idiosyncratic to the field of science and, unsurprisingly, her work often carries the residue of scientific experiments or scientific connotations. She admits:
"I seem to have an attraction to science in particular in an existential context. Visually, I'm attracted to minimalist graphical type art works and currently favour those which seem almost unfinished or temporary as I feel that it causes an anticipation or expectancy."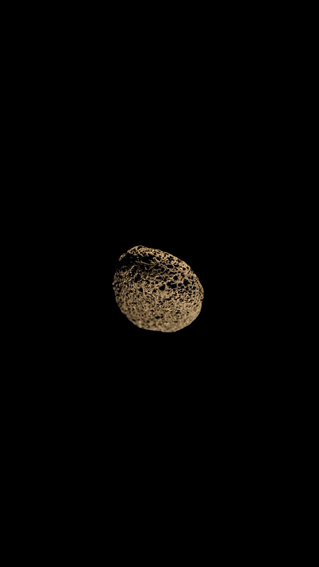 Eleanor Duffin: Which do you believe, your eyes or my words?, HD video projection, dimensions variable, 2011; Image courtesy the artist.
She recently participated in the group show Whitewashing the Moon at Project Arts Center, Dublin and was also invited to be part of Paper Visual Art's recent residency at the Guesthouse in Cork last October.
Duffin's use of organic materials and geometric shapes lends itself to the laboratory-like examinations and creates an effect verging on the border of alchemy but at the same times, remains strongly rooted in the aesthetics of Modernism.
- Marysia Wieckiewicz-Carroll