Q & A | 1a Space, Hong Kong
For this next installment of INSIGHT, Barbara Knezevic interviewed Yan Chi Choi, the co-founder of artist-run 1a Space in Hong Kong.  The following is a transcript of the conversation.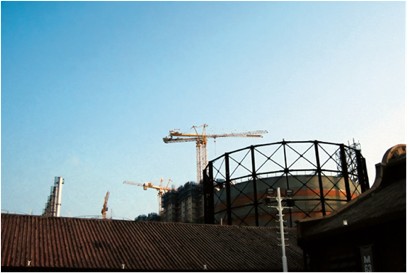 Artist-run 1a Space in Hong Kong. Image courtesy 1a, photo credit: Ethan Kan; image held here.

Q: Tell us a little bit about the history and the curatorial ethos of 1a Space?
A: Well, 1a Space started in 1998 so we have had the space a little over 10 years. Through all these years 1a has remained a non-profit organisation, and we are majorly supported by the Hong Kong Arts Development council, it's a major funder, but we regularly seek other funding to support the program.
I am a founding member of 1a Space, and in 1998 we were a team of not only artists but also administrators and academics. We formed 1a because we wanted to promote contemporary art in Hong Kong, exhibiting and presenting local art to the Hong Kong audience. Throughout the years we also aimed to have one or two shows from overseas artists in our program. We have welcomed exchanges of contemporary art shows from North America, the United Kingdom and Asia.
At the same time 1a strongly supports art education. Regularly we partner with organisations like the Hong Kong Museum, to do art education with primary schools.
Q: Following on from that, perhaps you could tell us who your primary audience is for the work at 1a?
A: Basically it is the art community in Hong Kong. But even within that community there are different sectors, artists groups and artists. The community also has strong links with overseas, either through being educated overseas, or those who have moved here from abroad.
For quite a while we were standing in the position of being 'quote unquote alternative.' Now, why I use 'quote unquote alternative' I guess is because ten or fifteen years ago contemporary art was just at a starting point in Hong Kong. So we have been introducing the idea of contemporary art. At the same time we present and promote established Hong Kong artists, we are not just showing the alternative. Another strong aspect of the programme at 1a is that we present many one person shows, featuring mid-career or established Hong Kong artists.
Q: What are the challenges as you see them for, as you termed it 'quote unquote alternative' art Spaces in Hong Kong?
A: The greatest challenge for us is funding. We are constantly facing the difficulty of raising funding to support the programme.
Q: You mentioned earlier that you receive Government funding and that you are also supplementing that with other forms of funding?
A: Definitely, we have to. Of course, when receiving public funding they also expect us to raise funding on our own. Yet despite the the situation in Hong Kong, the private corporations do not know really know much or even have the idea of supporting art, especially contemporary art. To them it's just such a new area. So it's really difficult. So that is our greatest challenge, to secure private funding.
Q: Could you tell me a little about the models of presentation of contemporary art in Hong Kong? 1a Space is an example of an alternative organisation, who are the others?
A: I can roughly give you some idea as I have been involved with contemporary art in Hong Kong for over thirty years. Actually the structure of art institutions in Hong Kong consists of Museums – so far only 2 museums (Hong Kong Museum of Art and Hong Kong Heritage Museum) – but in both museums only twenty to thirty per cent of their program is contemporary art. So the development and presentation of contemporary art in museums is kind of limited (there are also small university museums). The situation changed rapidly in contemporary art after 2000, not in the museum sector, but basically in the private sector. We are one of the oldest alternative spaces, and there are maybe two younger alternative spaces. In the last 5 years in Hong Kong there has been a building up of a a few more art spaces. The scene is quite vibrant. Some individual artists have their own space and every year they have open studios. The other sector that keeps growing is the commercial art spaces.
Q: I believe that the Gagosian gallery has just opened in Hong Kong.
A: Yes, because of the art market in China they (the commercial spaces) are developing quite rapidly. So some internationally ranked galleries are coming to Hong Kong, and at that level they are introducing the big art stars. For example the Gagosian just had some work by Damien Hirst, and maybe six months ago we had Ai Weiwei showing. For 1a in the coming season we are also working on a show to feature the work of Canadian artist Ken Lum and American artist David Diao.
Q: Tying into what we have just been speaking about, The Art HK fair is about to run for its third year (in May 2011), so what do you see as it's impact on contemporary art in Hong Kong? Given that we have been talking about commercial galleries, do you think that the fair has made Hong Kong a focus for international galleries and artists?
A: I think the Hong Kong art fair so far is really getting quite good attention annually, and I think it is growing. This event has brought the concept of the Art Fair not just to the art community but to the general Hong Kong community. It has expanded to the general audience. It is an annual opportunity for them to be in touch with 'art fair art.' I use the term 'art fair art' because the event is quite commercially oriented. In a way it's good but of course the coverage is not the entire range of contemporary art. However, 1a has a very positive attitude to this. Last year we started to have a booth at Art HK, as a free booth – we don't have the budget!- just outside the fair's entrance. The reason we get this booth is because in exchange we are running the education programme for Art HK. Last year we did guided tours for teachers and students. I guess the partnership last year went well, so this year we are doing it again.
Q: It seems 1a has found a way to operate within what is essentially a commercial enterprise at an art fair, as well as the more alternative ways of presenting visual art.
A: I guess at this moment, not just in Hong Kong but internationally, at art fair, biennials, triennials – each sector has their role to play, as long as we understand our position. So for me of course I understand that at art fairs they are presenting certain types of work. But there are also very important works and artists that require spaces like 1a. At 1a we are trying to present important international artists, and they are happy to show with us. But at the same time, they need commercial galleries to help promote their work. Actually in the art market, especially in Asia, it is mainly art that is object based that is in the market. Installation, new media, performance and other types of work may not be able to fall in the category of being collected. A lot of collectors, especially in Asia, they are in some ways…..well not conservative, but…
Q: …they are commited to collecting objects?
A: Yes, so for the presentation and survival of that (non-object based) work we need alternative spaces.
Q: So, it's a symbiotic relationship, the various ways of presenting contemporary art actually need each other to continue. The independent spaces provide the place for experimentation that is free from commercial concerns, and like wise the commerical spaces provide the space to support contemporary art in a different way?
A: Yes.
Q: My last question then is to ask you about your upcoming projects at 1a.
A: There are some areas we would like to emphasise. One area would be the guest curator, and curatorial development. That is something I think we need to develop in Hong Kong. Then in the past year, we have done one quite well received project that is the curator in residence, where we invited a NY based curator to Hong Kong. In the coming year we are working on the budget to continue this. We are also starting an interesting project, that we have received funding for, on 'green art'. We did a very good exhibition in 2009 about the Kai Tak river, called GREEN – through the Kai Tak River, that was about city development and green art. Another factor we want to focus on is young emerging artists. I have many years of experience teaching at universities, so I also see the need for development in this area.
For more information about upcoming exhibitions at 1a Space in Hong Kong see their website http://www.oneaspace.org.hk
1a Space will be running the education programme at ART HK in 2011.
Art HK opens on Wednesday 25 May and runs until Sunday the 29th of May, 2012.
(Irish galleries presenting at Art HK are mother's tankstation, presenting the work of Atsushi Kaga as part of Art Futures and Kerlin Gallery presenting the work of Sean Scully, Liam Gillick, Hiroshi Sugimoto, Norbert Schwontkowski, Isabel Nolan, Elizabeth Magill and Mark Francis.)
To view the ART HK programme and other galleries participating see: http://www.hongkongartfair.com