Work it.
Project Arts Centre | 20 April, 2011.
This dialogue is in response to the Work it. forum that took place in the Project Arts Centre, Dublin on 20 April, 2011. Work it. was the second meeting organised by the Visual Artists Workers Forum which aimed to bring together arts workers in the visual arts to share information, ideas, and strategies.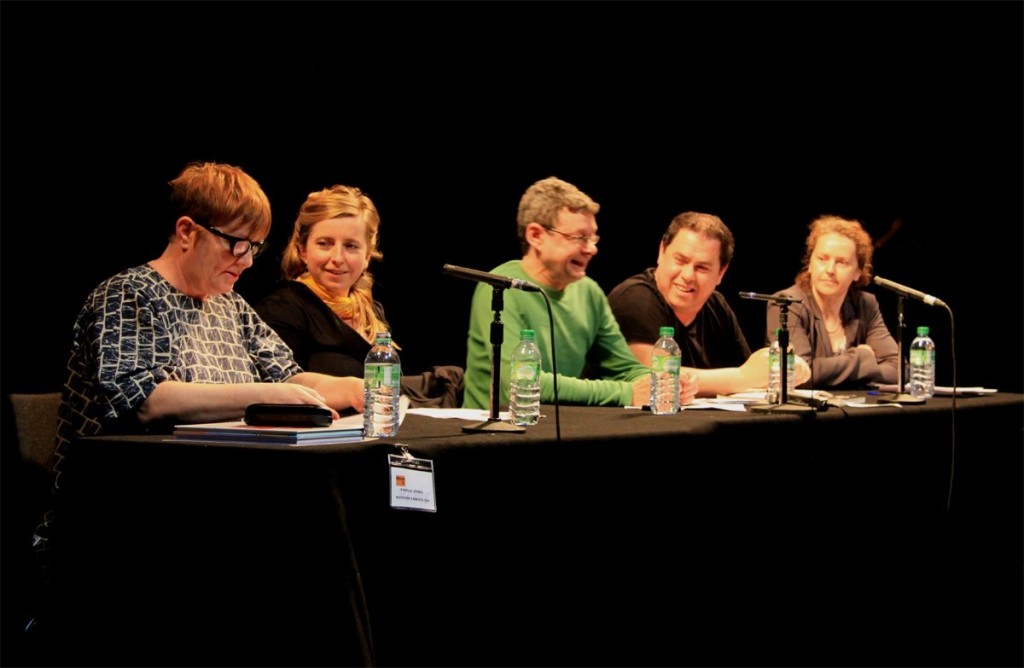 Finola Jones, Rosie Lynch, Ruair í O Cuív, Mick Wilson, Valerie Connor, "Ethical Attitudes," Work It. 20 April 2011, Project Arts Centre; photo Anne Lynott.
Barbara Knezevic:
It's a daunting task trying to represent the many discussions that took place at the Work it. forum, though I did take thorough notes to this end. Initially, I thought about attempting to summarise the various presentations by the speakers and quickly realised that this would be virtually impossible and less than interesting. With this in mind, a collaborative piece of writing between two contributors (myself and Seán O Sullivan) seemed like the right way to approach this, both in the interests of presenting two points of view as attendees, and to reflect the sentiments of collaboration, co-operation and mutual exchange that marked the day.

The discussions at Work it. were unusual to me in that they largely avoided familiar debates surrounding the philosophical or theoretical concerns about the presentation of visual arts. Instead, there was a focus on more pragmatic aspects of what we do as visual arts workers (more about this later).
Seán O Sullivan:
I thought that the final presentation of the day, Mick Wilson's talk on the presence and effect of the reputational economy was by far the most unusual moment. Until this point Work it. had largely focused on practices that are ethically useful in their own right, whereas Mick Wilson gave a explanation of why the visual arts is economically deregulated. He acknowledged that a set of economic ethics is not simply derived from the behaviour of an institutional power structure, or from the behaviour of an individual. Rather, it is resultant from the social dynamics of an economy that rewards people for being special.
Reacting to this, I think the notion that there can be a fair arts economy in Ireland where work is rewarded by payment ignores a key fact: Some arts workers will require that they be paid for their work, whereas others will simply present themselves saying "you don't have to pay me."
Only a small number of activities can provide stable payment to arts workers. Conversely, the rate at which Ireland is producing graduates from Fine Art, Art History and Cultural Policy programmes is quite high, and as long as a stratum of educationally prepared people are willing to work in this reputational way, there is no real incentive to provide them with payment. Both individuals and institutions work in a reputational economy because the fact of having worked is now the thing that is valuable.
Barbara Knezevic:
Like you, Seán, Mick Wilson's discussion centring on the notion of the 'reputational economy' and the visual arts was for me one of the most enlightening of the day. As I understood it, the way Mick described the 'reputational economy' is thus; the reward for working is an enhanced reputation, and enhanced reputation means working more. In other words, 'following the money' does not provide the full picture.
What was key here for me was the way in which Wilson placed and acknowledged the effects this unusual economy – also present to a degree in academia – has on the work related transactions of the visual arts. He marked out a number of problematic situations it creates. Firstly, the way that this system encourages individualism: 'a zero sum game' where if one reputation rises others must necessarily drop. Stemming from this, individualism is then a barrier to solidarity in the visual arts. This may go some way to explaining why the visual arts is less effective than others, such as theatre practitioners, at organising and lobbying in the media and at governmental levels. This question kept rearing its head throughout the day, particularly in the second session.
Wilson also remarked on the way that capitalism arranges our time, so that it becomes "quantitative and thing like." I return here for a moment to the idea of labour and specifically the definition of visual arts workers. During the Q&A session, an audience member voiced concern that artists weren't naturally considered 'workers.' Tessa Giblin immediately stated that as far as she was concerned, artists are absolutely visual arts workers. What was interesting about this was that at no time during the day had anyone said otherwise. So this artist speakers' feeling of exile from the definition of 'worker' was self-imposed. I wonder how many other artists feel the same way. Labour, in its most basic sense, a commodity to be traded, takes on a more mutable and unstable form when it comes to artists. That is certain.
Seán O Sullivan:
I expect that many artists feel the same way – that is, isolated from the blurry power structures of a liquid economy that rewards standing and specialty. Interestingly, a member of the audience noted that the Scottish Artists Union had tried to enact a code of ethics that would require the payment of artists for their work. However, after two years spent writing this code, the group realised that it violated the country's competition laws in quite elementary ways. The obvious takeaway is that economies are competitive, and that to imagine that competitiveness and solidarity can peacefully co-exist ignores the role that reputation plays.
In her presentation, Valerie Connor recalled a prior forum at Project Arts Centre that was convened to feed views into an economic policy paper regarding cultural work throughout the European Union. In this, one contributor claimed that it was of the utmost urgency that a common ground be found to remove the difference between cultural and creative sectors. This, Connor claimed, is one of the difficulties of gaining a democratic or shared perspective: We are compelled into making a universal declaration on behalf of others.
Barbara Knezevic:
Just to return to ethics, I wanted to mention Finola Jones of Mother's Tankstation's contribution. I found her discussion interesting because of the notion of running a public business, essentially a space of exhibition out of a private environment, her home. Finola mentioned that she felt this initiative made perfect sense, as it grew out of something that surrounded her. To make, and here I quote a "house for art, to make art our own."
Following on from this she mentioned two sacrosanct ethics that the gallery adheres to in their contracts; to protect intellectual property of the artists, and to only sell to collectors who loan work back.
This presentation seems interesting to me in context of the others we have mentioned because of the sense I got of Mother's Tankstation protecting the integrity of artist's work above all other concerns, in the context of a commercial environment. This approach seems to have been successful, which is borne out in the excellent reputation the gallery has here and abroad. Finola mentioned that they have an approach that is 'anti-shop assistant' and that allows natural enquiry to take place with the work.

I wondered what you made of this Seán, and how you see the that of the public/private space of the gallery itself contributes to it's ethos and also in context of our earlier discussions about reputation and ethics?
Seán O Sullivan:
I certainly agree that Mother's Tankstation has an exemplary reputation. As you mentioned, it is a commercial environment, and yet its artists are selected with "no attention paid to their potential for commerciality." Jones spoke about the gallery's first exhibition, where it showed Nina Canell's ephemeral installation work directly after the artist had graduated from college. Since Mother's Tankstation has nurtured work that could otherwise only exhibit in a publicly funded institution, it now occupies a place of distinct reputation: that is to say that its ethics are ideal to both artists and buyers alike – but moreover, its ethics constitute a specific point of difference from its institutional peers nationally.
This can illustrate a matter that you mentioned above Barbara. The second panel contended, in part, that Irish visual arts workers and organisations should adopt a public solidarity with one another. However, sticking with the example of Mother's Tankstation, we see a victor in the "zero-sum game" of reputation. Its existence is cultivated to produce something other than its own survival. The idea that solidarity (and by its function, survival) can simply be 'adopted' is undoubtedly flawed: these are things to be achieved, and in hand with reputation, they cannot be bought on the cheap.