Aoife Flynn

Bio
"My recent work stems from research into the notion of a counterfeit constructed world, drawing predominantly from science fiction and philosophy and exploring themes such as alternate reality. I work primarily through painting and drawing using line to convey the idea of seeing the artwork in construction, the fiction in an unfinished state, where the surface used is both part of the narrative and the narrative itself."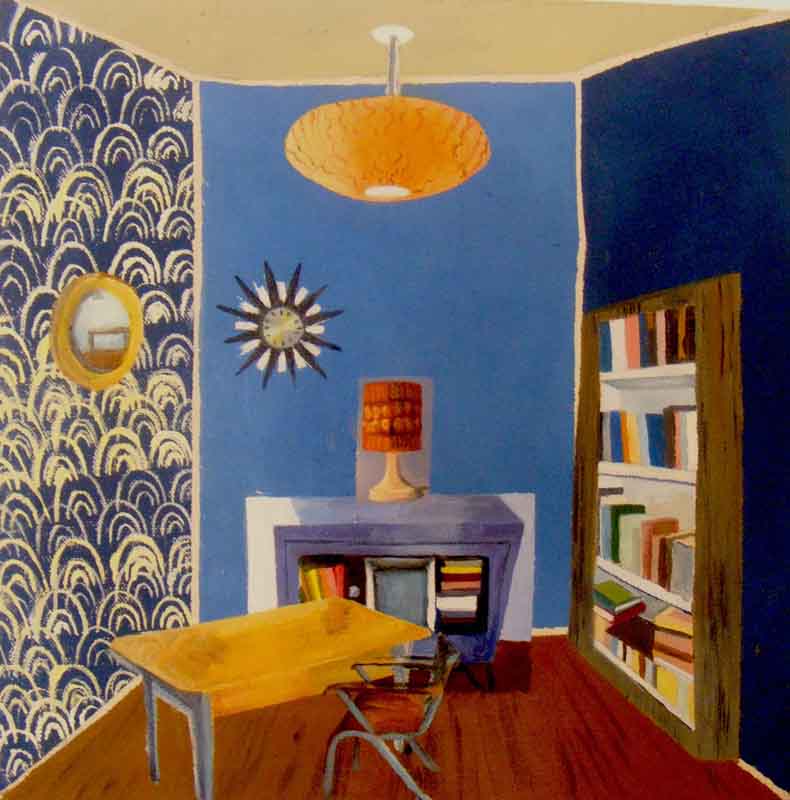 Aoife Flynn: Room #2 , paint on board; image courtesy the artist.
Aoife Flynn is an artist currently based in Limerick.  Her work utilises different media such as drawing and painting, collage and sculpture. Working often from memory, photographs, mass media and her surroundings, she explores ideas surrounding  "fictitious reality and the creation of a sort of parallel world."
Born in Wicklow in 1985, Flynn graduated from Limerick School of Art and Design with a BA Hons degree in Fine Art in 2008. She is a founder of Wickham Street Studios and is a board member of the artist-run Occupy Space.  She is also the editor of Occupy Paper.
http://aoifeflynn.carbonmade.com/
_________________________________________________________________
Aoife Flynn

Current work
"In my drawings and paintings I attempt to sever elements from their original contexts by zooming in on details, combining material from several different pictures in to one work or juxtaposing objects rendered in strikingly different scales."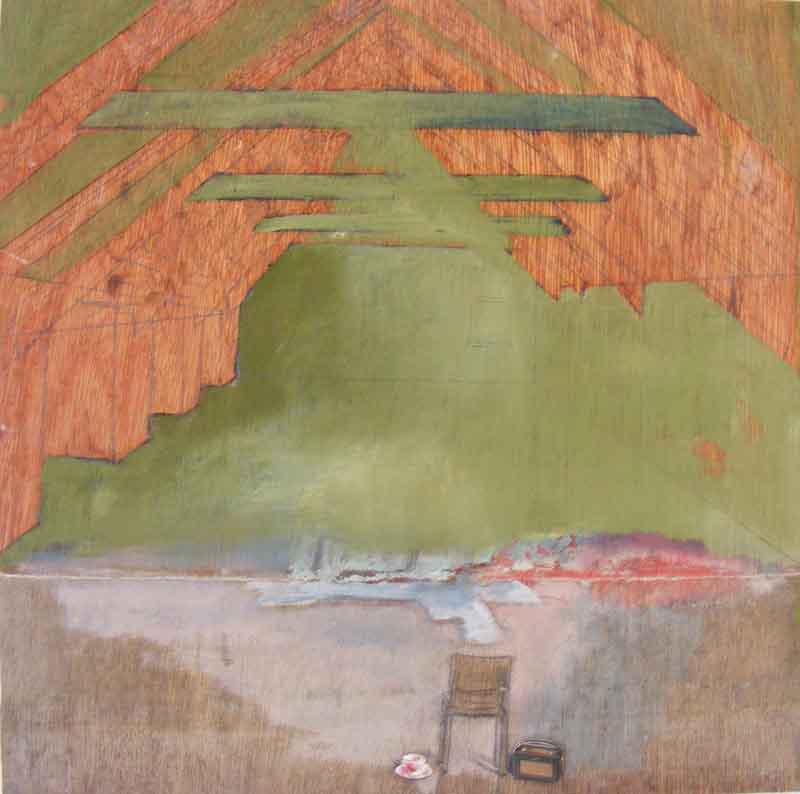 Aoife Flynn: Gutted, mixed media on board, 40cmx40cm; image courtesy the artist.
Retro television sets, empty rooms; constructed worlds that are left for the viewer to make sense of. Flynn's recent work draws from a variety of sources, from science fiction to philosophy. Primarily working with painting and drawing, her work is shaped by sources such as the mass media, memory, and her own surroundings.
Her current work uses Russian/French philosopher Ivan Chtechegloy's Formulary for a New Urbanism (1953) as a starting point. The book considers architecture as the "simplest means of articulating time and space, of modulating reality, of engendering dreams." In Flynn's work, empty, uninhabited interiors and exteriors are constructed, mainly from found images. Televisions are often a feature in the work, referencing George Orwell's 1984. Only traces of a human presence can be seen: a chair, a pair of glasses, a vacated desk. Flynn does not offer the viewer any concrete answers.
"The act of drawing or painting, itself time consuming, becomes a reflection of the project, almost a way to work through it, as well as a means to involve the viewer into these temporal and spatial complexities. I use found materials and prefer to work on wooden boards as there is already an underlying ready-made surface there."
Another project that Flynn is currently working on considers the writing of the French theorist, Jean Baudrillard. Baudrillard was best known for his analysis of the modes of mediation and technological communication. His writing, mostly concerned with the way technological progress affects social change, also covers diverse subjects including consumerism, gender relations, the social understanding of history. [1] For the project, Flynn will be illustrating Baudrillard's theories about reality and "hyperreality" in the form of painting and sculpture.
_______