Theme for a Story
"A certain engineer made up his mind to build a giant brick wall across all of Petersburg.  He thinks over how this is to be accomplished, he doesn't sleep nights reasoning it out.  Gradually a club of thinker-engineers forms and a plan for building the wall is produced.  It is decided that the wall will be build during the night and in such a way that the whole thing is put up in one night, so that it would appear as a surprise to all.  Workers are rounded up.  The job is divided up.  The city authorities are lured away, and finally the night comes when the wall is to be built.  Only four people know of the building of the wall.  The engineers and workers are given exact orders as to where each should go and what each should do there.  Thanks to exacting calculations, they're able to build the wall in one night.  The next day Petersburg is all commotion.  The inventor of the wall himself is despondent.  What this wall was good for, he himself never knew."
From "Today I Wrote Nothing" by Daniil Kharm [1]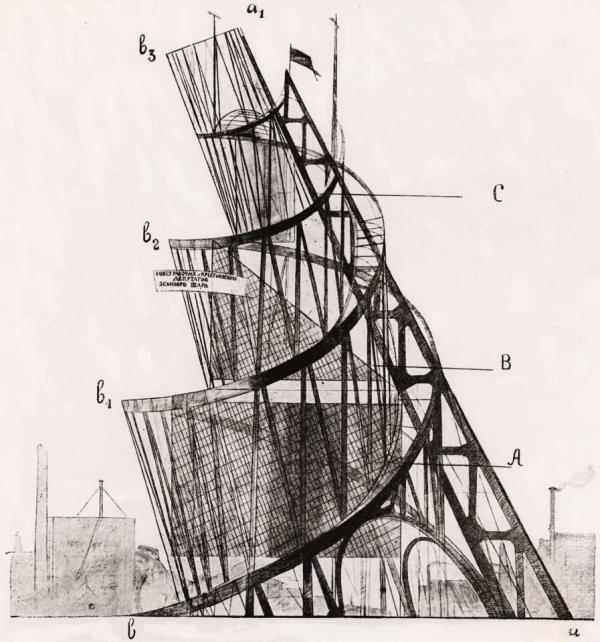 Vladmir Tatlin: The Monument to the Third International, 1885 – 1953.
The Constructivists
Around the time of the 1917 October Revolution, the Constructivists came into artistic prominence in the new Soviet Union.
"Constructivism was neither meant to be an abstract style in art nor even an art per se. At its core, it was first and foremost the expression of a deeply motivated conviction that the artist could contribute to enhance the physical and intellectual needs of the whole of society by entering into a rapport with machine production, with architectural engineering and with graphic and photographic means of communication …. that was their aim: not political art, but the socialisation of art."
Lissitzky, though sometimes associated with the Suprematist ideals, conceived of the concept of Proun - an abbreviation from the Russian phrase meaning: new art object. It was a method of working, entirely in harmony with modern technological means.
Tatlin's extravagant Monument to the Third International, though a stupendous expression of his faith in a new communist society, was never built.
/ / /
[1] Daniil Ivanovich Yuvachev, born in St Petersburg (30 December 1905 – 2 February 1942), was an early Soviet-era surrealist and absurdist poet, writer and dramatist.
Yuvachey invented the pseudonym Kharms while attending high school at the prestigious German Peterschule. In 1927, the Association of Writers of Children's Literature was formed, and Kharms was invited to be a member. From 1928 until his death in 1941, Kharms continually produced children's works.
Compiled by Adrian Duncan.
Sources: Aaron Sharf, Constructivism, Concepts of Modern Art, Ed. Nikos Stangos, Thames and Hudson.