Liam Campbell | BIO
Liam Campbell is a Belfast-based artist who works with photography.  He completed an H. Dip in Photography at IADT before completing a BA Honours Degree in Fine Art at IADT in 2005.  Campbell graduated from the National College of Art & Design in 2007 with a Masters of Art in the Contemporary World.  Since then, he has been based in Belfast, developing his own personal projects and teaching photographic workshops.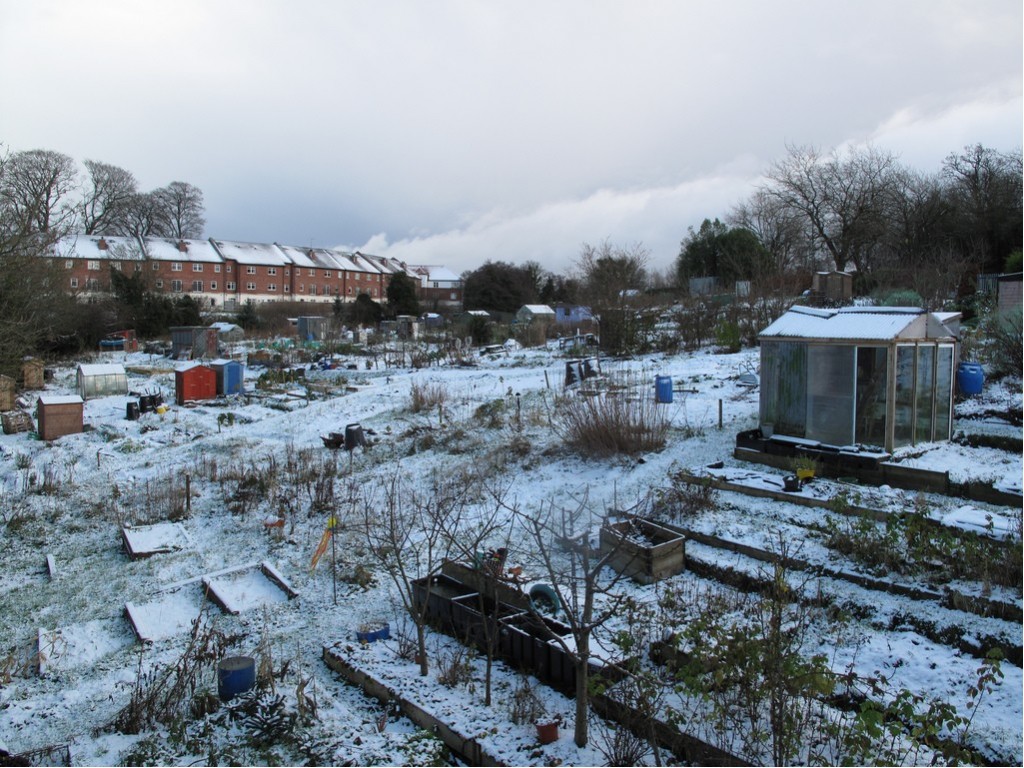 Liam Campbell: Winter Allotments, photograph, 2010; image courtesy the artist.

Campbell is interested in alternative ways of living.  He has worked with Atlantis, an organisation that promotes  international cultural exchange programmes based around agricultural work on farms in Norway and Scandinavia before doing similar work with Project 67, a group that organises Kibbutz volunteers in Israel.
His current project is based around the landscape of the allotment,  a small area of land let out at a nominal yearly rent by local government or independent allotment associations, for individuals to grow their own food.
"I am interested in how people spaces can take on the character and personality of the people who own them. I see the sheds as a form of improvised land art that takes place at the fringes of the urban. People are increasingly wanting a better, affordable food source and the allotment has become a way of growing your own… it is cheaper and better, as well as being an enjoyable experience."
Campbell has exhibited regularly in Ireland, and is a member of the photographic magazine SOURCE.
Current Project | Allotments
History - Belfast
Traditionally, the allotment has been a male working-class space that goes back to around the time of World War I. In 1916, as part of the war effort, areas of Ormeau and Falls Park in Belfast were rented to the Garden Plots Association. There were two hundred and fifty six allotments in operation in Ormeau, and one hundred and forty five at Falls Park. Most of these were let by local residents and  remained in operation until March 1921.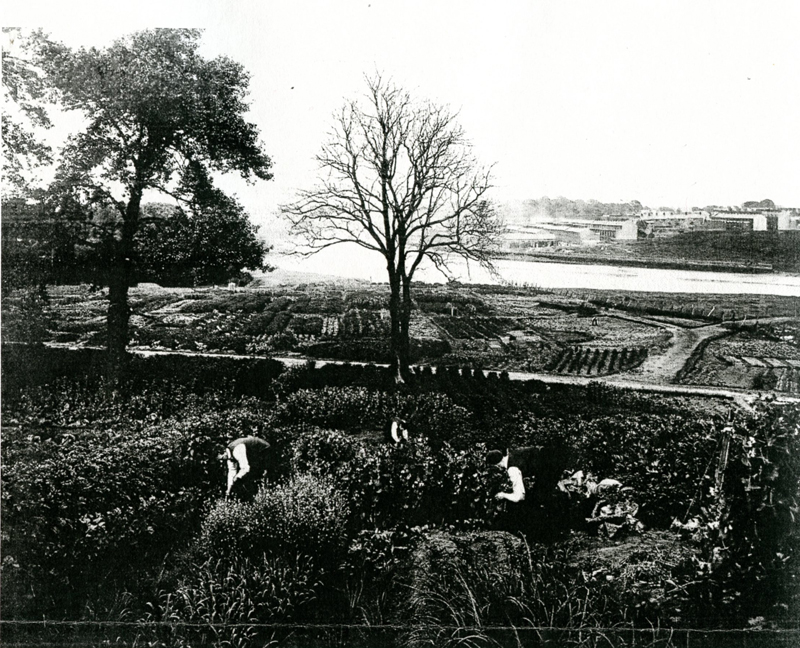 The Botanic Gardens, Belfast: At the Botanic Gardens, the low lying area towards the river was also used for allotments, as it had been during the World War I.
During World War II, parks and open spaces became places of refuge, as social gathering points, and used for home-grown foodstuffs. Regulations governing the control and management of allotments was introduced in 1933. Residents were required to "keep and maintain allotments clean and free from weeds and well manured. " Plot holders were to prevent plants from encroaching on neighbouring plots, and were forbidden to erect greenhouses or tool sheds without permission. Carpet beating and the drying of clothes on allotments were also banned, as was gambling or playing games of chance.
As the War progressed the 'Dig for Victory ' campaign became increasingly important until it encompassed not just original plot holders but almost anyone with a greenhouse or a piece of land, or garden. In a report of 1942, the Ministry of Agriculture stated that it was desirable that "every endeavour should be made to utilise all the space available for the production of tomatoes." About 75% of the glasshouses area in the Belfast Botanical Gardens was given over to food production. The 1942 season produced over six tons of tomatoes and 40,000 early vegetable plants including leek, onion, celery and cauliflower.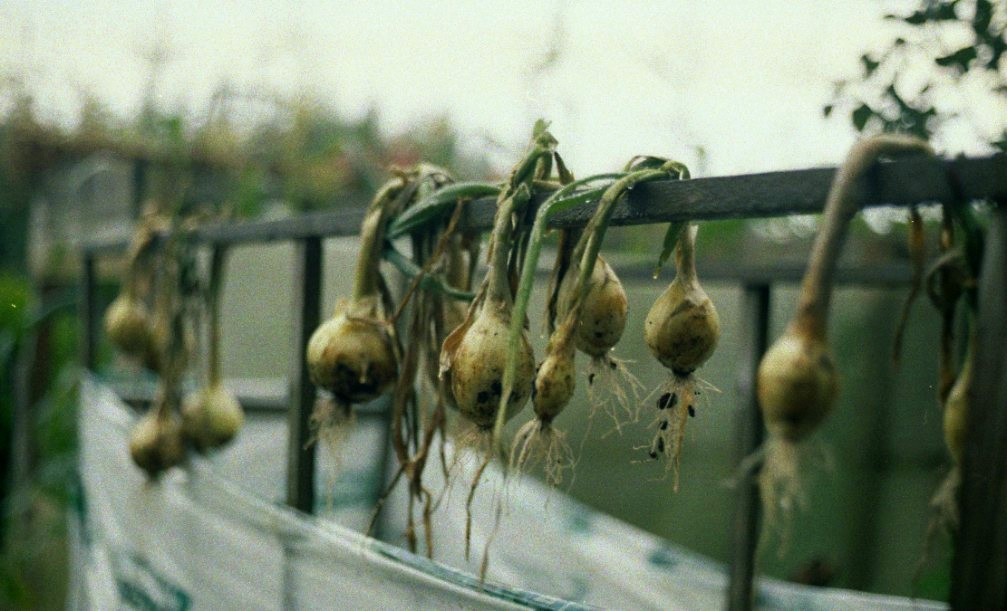 Liam Campbell: Allotment Series, ongoing project, photograph, 2010 ;image courtesy the artist.

The Allotment Project
The allotment landscape, being a traditionally a male working class space, has moved  towards becoming a place where young families, women, and the middle classes exist side by side. As a result, Campbell has turned to portraiture as a means of providing insight into the relationship between the allotments and the community of gardeners who keep them. In the next phase of the project, Campbell plans on recording conversations with people who occupy the allotments.
"I see this as an alternative portrait of Belfast and its people, as the city changes so does its people and how they live. I have been working on this project since 2007, and  I would describe my photographs as documentary meets social realism."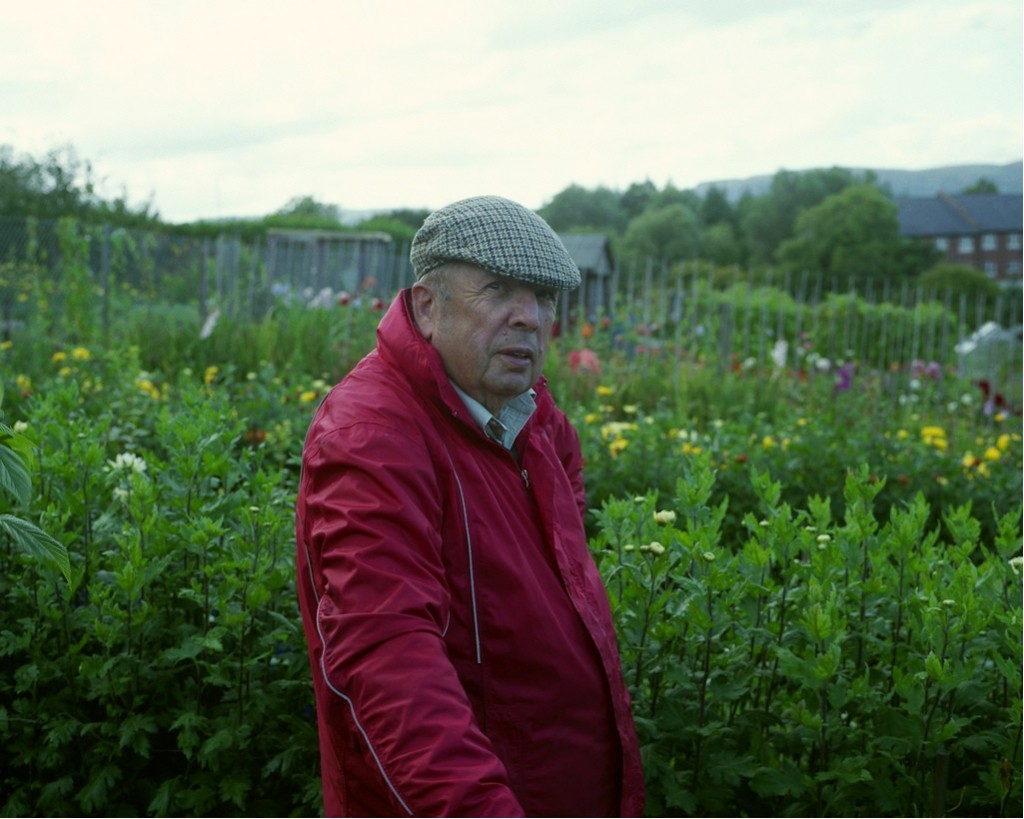 Liam Campbell: Allotment Series, ongoing project, 2010, photograph; image courtesy the artist.
Campbell first became interested in allotments as personalised spaces.  Each was different, made up of random objects, the sheds had their own appearance and size: "These sheds had been build from the detritus of the everyday, salvaged from skips and back laneways.  They made me think of the land artists of the 1960s and Picasso's improvised sculptures built from everyday objects found around the house – a frying pan, water jug, wooden spoon."  After photographing the sheds for twelve months, they seemed to resemble the person who built them.
http://liamcampbellphoto.weebly.com/