Helio Oiticica



This text operates as a brief and broad introduction into Helio Oiticica, a Brazilian artist, born in the late 1930s. He studied in Rio de Janiero and was a contemporary of Lygia Clarke (with whom he collaborated often during his life) and Lygia Pape, among others.
In his student days, he was a devotee of European Modernism as it developed in Brazil. (Reference: Paul Klee, Kasimir Malevich, and Piet Mondrian.)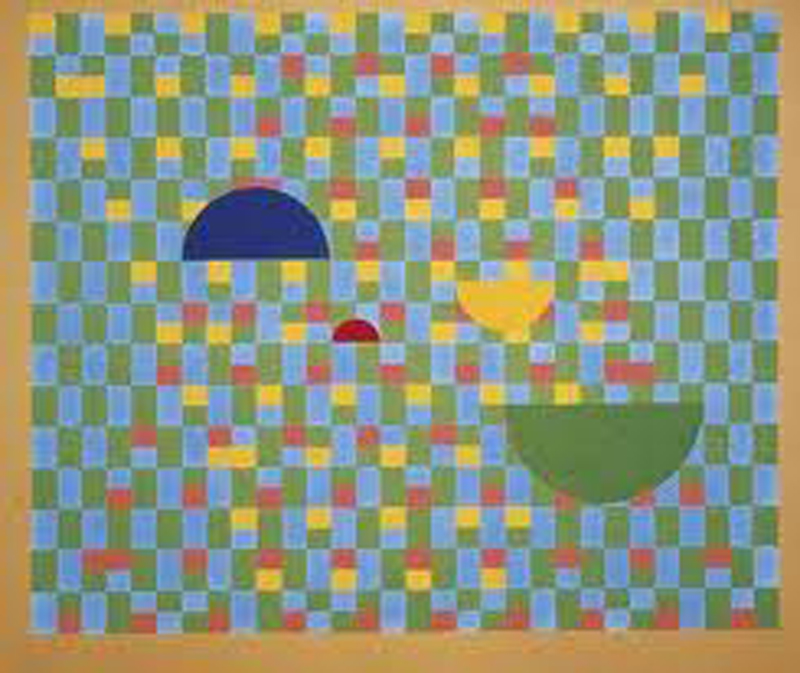 In 1958 he worked on a series of paintings called the White Series or the Seria Blanca, white-on-white paintings. From there he started moving the colours he was working with from the two-dimensional plane into sculpture, by painting on the back of canvases Bilaterais (Bilaterals). With these sculptural planes of colour the work became almost architectural. The viewer could be incolour. It was an immersive experience and reliant on the viewer's participation.
This spectacular work, with panels in tones of violet at the nuclear centre unfolding into a range of luminous yellows, amplified the spatial and temporal aspects of the Spatial Reliefs. By contrast the Penetrável (Penetrable) series 1960–79 consisted of closed labyrinthine environments, as in the large scale model of Projeto Cães de Caça (Hunting Dogs Project) 1961 (its title taken from a group of stars in the constellation of Orion). Like all Oiticica's maquettes, this model was considered a work of art in its own right. (1)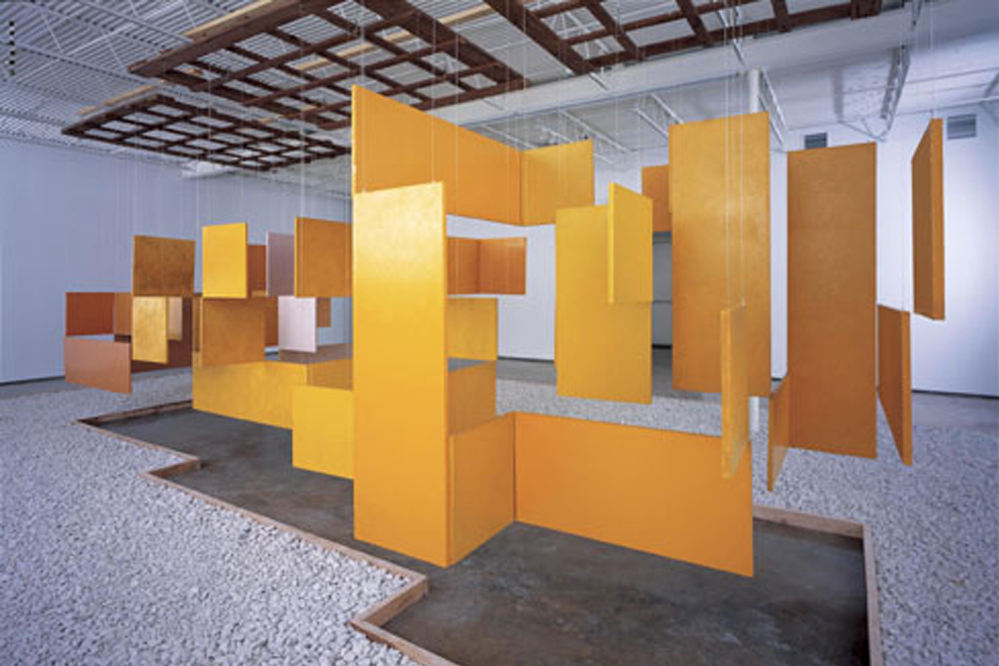 In a text Oiticica released called Colour, Time and Structure, he referred to this integration of colour (totalidade-côr', total colour) as 'a supreme order similar to the supreme order of architectural spaces,' and from this he also began making his Bolides (Fire Balls). These were small boxes, filled with light. The viewer could slide open the drawers thus revealing different planes of colour at different heights and positions.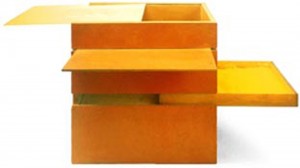 At this time, Lygia Clarke was making her interactive steel plate sculptures, the Bichios (Beasts).
Bichio (Lygia Clark)
Clark and Oiticica collaborated and "talked" to each other using a number of different syntax. These were mostly developed by Clark and involved the wordless exchange of language between two people.
Dialogues of Hands
Goggles
His participatory creations were based on two key concepts that he named 'Crelazer' and the 'Supra-Sensorial'. Crelazer, one of Oiticica's neologisms meaning 'to believe in leisure', was for him a condition for the existence of creativity and is based on joy, pleasure and phenomenological knowledge. The second concept, the Supra-Sensorial, promotes the expansion of the individual's normal sensory capacities in order to discover his/her internal creative center. (2)
Oiticica's interest in installation art stemmed from everyday life and his own culture. The most influential of these installations was Tropicália (1967), which gave its name to the Tropicalismo movement.
"Emphasizing viewer participation and material precariousness, their works continue to resist being frozen in museum displays as relics of past actions." (2)
Tropicalia
Oiticica's obsession with colour and one's immersion in it continued. However, he changed his way of working, the materials and the level of interaction. He visited Mangueira Hill, a Rio de Janeiro shanty town, which encouraged his immersion into the world of traditional Brazilian samba. From this he designed a sort of colour-dance-garment, which he called Parangolés, designed to be worn or carried while dancing to the rhythm of samba. This project represents the culmination of Oiticica's efforts to encourage the viewer's interaction with the artwork and to liberate colour into three-dimensional space.
The whirling sounds and colours surrounding the dancer brought the experience to an almost synesthesic level.
Paragoles
Also, around this time Brazil was under the rule of a military junta. These Parangoles, which were mostly worn in public, were adopted as garments of a silent resistance. A dancer could write an anti-junta message on the inside of the fabric and as the dance proceeds, the text would appear, for a moment, then disappear into the whirl of colour from where it came. (This dictatorship lasted from 1964-85.)
During his career he was part of various collectives and movements like: the Grupo Frente and the Grupo NeoConcreto, but colour was his obsession, no matter what medium he worked in, whether it be sculpture, painting, sewing, film-making et cetera, until his death in 1980.
In 2007 there was a large retrospective of his work in the Tate and in 2009 most of his work was lost in a fire in a storage facility in Rio de Janiero.
1. Tate link with an extensive and far more detailed overview of his work.
http://www.tate.org.uk/modern/exhibitions/heliooiticica/guide.shtm
2. Here is a link for further information on both Clark and Oiticica, written by Simone Osthoff.
http://www.leonardo.info/isast/spec.projects/osthoff/osthoff.html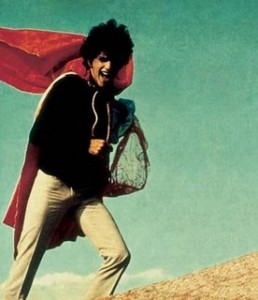 Compiled by Adrian Duncan
___________________________________________________________________________________________________________
W.G. Sebald
German writer and academic (1944–2001)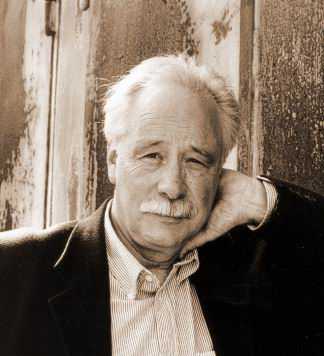 W.G. Sebald; image held here.
Born in Bavaria, Germany in 1944, Sebald moved to the UK in 1970 to take up a position as lecturer at the University of East Anglia (UEA) where he was appointed to a chair of German literature in 1987; and in 1989 he became the founding director of the British Centre for Literary Translation. He was cited by many critics as one of the world's greatest living authors and was regarded as a future candidate for the Nobel Prize in Literature.
The events of the Second World War, including the Holocaust, European imperialism and environmental destruction permeated his life and work. Specifically the themes of memory and loss of memory (both personal and collective) and decay (of civilisations, traditions and physical objects) reverberate throughout his work and are attempts by the author to reconcile himself with, and deal in literary terms with, the trauma of the war and its effect on the German people.
Sebald writes what he termed 'prose fiction', taking an oblique look at history by combining genres and blurring boundaries between fact and fiction, art and documentary (he frequently uses real names and photographs). In The Rings of Saturn (1995), he found natural phenomena such as fog and mist very attractive as they provided extended metaphors that enabled him to reference important topics and events such as the Holocaust in this oblique manner.
His other most critically acclaimed books including Vertigo (1990), The Emigrants (1992) and Austerlitz (1995) further demonstrate his attempts to create a new model for contemporary fiction. Sebald alludes to the silkworm at several points in The Rings of Saturn and this motif is an apt metaphor for his writing- he describes moments using the notion of comminuted substances, aerial, marine and terrestrial, and silk represents the thread that connects particles and sand and grit. Moreover the web-like construction of narrative is underpinned by Sebald's desire to establish patterns in his writing.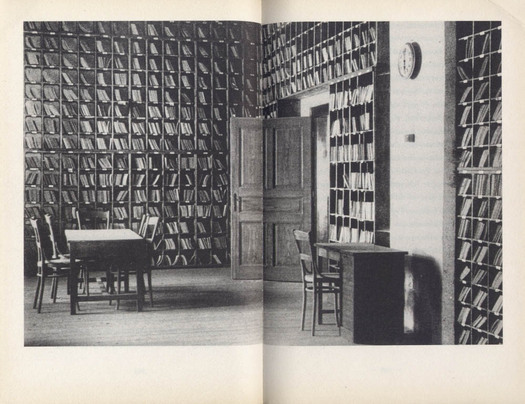 Spread from Austerlitz, showing the files of prisoners held in the Small Fortress of Terezín; image held here.
Sebald is also an important figure in contemporary art. The use of photography in his essayistic and fictional work, as well as frequent allusions to the visual arts and to specific painters, also attests to his crossings over into other areas of artistic creation. He employs pictures as a way of generating, one might even say designing, the meandering narrative. In one of the most remarked-upon uses of photography in Austerlitz, the text stops and Sebald shows a sequence of four doorways in Terezín, about forty miles from Prague and site of a Jewish ghetto in the Second World War, which Austerlitz visits. The brutal last door, with its heavy iron bands, cannot fail to suggest a death camp gas chamber, although no such thing is stated in the text.
Sebald is brilliantly visual. He makes you realise with some discomfort that you often fail to look attentively enough at what you see. He has an uncanny ability to convey not just the detail of multitudinous impressions, but the precise emotional shading and personal import of each of these moments. His eye records with photographic accuracy and then these perceptions are recovered from memory and reconstituted as fictional experience with the same exhilaratingly scrupulous fidelity. The complication in Sebald's writing, which he apparently intended, lies in our uncertainty about how much of what he describes derives from his own experiences (seemingly a lot) and how much of it is largely or entirely imagined.
Sebald is hailed as a writer's writer. His narrative position is typically that of a writer/narrator who finds himself re-tracing the journeys of other writers in the past, like Stendhal, Kafka or Conrad, to discover that their paths and that of the narrator's life itinerary have crossed and are linked in a myriad of mysterious ways, contingent or otherwise. Other writers, as different as Nabokov and Casanova, frequently make appearances in his work, as fictional or "real", historical personae, or in the form of intertextual references. Many contemporary colleagues of Sebald have found his peculiar style stimulating, the subject matters he deals with attractive and challenging.
The film essay Patience (After Sebald) (2011) by acclaimed documentary film-maker Grant Gee is worthy viewing for those interested in learning more about Sebald. It is an exploration of his work and influence told via a long walk through coastal East Anglia tracking The Rings of Saturn. British artist Tacita Dean, who features in the film, has referenced Sebald in several of her works since 2001 and continues to produce art work that relates to him. In 2007 she was one of seven British artists invited to respond to 'the wider landscape of the east of England, with the idea of the literary journey as one its overarching themes' for an exhibition entitled Waterlog. Dean chose to make a portrait of the poet and translator Michael Hamburger (1924–2007) whom Sebald visits in the seventh chapter of the book.
Sources:
www.thesip.org
www.fabula.org
www.newyorker.com
www.tate.org.uk
_______________________________________________________________________________________
Meshes of the Afternoon (1943, USA)
Maya Deren (American, 1917-1961)
Meshes of the Afternoon is a black-and-white, 14-minute film and one of the most influential works in American experimental cinema. Shot in 16 millimeter film, it focuses on a woman (Deren) who, after returning home and falling asleep, dreams a dream involving a mysteriously hooded figure, shards from a broken mirror, multiple versions of herself and recurring symbolic objects such as a knife and a key.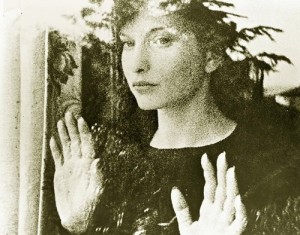 Still from Meshes of the Afternoon, 1943; image held here.
In 1941 while touring with the Katherine Dunham Dance Company, she met Alexander Hammid, a Czechoslovakian filmmaker working in Hollywood. In collaboration with Hammid, Deren produced her first and most remarkable experimental film Meshes of the Afternoon.
Meshes of the Afternoon established the independent avant-garde movement in film, known as the New American Cinema, in particular making new and startling use of such standard cinematic devices as montage editing and matte shots. It also directly inspired early works by Kenneth Anger, Stan Brakhage, and other major experimental filmmakers. Through her extensive writings, lectures, and films, Deren became the preeminent voice of avant-garde cinema in the 1940s and the early 1950s.
Rhythm is a defining feature of all of Deren's films and Meshes of the Afternoon deploys an innovative style of cutting on action where the protagonist steps over such disparate terrains as the beach, soil, grass and concrete. The rhythmic drumbeat and the repeated movement highlight her deliberate progress across these discontinuous spaces. The rhythm of the sound, movement and editing conspire to produce the effect of a trance film and the spectator is drawn into the dream-like mise-en-scène by the illogical narrative trajectory, fluid movement and ambient soundtrack.
Sources:
www.nytimes.com
www.moma.org
www.sensesofcinema.com
_______________________________________________________________________________________
John Latham (1921 – 2006)
Radical and inspirational artist who courted controversy and pioneered conceptual art.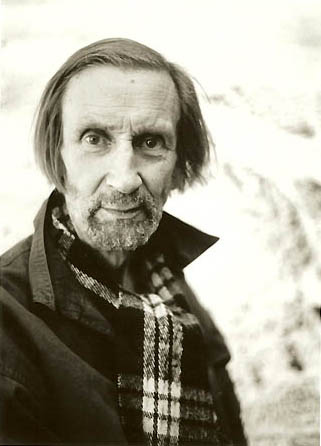 John Latham; image held here.
John Latham died aged 84 accusing the Tate of suppressing his work in the 'John Latham in focus' exhibition which ran until February 2006 at Tate Britain.[1] This marked the end of a controversial career that spanned over fifty years.  During the 1960s, Latham invited his students to join him in a literary feast: Clement Greenberg's book Art and Culture, a volume of art theory. The students chewed up and spat out Greenberg's book for Latham to bottle, distil, and decant into a phial. This they put into a leather case to be displayed as a work entitled Chew and Spit: Art and Culture. It is now owned, but rarely displayed, by the Museum of Modern Art in New York.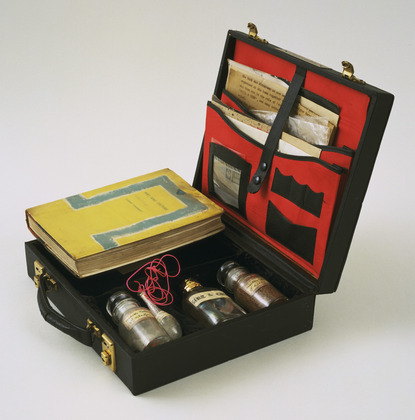 John Latham: Art and Culture, 1966-69; image held here.
Latham was born in Livingstone, Northern Rhodesia (now Maramba, Zambia) of English parents and was educated at Winchester. During the war he served with the Royal Naval Volunteer Reserve, and commanded a motor torpedo boat.
In 1946 he studied art at Regent Street Polytechnic and then Chelsea College of Art and Design. His earliest existing work in the Tate collection, Man Caught Up with a Yellow Object, is an oil of 1954, the year of his first solo exhibition, at the Obelisk Gallery in London. It shows a Christ-like figure against a swirling background, a powerful image that suggested an artist more interested in the process of making art than in the finished work. Latham used a spray gun to disperse tiny dots of black paint across the surface. He claimed to be the first to do this, though it became a very popular device.
Latham himself used the spray gun for a series of 60 "one-second drawings" which denoted "the least event"; an illustration of Latham's view that time consisted of a series of events, and each of the carefully annotated and recorded one-second drawings was, as it were, an exhibit in the courtroom of eternity of time transfixed on the wing, the equivalent of the world in a grain of sand in the words of William Blake, the visionary with whom Latham was sometimes compared.
If some of this looked philosophically and artistically dubious, his "skoob" (books backward) works added shock value. He first worked with books in a work based on El Greco's Toledo masterpiece The Burial of Count Orgaz, which depicts the armoured Spanish nobleman slain on the field of battle and then translated in naked glory to the feet of Christ and the Virgin. In the Latham version, the heavenly host is mostly represented by collaged books.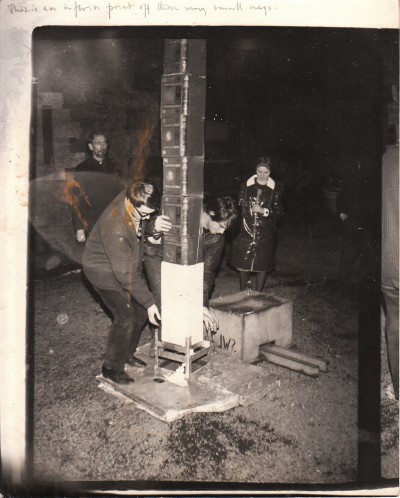 John Latham: Skoob Tower Ceremony, Bangor, March 1966; image held here.
From this Latham moved on to constructing towers from volumes of Encyclopedia Britannica and torching them. Books are only objects, but they embody the idea of civilisation and the enlightenment, and burning them had deep and fearful resonances in the post-Nazi period.
Latham saw books as the source of knowledge but also of error, and moved on, undeterred, in 1966 to Greenberg's treatise, Art and Culture. The students who helped in its regurgitation were at St Martin's School of Art, where Latham held a part-time teaching post – from which he was fired for failing to return the book to the library in a readable form. This was the first of what he saw as his triumphant encounters with authority. With some justice, Latham regarded Greenberg's work as blinkered and propagandist. But ironically Greenberg believed that the execution of the work of art counted for nothing and the concept was all –  quite close to Latham's own practice.
Sources:
www.flattimeho.org.uk
www.guardian.co.uk
_______________________________________________________________________________________
Ludwig Josef Johann Wittgenstein

Ludwig Josef Johann Wittgenstein, photo: Ben Richards; image held here.
Ludwig Josef Johann Wittgenstein (26 April 1889 – 29 April 1951) was an Austrian-British philosopher. His worked primarily on topics of logic, mathematics, the mind and language. He is considered by many to be the greatest philosopher of the 20th century. As one of the most important figures in analytic philosophy, he also inspired two principal philosophical movements: the Vienna Circle and the Oxford ordinary language philosophy. Wittgenstein's work has influenced nearly every field of the humanities and social sciences.
In the following video, Brian Magee talks to John Searle about the legacy of Ludwig Wittgenstein. The discussion ranges from Wittgenstein's early work the Tractatus Logico-Philosophicus to his posthumously published Philosophical Investigations.

Sources: http://en.wikipedia.org/wiki/Ludwig_Wittgenstein
_______________________________________________________
Bruno Schulz (1892 – 1942)

I was disconcerted. I did remember the invasion of cockroaches, the black swarm which had nightly filled the darkness with a spidery running. All cracks in the floors were full of moving whispers, each crevice suddenly produced a cockroach, from every chink would shoot a crazy black zigzag of lightening. Ah, that wild lunacy of panic, traced in a shiny black line on the floor! Ah, those screams of horror which my father emitted, leaping from one chair to another with a javelin in his hand!

From "Cockroaches" by Bruno Schulz.

Bruno Schulz is thought by many to have been one of the most talented writers and artists to have come out of Eastern Europe in the 20th century. He supported himself by teaching art to high school students in Drohobycz, a small town in southern Poland (now Ukraine) where he spent most of his life.
His first book "Cinnamon Shops" (retitled "The Street of Crocodiles), was published in 1934.
Schulz produced his drawings by etching them onto spoiled photographic plates he obtained from drugstores; after putting the plate and sensitive paper into a frame, he would expose them to sunlight, and the drawing would be reproduced on paper.
In 1942, at the age of fifty, Schulz, a Jew, wandered into the "Aryan" section of town and was shot dead in the street by a Gestapo agent.
Almost all of his writing has been brought together in the Penquin Classics edition of "The Street of Crocodiles and other stories."
In 1986 a short animation was made by Timothy and Stephen Quay called "Street of Crocodiles," which you can view here.

Compiled by Adrian Duncan.
Sources:
Schulz, Bruno, The Street of Crocodiles and other stories, Penguin Classics.
__________________________________________________________________________________
Richard Billingham
Richard Billingham (25 September 1970) is an English photographer who became notable through the candid photography of his home life between the years 1990 and 1996. The series, published in the book titled 'Ray's A Laugh' (itself an expansion on an earlier series created in Cradley Heath) documents his father's alcoholism, his mother's myriad obsessions and his brother's juvenile frustrations in a harsh but genuine portrayal of the poverty and dysfunction present in the flat the artist grew up in.
Born in Birmingham, Billingham spent his formative years in the West Midlands where he created much of his early work. Upon his acceptance into the Bournville College of Art (after an agonizing application process to 16 other centres for art) Billingham discovered, and was inspired by, the work of the impressionist artist Walter Sickert whose paintings featured mundane, everyday scenarios lit with soft light. Compelled by these painted scenes, Billingham began to take photographs of his home life as reference material for future paintings using the cheapest materials and processing available to him.
By 1996, and the publishing of 'Ray's a Laugh', Billingham moved from painting at the Bourneville College of Art to fine art photography at the University of Sunderland and had already exhibited his photographs at the Anthony Reynolds Gallery in London. The following year he featured in Charles Saatchi's 'Sensations' exhibition at London's Royal Academy of Arts, an exhibition that has been seen as a milestone in the creation and display of modern art.
Since then, Richard Billingham has been involved in several photographic projects both abroad and at home and working in video, he has produced the 47-minute TV film 'Fishtank'.
Richard Billingham now lives in Brighton and lectures in Fine Art Photography at the University of Glouscestershire.
- Compiled by Paul Coffey, a Visual Arts student in IADT.
__________________________________________________________________________________
Nairy Baghramian

Nairy Baghramian, Butcher, Barber and Angler, 2009,
image held here.
Nairy Baghramian's installation works are evocative collections of items that converge to create greater formations, variously referencing sculpture, design and architecture. Often, domestic items such as furniture appear surrounded by more peculiar and less definite structures, whose provenence and utility are uncertain. There is the sense that some objects are found and some are fabricated but it is difficult to distinguish the readymades from the bespoke items. The combinations display a humor and lightness in their bearing, yet there is an undercurrent of instability present, arising from the unexpected and obtuse manipulations of material.
Baghramian's work will feature at the International Art Exhibition ILLUMInations at the Venice Biennale, curated by Bice Curiger.
- Barbara Knezevic

Nairy Baghramian, Others, 2009; image held here.

Nairy Baghramian, Every lasting layers of ideas, images, feelings, have fallen upon
your brain softly as light. Each succession has seemed to bury all that went before.
And yet, in reality, not one has been extinguished (with Jan Timme), 2006;
image held here.

Nairy Baghramian, Fourth Wall/Two Female Protagonists, 2005; image held here.
Monadnock Building, Chicago (1884-92)
Monadnock Building, Chicago, 1884-92, Burnham & Root; image held here
"In the real world, the shapes of the future had been developing in America. They could be seen in the primary forms of its industrial buildings: the warehouses, docks and cylindrical grain elevators. But the essence of architectural – as distinct from engineering – modernism lay in Chicago. In 1871, a fire razed the commercial centre of the city. Nothing could stop Chicago rising again – it was the goods exchange and money-pump for the whole Midwest – and architects, sensing the opportunities that Christopher Wren had had after the Great Fire of London, came seeking work there. They found their blank slate, in more than one sense: Chicago had no traditions, no polish, and no interest in either. It was a brawling, hog-gut city, whose one rule of urban development was to grab the block and screw the neighbour. It had "an intoxicating rawness, a sense of big things to be done. For 'big' was the word… [the Chicogoans] were the crudest, rawest, most savagely ambitious dreamers and doers in the world." So wrote Louis Henry Sullivan (1856-1924). Sullivan was, by general agreement, the giant of Chicago building and one of the precursors of modernist architecture: not because he "invented" the load-bearing steel frame, but because he worked out and shaped its aesthetic and functional content with such mastery."
Robert Hughes, The Shock of the New, Chapter Four: 'Trouble in Utopia,' p 172.
__________________________________________________________________________________
Katherine Mansfield
Katherine Mansfield and John Middleton
Kathleen Mansfield Beauchamp Murry (14 October 1888 – 9 January 1923) was a prominent modernist writer of short fiction. She was born and brought up in colonial New Zealand and wrote under the pen name of Katherine Mansfield.
She moved to Britain in 1903, where she attended Queen's College, London.
She first began journeying into continental Europe from 1903–1906, mainly to Belgium, Germany and Bavaria where, later, she was introduced to the works of Anton Chekhov. After finishing her schooling in England, Mansfield returned to her New Zealand home in 1906, only then beginning to write short stories.
Mansfield left again for Britain in 1908 where she encountered Modernist writers such as D.H. Lawrence and Virginia Woolf with whom she became close friends. Her stories often focus on moments of disruption and frequently open abruptly. She was married twice, and had a number of affairs and homosexual relationships in this time.
Among her most well known stories are "The Garden Party," "The Daughters of the Late Colonel" and "The Fly." Mansfield was inspired by Fauvism, a contemporary art movement of the period and Anton Chekhov's later work, although neither style would have a profound effect on her writing in the long-term.
During the First World War Mansfield contracted tuberculosis which rendered any return to New Zealand impossible and led to her death at the age of 34.
"I've acted my sins, and then excused them, or put them away with 'it doesn't do to think about these things,' or (more often) 'it was all experience.'
But it hasn't All been experience. There is waste — destruction, too."
- Letters
Excerpt from

The Daughter's of the Late Colonel

:

"The week after was one of the busiest weeks of their lives. Even when they went to bed it was only their bodies that lay down and rested; their minds went on, thinking things out, talking things over, wondering, deciding, trying to remember where …
Constantia lay like a statue, her hands by her sides, her feet just overlapping each other, the sheet up to her chin. She stared at the ceiling.
"Do you think father would mind if we gave his top-hat to the porter?"
"The porter?" snapped Josephine. "Why ever the porter? What a very extraordinary idea!"
"Because," said Constantia slowly, "he must often have to go to funerals. And I noticed at – at the cemetery that he only had a bowler." She paused. "I thought then how very much he'd appreciate a top-hat. We ought to give him a present, too. He was always very nice to father."
"But," cried Josephine, flouncing on her pillow and staring across the dark at Constantia, "father's head!" And suddenly, for one awful moment, she nearly giggled. Not, of course, that she felt in the least like giggling. It must have been habit. Years ago, when they had stayed awake at night talking, their beds had simply heaved. And now the porter's head, disappearing, popped out, like a candle, under father's hat … The giggle mounted, mounted; she clenched her hands; she fought it down; she frowned fiercely at the dark and said "Remember" terribly sternly.
"We can decide to-morrow," she said.
Constantia had noticed nothing; she sighed.
"Do you think we ought to have our dressing-gowns dyed as well?"
"Black?" almost shrieked Josephine.
"Well, what else?" said Constantia. "I was thinking – it doesn't seem quite sincere, in a way, to wear black out of doors and when we're fully dressed, and then when we're at home–"
some material from: http://www.nzetc.org/tm/scholarly/tei-ManLife-t1-body-d17.html
and : http://www.eastoftheweb.com/short-stories/UBooks/DaugLate.shtml
Compiled by Adrian Duncan
___________________________________________________________________________________________________________
Chris Marker
In December last year I found an old Dublin Review (from 2003) in the Oxfam bookshop on Parliament Street in Dublin.
Within, among some essays, short stories and journalistic reports I found a review, written by Brian Dillon, on Chris Marker's 1997 English language release of his CD ROM, Immemory.
Aside from the then near obsolescence of the format, Dillon wrote at length about one particular piece on the CD ROM called La Jetée (The Jetty). It is a thirty minute film made almost exclusively with still images – where a man, from the future, travels through time pursuing a woman whose face he, as a young boy, glimpsed on the observation jetty at Orly airport.
It is a film in love with ruins, and is a compelling experiment in film making.
Compiled by Adrian Duncan
__________________________________________________________
Sirous Namazi

Sirous Namazi: Untitled, 2007, Nordic Pavillion, Venice Biennale; image held here
Sirous Namazi was born in 1970 in Kerman, Iran. In 1998, Namazi completed his MFA at the Malmö Art Academy, Sweden. In 2007, Namazi represented Sweden (with Jakob Dahlgren) at the 52nd Venice Biennial in the Nordic Pavillion. He has received awards from the Ljunggrenska Konstnärspriset in 2003 and the Carnegie Art Award in 2006 (Best Emerging Young Artist). The Carnegie Art Award exhibition toured extensively internationally over three years. Namazi has exhibited at Moderna Museet, Stockholm as part of a group exhibition in 2006 and with a solo show in 2003. A solo exhibition of the artist's work is scheduled for Spring 2009 at Lund's Konsthall.

Sirous Namazi: Container, steel sheet, enamel, 2007, Nordic Pavillion, Venice Biennale; image held here
http://www.nordenhake.com/index.php
_________________________________________________________________________________
Des Ward: Deda.ie
Deda.ie is an online space created and run by Des Ward, an Irish artist and teacher. It is a live website that charts and documents his ongoing, multi-disciplinary praxis.
Des Ward, notebook, pencil; image held here.
There is an alignment with the philosophies of Martin Heidegger and Gilles Deleuze in the work. However, there is no direction or text and as such leaves interpretation open to the viewer.
_______________________________________________________________________________________
Gerhard Richter: A Half Century of Art
Gerhard Richter, one of the most influential European artists of the last fifty years, is the subject of a major retrospective exhibition at the Tate Modern in London. Gerhard Richter: Panorama runs until 8 January, 2012 and highlights the full extent of the artist's work, which has encompassed a diverse range of techniques and ideas. The exhibition includes realist paintings based on photographs, colourful gestural abstractions (such as the squeegee paintings), portraits, subtle landscapes, and history paintings.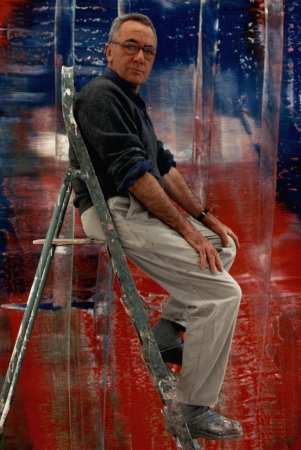 Gerhard Richter in the 1990s; image held here.
Born in Dresden in 1932, Richter has done more than any other living artist to put painting back on the agenda for artists, critics and the public alike. Since the early 1960s his paintings, both figurative and abstract, with their superb mastery of technique, strong conceptual underpinning, subtle ambivalence and beauty, have had a huge impact on generations of artists, and have helped to make painting once again a vital means of artistic expression.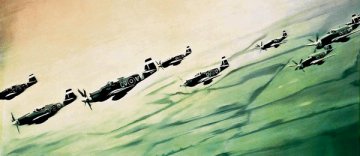 Gerhard Richter: Mustang Squadron (1964); image held here.
Working in a period in which painting has been deemed by many to be anachronistic and irrelevant, Richter has seemed determined to explore the full palette of possibilities that the medium has to offer: from figurative to abstract, from monochrome to multi-coloured, from flat, uniform application of paint to webs of swirling brushstrokes, from precise control to the use of chance.
Sources:
www.tate.org.uk
www.artrepublic.com
Check out reviews of the Tate retrospective:
www.irishtimes.com
www.guardian.co.uk
_______________________________________________________________________________________
Samuel Beckett : Not I
Not I is a twenty minute dramatic monologue written in 1972 by Samuel Beckett. The first performance took place at the Forum Theatre, Lincoln Centre, New York on 22 November, 1972. Directed by Alan Schneider. Mouth: Jessica Tandy, Auditor: Henderson Forsythe.
Not I takes place in a pitch-black space illuminated only by a single beam of light. This spotlight fixes on an actress's mouth about eight feet above the stage; everything else is blacked out. During brief breaks in the monologue, the mouth appears to be listening to an inner voice unheard by the audience.
The mouth utters at a ferocious pace, fragmented, jumbled sentences which obliquely tells the story of a woman of about seventy who having been abandoned by her parents after a premature birth has lived a loveless, mechanical existence.