Laura McMorrow
Laura McMorrow's work is inviting yet unpredictable. Her diverse combination of materials leads viewer to unexpected discoveries. These deceptively simple works present humorously profound situations – her simplicity in reinventing found objects creates a complex pictorial space, and raises questions about subject-object hierarchy, and combinative logic.
My work tackles the boundaries of real and illusory, it is small scale but when presented collectively, the pieces play off against one another.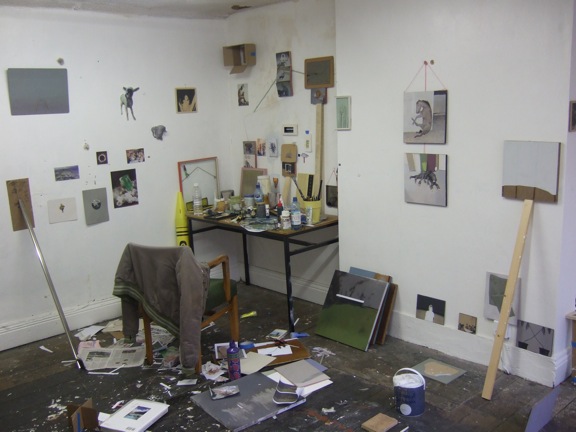 Laura McMorrow's studio space at Wickham Street Studios in Limerick, image courtesy the artist.

McMorrow was born in Leitrim and is currently based in Limerick City. In 2008, she graduated from Limerick School of Art with a Bachelor of Fine Art Honours Degree. She was shortlisted for the 2010 Golden Fleece Award and has appeared in a number of group shows including The Claremorris Open Exhibition (Mayo), Preponderance of the Small (Douglas Hyde Gallery Gallery 3 Project), Preoccupied (Occupy Space), and the 2nd Bangkok Triennale International Print and Drawing Exhibition in Thailand(2009). Recent solo exhibitions include All Cats are Grey in the Dark at the Bookcube Gallery (Dublin) in 2009, and A Blank on the Map at Queen Street Studios in Belfast. For the upcoming exhibition The Woods at the Limerick City Gallery, McMorrow will be showing a sequence of drawings. The Woods, which will open on 9 September, will be curated by Mary Conlon and will include work by David Godbold, Patrick Hall, Seamus Heaney, Alan Keane, Alice Maher, Eoin McHugh, Mary Moloney and Garrett Phelan.
Laura McMorrow: Double Bed Frames, oil on wood, image courtesy the artist.
Laura McMorrow : Current Work
I am concerned with the reinvention of found objects, approaching each object differently, depending on the surface. I use a wide range of mediums including paint, collage, drawing, and print to convey a narrative that comes about by presenting a number of different images collectively. I aim to create work that requires a second glance from the viewer by subverting traditional methods of hanging. My recent work explores themes of geology, taxidermy, and exploration.
Laura McMorrow: A Blank on the Map, installation view, Queen Street Studios, 2010; image held here.
Collections of found objects – picture frames, cardboard, and photographs – all weave their way into McMorrow's innovative and playful practice. The scale of her work tends to be small aiming provoke curiosity in the viewer, encouraging them to look closer and examine the pieces as if they are artifacts in a museum. The work is also concerned with the processes of collecting, and appropriation in an attempt to understand such issues as orientation, perception, place and belonging.