Laura Fitzgerald

Laura Fitzgerald, 2007, pen and paper installation; image held here
Laura Fitzgerald, originally from Inch, Co. Kerry, was selected for the Percent for Art Scheme public art commission earlier this year by the staff and board of Presentation Primary School, Portarlington, Co. Laois.
Drawing has always been an important part of Fitzgerald's practice. She not only draws in a traditional two-dimensional way, but expands the use of drawing in unexpected and interesting ways. In particular, her practice looks at ideas surrounding family and the home. Fitzgerald's drawings are like maps of memory and of experience. Her drawings are intricate, detailed, and accomplished.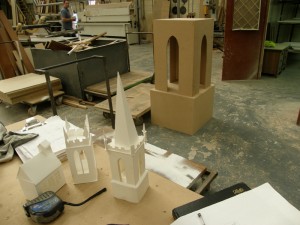 "…by moving to the town, the work would grow from the environment rather than being planted in it."
For the Percent for Art project, Fitzgerald proposed to use the stories and memories of the school by speaking directly to the students and staff members. While each story was told, Fitzgerald made a drawing. After three weeks of talking to each staff member or student individually, over 400 drawings were made. These drawings will inform a large-scale drawing that will be completed in the school corridor.
Fitzgerald, had to re-assess her method of working. Paper, being her primary medium in the past, was not appropriate for such a project. Working with a local joinery, Fitzgerald built larger wooden models, based on her paper maquettes. The wooden models are based on three buildings in the town. They will eventually house small, paper works when the project is launched February 2010.