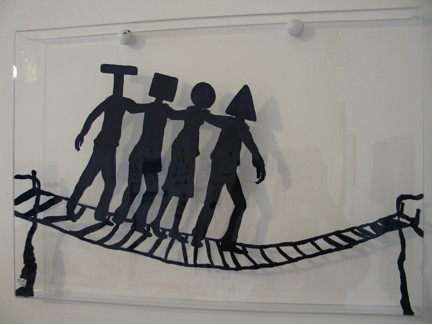 Taline Kechichian: Meiner Meinung Nach…, acrylic on Plexi, 58×42x4cm 2008 Collection of Minoriten Kultruzentrum Graz, image courtesy the artist.
Taline Kechichian
Taline Kechichian was born in Bickfaya (Lebanon) in 1969.  In 2007, she graduated with Masters Degree from the Academy of Fine Arts in Vienna under the tutorage of Professor Gunter Damisch. In 2004, she won first prize of the Lenzig AG painting competition.
Between the years of 1988 and 1992, Kechichian was unable to return home due to the political instability of Lebanon and lived in several countries including France, where she had the opportunity to work at the Louvre in the Department of Graphic Arts while attending history of art courses at the Sorbonne.  After her studies, Kechichian returned to her hometown of Bickfaya where she is currently based.
The Lebanese Civil War lasted from 1975 to 1990. After the war, Lebanon stabilised and the reconstruction of the capital, Beirut (often referred to as the "Paris of the Middle East"), was nearly complete.  In June 2006, the month-long war between Israel and Hezbollah caused significant civilian death and heavy damage to Lebanon's civil infrastructure. [1] Such experiences have continued to influence Kechichian's work.
Kechichian's aim is to make people consider the fundamental values of life.  Instead of falling into the role of victim, Kechichian uses art to experience life without the weight of war:
To treat the difficult and horrific atrocities of  war situations that I have lived, I use a counter image strategy.  I concentrate on creating the kind of the world I want to live in while creating it; then to let others enjoy this feeling . . . we all share the basic faculties of sense, perception and cognition – the same needs and emotions. Especially to those who have suffered and are traumatized. No one wants to live the atrocities again and again in real life and then again in art.
Kechichian was invited to participate in the exhibition Tit for Tat at the Minoriten Kulturzentrum, curated by Dr. Johannes Rauchengerger, Roman Grabner and Alois Koelbl.  The theme for the show, which took place in Graz, Austria, was "transcultural thinking and acting."  Kechichian's piece, Meiner Meinung Nach… ( According to Me), depicted silhouetted figures painted on Plexiglass.  The figures, with different shaped heads, walk shoulder to shoulder across a bridge.  Her most recent solo show, held in Beirut at the Gallery Aida Cherfan, was titled Traces of Values. Her work depicts human situations or fleeting moments. To make the work, the artist initially uses drawings on paper before the images are re-drawn on larger paper or are painted onto Plexiglass in order to play with shadows and light.